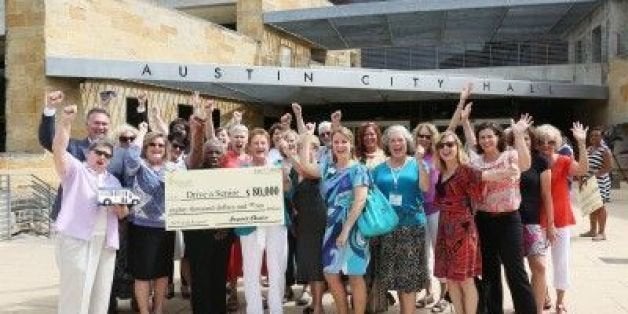 When my husband and I moved to Austin, TX a few years ago to escape rainy Seattle, we didn't know a soul. We had retired from successful careers in finance a couple of years before, and we were looking to do something different with our time and financial resources. Until this point, my husband and I approached philanthropy casually and tentatively: supporting our faith community or giving a few dollars to causes our friends represented, knowing that we needed to be charitable but not really sure how and to whom. Although I had already sat on three nonprofit boards before my 40 birthday, I didn't have a solid plan in how to use my resources. I was not a philanthropist using her financial and intellectual capital; I merely responded to campaigns. I was seeking personal giving transformation.
In the process of meeting new neighbors and setting up accounts in my new hometown, I asked around about nonprofits and volunteer opportunities. A handful of people told me about a women's collective giving group called Impact Austin that had established itself as a prominent grantmaker. By pooling my $1,000 contribution with others', I would leverage my membership fee into one of five $100,000 grants Impact Austin members awarded to area nonprofits each year. Since I had been unsuccessful up to this point in transforming my philanthropy on my own, I joined.
Not only did the women's collective giving model acquaint me with area nonprofits, it also put me right in the middle of a vibrant, diverse group of like-minded women. By bringing together like-minded women meaningfully engaged in philanthropy, you can build the tools necessary to do thoughtful grantmaking. The former financial analyst in me relished the financial statement review, and I learned how to read a formal grant application and an outcomes report like a professional. But more importantly, I learned much more from the collective wisdom of the women around my grants review table. We weren't just investing our financial capital; we were leveraging our intellectual resources to make an impact in our community.
Membership in Impact Austin not only transformed my philanthropy, it also provided me opportunities to develop as a leader and advocate for the cause I was so anxious to find. I was elected to the governing board of directors three years ago, and I learn something new each time I sit down and discuss strategies and opportunities.
Just as I continue to transform my giving as an individual, Impact Austin seeks to transform itself as a grantmaker. We are a member of the national Women's Collective Giving Grantmakers Network (WCGN), and members of our leadership team attended the fifth national leadership forum in Charlotte, NC on October 15-17. Just as being a member of a collective giving group leverages your individual financial resources, the participation of women's philanthropy groups across the country leverages our intellectual capital to build momentum. This collective brain trust motivates and pushes each other to do the work we do even better. At this year's conference, Impact Austin presented our organization's work in innovative grantmaking with our new catalyst grant category. As a co-presenter, I was excited to hear the questions from a roomful of philanthropic leaders about our experience so they can consider doing something similar in their home communities. As Impact Austin transforms itself, we help other groups grow in ways they never considered.
This is the heart of women-powered philanthropy: mentoring. I am mentored by women who have been doing this for a long time, and I get to mentor others who benefit from my own hard-won experiences. Deploying our intellectual and financial capital is why women are changing the face of giving decisions in this country. WCGN member organizations have granted $70 million since their respective inceptions, and that number will continue to quickly grow. While each woman individually understands there's only so much you can do on your own, it becomes immediately clear the benefit of collective wisdom.
Both Impact Austin and the WCGN have changed the verbiage I use to describe myself. Gone are the days of casual responses to the latest charity; my family has a philanthropy strategy with a spending plan created at the beginning of each year to make sure we are on track. My exposure to many nonprofits and leadership opportunities has heavily influenced my role in other organizations, and that of other members of my family. Friends of mine, both affluent and not, are beginning to think of themselves as philanthropists with a significant role to play in the nonprofit community as engaged, informed, transformed donors.
This is the third article in a series on women's collective giving movement, published in support of the national leadership forum in Charlotte, NC, Oct 15-17th, 2015. Hundreds of female philanthropists gathered to share best practices, gain new skills, and network with globally-recognized philanthropists. For an overview of the social impact movement, tune into this NPR podcast with the WCGN founder and other key leaders.
Support HuffPost
The Stakes Have Never Been Higher
Related
Popular in the Community