Education is an ever increasing global priority demanding that both students and educators challenge the status quo. Around the globe, there is an increasing array of both formal and informal educational opportunities. I sometimes get overwhelmed learning about learning.
On a recent trip to Armenia, I witnessed what it takes to launch a new educational initiative. I was fortunate to connect with Larisa Ryan, Founder of Teach For Armenia, who was gracious about sharing her remarkable city and organization with me. While in Yerevan, I had the pleasure of learning about Larisa's motivations behind Teach For Armenia and her ambition to create meaningful impact in the schools nationwide.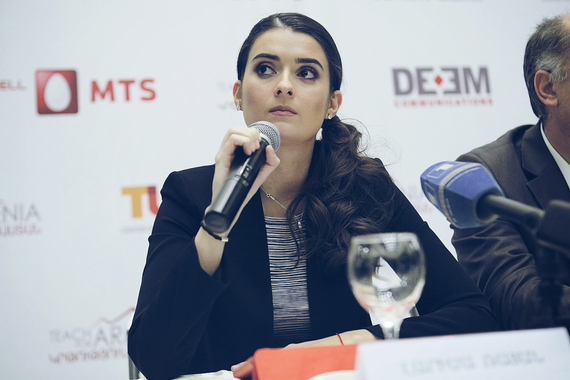 Here is our interview. I hope you enjoy what Larisa has to say.
Please tell me a little about your background, Larisa, and your ties to Armenia:
I was born in Yerevan to an Armenian mother and an Irish-American father. When I was three months old, our family moved to California, and a few years later, my father's work took us to Russia. While living in Moscow for 10 years, my family visited Yerevan every summer to visit my grandmother who taught at the State Linguistic University. My grandmother represented everything that was inspiring about Yerevan - she was elegant, generous and intellectual. Even while growing up in Russia, I associated my childhood with Armenia.
What led you to start Teach For Armenia?
I attended St. Norbert College, a liberal arts college in Wisconsin where I majored in International Business, French, and Graphic Design. I was set on a career in marketing, but life was taking me on a different trajectory. My best friend from college told me about a program she became involved with after graduation called Teach For America. Its goal was to recruit young, passionate graduates and place them for two years throughout the most underprivileged schools in the country. Motivated by her experience, I joined Teach for America upon my own graduation. I was a teacher for children with special needs in Phoenix, Arizona.
Following my two-year commitment with Teach For America, the meaning of my classroom experience settled in; I drew a significant sense of purpose from the experience. Witnessing the change in the lives of my students enabled me to realize my own priorities. As I viewed my students blossom with hope and their lives change for the better, I felt my own life changing. It was during those two years in Phoenix that I began to synthesize the two great passions in my life: education and Armenia. The course of action was self-evident.
In January 2013, I relocated to Armenia. Although my grandmother was no longer with us and my relationship to my homeland had grown more complicated, I remained enchanted by the country.
However, I was cognizant of the fact that beneath the surface, there was frustration and discontent in Armenia. I'm convinced that concrete, worthwhile change begins in our schools. That is why I decided to build Teach For Armenia.
What is the mission of Teach For Armenia?
Teach For Armenia is an independent and autonomous Armenian nonprofit organization, which aims to cooperate with, and benefit from, the Teach For All global network. Teach For Armenia's mission is clear: to give all children an opportunity to unlock their full potential. The strategy is simple: to recruit the best and the brightest from Armenia and her diaspora, and to have these young teachers commit for two years in order to support the Armenian educational system in expanding opportunities for all children. In partnership with the Ministry of Education, we aspire to bring this vision to fruition by September 2015.
What are the root causes of educational inequity in Armenia?
There are many students in Armenia today who lack access to equal educational opportunities due to their socio-economic status, geographical location, and limited social mobility. This situation creates significant barriers for young students who wish to lead successful lives, making it increasingly difficult for Armenia to live up to its vision for a better tomorrow.
Global research has shown that there is a direct correlation between socio-economic disparities and educational outcomes. These disparities exist in Armenia, as they do in other countries such as the United Kingdom, Romania, China, and Bulgaria, to name a few. Through a comprehensive comparison of university admission rates across Armenia's 11 regions, Teach For Armenia has identified the existence of a considerable, yet bridgeable, achievement discrepancy that touches the lives of our young citizens.
What are Teach For Armenia's goals as it aims to expand educational opportunities?
Teach For Armenia genuinely believes that young graduates, who commit their time and efforts to the teaching profession as a means of serving their country, can provide children in Armenia with the opportunity to grow as a generation. We are not a unilateral organization importing a foreign educational idea, but one that we are confident will become a leading national effort that will nurture a thriving network of educational ambassadors willing to invest in the future of their country. With this vision in mind, we recruit, train, and place dynamic young leaders to teach full time in accordance with their professional and educational backgrounds.
Our aim is to grow with and for Armenia while promoting her students within an international framework. Accordingly, our young Fellows will teach the state mandated curriculum while practicing a pioneering approach that believes in the unique potential of each student. As our teachers complete their two-year commitment, their ranks being constantly replenished by new recruits, they will join our dedicated alumni network. These individuals will, in turn, become lifelong upholders of Armenian education for generations to come.
What benefits do you anticipate will emerge from building Teach For Armenia?
By encouraging a mentality of service, Teach For Armenia will set an unprecedented standard through which to advocate similar programs for meaningful change in the broader field of education within Armenia and beyond.
By investing in her children, Teach For Armenia will act as a leading organization that identifies the means by which Armenia's educational opportunities can be furthered. We aim to promote a strong and unified stance that works relentlessly to provide Armenia's students an outstanding education. By impacting education through the efforts of social innovation, Teach For Armenia will provide a spark for ingenuity and innovation in the mind's of Armenians, forming a pattern that will translate beyond the classroom walls.
Teach For Armenia is continuously building a solid base of champions and supporters - corporations, nonprofits, foundations, individuals, and governmental entities - all of whom are driven by the same collective vision for educational excellence. This core base of supporters will provide Teach For Armenia with the opportunity to build a national institution working with our alumni - throughout the public and private sectors - for improved educational possibilities for all.
How is Teach For Armenia leveraging Teach For All's global headquarters and mentorship program?
Teach For Armenia is inspired by the Teach For All format that has been successfully adapted in over 35 countries worldwide. Teach for All is a global network of partner organizations working to expand educational opportunities in their nations by streamlining dynamic, committed future leaders.
Since Teach For Armenia's inception about a year ago, my team and I have worked closely with Teach For All staff from around the world who provide daily mentorship, guidance, and support that has helped us shape and develop a strong organization in a relatively short period of time.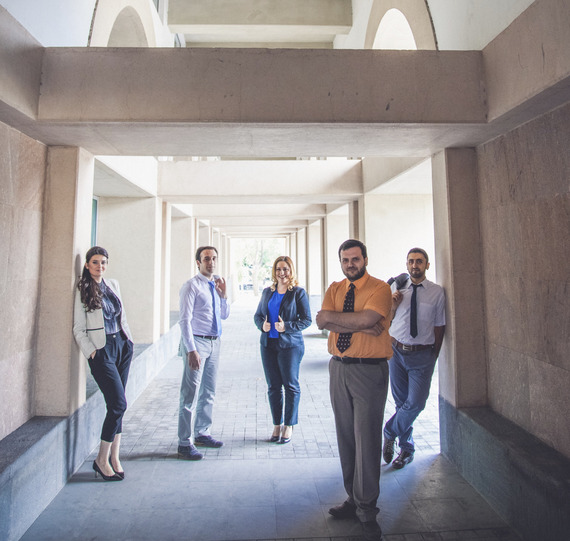 How will your organization operate differently in Armenia than the traditional Teach For America and Teach For All models?
As much as we are leveraging Teach For All's model, we are not a franchise. We are an Armenian organization leveraging a localized model while striving to build a national organization that adopts and translates cutting-edge trends in order to boost Armenia's competitive advantage. Our hope, as we continue the conversation about and around Armenia beyond the centennial of the Armenian genocide, is to not just commemorate and consecrate history, but contemplate and compel the future growth of our nation. We strive to be symbolic of the nation's capacity to adapt and grow rather than dwell. The fact of the matter is that we have a vital national reservoir of dynamic young talent who deserve to work and live within an Armenian context, spurred by a sense of a communal ownership of our collective future.
What do you anticipate to be major challenges facing Teach For Armenia?

Armenia has recently started to place mandates on social innovation. As a result, the mentality surrounding Teach For Armenia might be one of resistance to start with, but I view this reaction as temporary. Social enterprises are becoming increasingly popular throughout our country. For instance, "social entrepreneurship" was hardly a term when I first arrived. As an entrepreneur, I felt alone. Now, green businesses are appearing around the city, and initiatives like the Impact Hub Yerevan - which will be the country's first social innovation incubator program - are being launched. This is just to cite a couple of examples. Such enterprises are central to our nation's fabric. Now is the time to make education and social innovation a priority in Armenia.
One of our incentives will be encouraging young individuals from our diaspora, as well as locally, to return to and remain in Armenia through their commitment to Teach For Armenia. This will be achieved through educating others, and engaging citizens to participate and invest in Armenia's educational dialogue.
The people of Armenia are eager to partake in the opportunities that social enterprises, including Teach For Armenia, have to offer them and our country. We need to plough through the cultural barriers that may exist, and entice people to give back to their country.
Popular in the Community