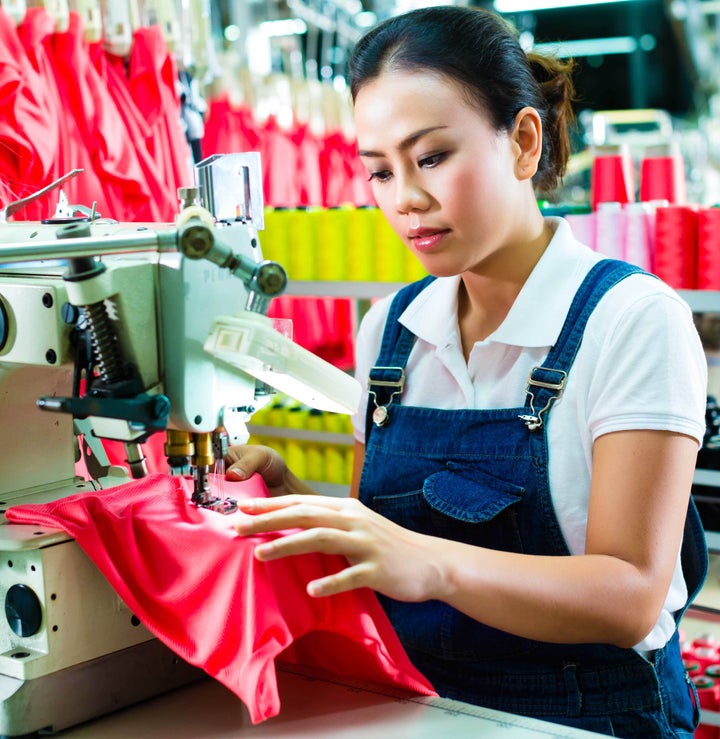 This post was originally published in POLITICO Europe.
The role of women today is arguably more important than in any other time in history, ensuring women are strong contributors to our society and economies. To celebrate women this International Women's Day, the United Nations is making a commitment to Women In The Changing World Of Work: Planet 50-50 by 2030.
Let me start by saying that backing gender equality is not an option in our times, it is a duty and a responsibility towards the generations to come. Female participation in economic life has proven increase in productivity. When talking about gender parity, we talk not only about the maturity of a society, but also about its sustainability and economic growth.
A recent study by McKinsey Global Institute estimated that €26.5 trillion could be added to global annual GDP by 2025 if women participated in the economy at the same level of men. The cost of not prioritizing women's wellbeing is rapidly becoming the differentiating factor between a growing and a stagnating economy.
There is no way to succeed if we design our future with half of the population in the shadow. Empowering women to fully participate under equal conditions, including equal pay, is not a fashion that will pass — it is a matter of fairness, ethics, and common sense.
"The cost of not prioritizing women's wellbeing is rapidly becoming the differentiating factor between a growing and a stagnating economy."
However, in order to fulfill their economic potential, we must implement policies that ensure women around the world can enter, thrive and remain in the workplace.
This raises the question: what are the main barriers to improving and leveraging women's economic potential and how can we overcome them?
Despite the contribution women tend to make to the wellness of their families and communities, hazards to their own health are among the key factors holding women back. According to the World Health Organization, 18 million women worldwide die annually from non-communicable diseases (NCDs) such as thyroid disease, cardiovascular disease, diabetes, autoimmune disorders and forms of cancer. Also, chronic conditions such as multiple sclerosis (MS) affect twice as many women than men, making it even more difficult for them to remain in the labor market. The World Health Organization calls NCDs "the biggest threat to women's health worldwide". Even in Europe, where women typically live longer, healthier lives, there are wide inequalities across the regions causing a 15-year difference in life expectancy. Without securing women's health we will never reach the UN's vision of having 50-50 women and men in the workplace by 2030.
Public policy can also assist us in seeking to improve gender equality at home and at work such that men and women are both equally perceived as workers and caregivers. A 2015 IMF survey suggests that in Finland and Norway, policies such as parental leave and provision of childcare facilities increased the number of working women and also led to them having more children.
Hence, to address these challenges effectively we need: to have policies focused specifically on women; and to integrate gender budgeting across health priorities using disaggregated data by age and sex to identify needs accurately, as a World Health Organization report also suggests. Women are still under-represented in political positions, which leaves them out of the legislative decision-making process, having their voices barely heard in echo when policies are made. Any effort to facilitate and enhance the empowerment of women needs a whole government and a whole society approach.
The public and private sectors must work together to achieve this ambitious goal of having gender parity in the workplace, which brings me to Healthy Women, Healthy Economies. This is an innovative public-private partnership (PPP) under the auspices of the Asia-Pacific Economic Cooperation, Merck, and the U.S. government. It is open to all to join forces in advancing women's health and wellbeing to increase their economic participation. In support of this, the Healthy Women, Healthy Economies toolkit was rolled out at the APEC Women In Economy Forum in September 2015. Merck's efforts in implementing the UN Sustainable Development goals through this program have also been recognized by the UN Global Compact in June 2016. Within the scope of the Healthy Women, Healthy Economies initiative, two PPPs were launched, one in the Philippines and the other in Jordan, aiming to bolster awareness for thyroid disorders among women. Moreover, we have also partnered with the American Cancer Society to raise awareness of women's cancers and released a report in November 2016 on The Global Burden Of Cancer In Women. Merck believes that Healthy Women, Healthy Economies can be a catalyst for important changes in the global economy, but more importantly, in the lives of millions of women and their families.
We, as the private sector, are ready to do our part and we count on a close collaboration with EU governments to ensure full economic participation of women in Europe, setting an example for the world. The health care sector can and must take a leading role in promoting effective policies. Companies such as our own can contribute by walking the talk and partnering with your governments, by first offering women innovative health therapies to empower them to achieve full economic participation, and by supporting policies that enable a safe and healthy workplace environment today and in the future.
Popular in the Community