 * Public inquiry into media set to report next week
* Judge likely to recommend new statutory press regulation
* Cameron caught between hostile press and those wanting reform
* UK newspapers warn freedom of speech at risk
By Kate Holton and Michael Holden
LONDON, Nov 22 (Reuters) - After a year-long public inquiry exposed the worst excesses of Britain's raucous newspapers, the press is battling to avoid any proposals for tougher regulation next week, and Prime Minister David Cameron will come under fire whatever he decides.
Senior judge Brian Leveson is set to announce by the end of November the findings of his dissection of the industry, which was prompted by a phone-hacking scandal at Rupert Murdoch's News of the World Sunday, a News Corp tabloid the media tycoon then shut down.
Leveson is expected to recommend a new independent body with statutory powers over the press instead of the current system of self-regulation that the industry wants to retain.
Newspapers argue statutory rules would curb freedom of speech, though some phone-hacking victims say the press is trying to bully Cameron into ducking far-reaching reforms.
Cameron will have to decide whether to accept Leveson's proposals in full and risk the wrath of the press in the run-up to an election in 2015 election that polls show he is likely to lose, or face accusations he is in thrall to the media.
"The prime minister is being lobbied furiously by the newspapers and other vested interests of the press," said lawmaker George Eustice, a member of Cameron's Conservative Party who supports stronger regulation.
"But it would be wrong to ignore the conclusions of an inquiry that has cost 5 million pounds ($8 million) and received thousands of pages of evidence. I don't think you can just brush it under the carpet," he told Reuters.
Cameron ordered the inquiry last July after public fury that murdered schoolgirl Milly Dowler was among the victims of phone-hacking by the News of the World.
With a wide remit to examine all aspects of the industry, the inquiry revealed not just unpleasant tabloid tactics but the cosy relationship between Britain's top politicians, newspaper executives and senior police officers.
Cameron, three former prime ministers, senior ministers, press barons including the 81-year-old Murdoch, plus an array of celebrities such as Hollywood actor Hugh Grant were among the 164 witnesses to appear before the inquiry.

The inquiry embarrassed Cameron by exposing his close ties to executives at Murdoch's British newspaper empire, notably former top lieutenant Rebekah Brooks, who is facing criminal action over phone-hacking and other alleged illegal actions.
"I am so rooting for you tomorrow not just as a personal friend but because professionally we're definitely in this together," Brooks texted to Cameron before a key speech in 2009.
Cameron and Brooks, who was editor of the News of the World when it hacked Milly Dowler's phone, enjoyed private dinners at their country houses, the inquiry heard, and Cameron signed off text messages to Brooks with an affectionate "LOL", which he thought stood for "lots of love".
The disclosures fuelled speculation that a succession of British leaders had allowed media tycoons such as Murdoch far too much influence in return for favourable coverage.
"He has very little room for manoeuvre. If Leveson recommends a statutory involvement, he is more or less obliged to accept it," said Roy Greenslade, author of several books on the British press and a former senior editor at Murdoch's Sun daily tabloid.
"He knows he's in a weak position due to the nature of his own relationship with the News of the World. If he backs out from legislation, then people will charge that he's gone soft on the papers."
Though Leveson said he wanted his report to "mean something" rather than gather dust, he has not explicitly said he wants statutory regulation, though his questioning during the inquiry has convinced many journalists he will call for it.
The 63-year-old former Appeal Court judge will be anxious to avoid any charge of whitewash, a fate that befell Lord Hutton, whose 2003 inquiry found in favour of the government over a row with the BBC about the build-up to the Iraq war.
Newspapers have been lobbying hard, with the right-leaning Daily Mail running a 12-page denouncement of Leveson last week in the most public shot across the bows of Cameron's government.
Editors accept some of the evidence at the inquiry was shocking, but say the industry should not be judged or punished because of a few bad apples.
"I'm hoping that he (Leveson) will have taken on board all of the evidence, not just the evidence of some of the celebrities, which was self-interested and self-indulgent," said Bob Satchwell, executive director of the Society of Editors.
"Any kind of regulation by definition must interfere with the freedom of the press and freedom of expression. If there is any regulation which involved the state or the law, that is even more worrying, because what that does in effect is take you back 300 years."

Labour lawmaker Paul Farrelly, a former journalist and member of parliament's media committee, said statutory measures did not equate to state censorship.
"There is an orchestrated campaign already, led by the Daily Mail, to undermine Leveson and supporters of stricter regulation before he has even reported," he said.
Cameron himself has so far said he would support any proposals as long as they were sensible: "We know what a proper regulatory system should look like," he told parliament last month. "We do not have one now; we need one for the future."
Though most of the national press tends to support the centre-right Conservatives, the papers have given Cameron a rough ride.
"There are all sorts of reasons for that, but one of them is Leveson and the newspapers' unhappiness with Cameron setting up the inquiry," said Conservative activist Tim Montgomerie.
He said it would be difficult for Cameron to ignore a recommendation for statutory regulation after 42 of his party's lawmakers signed an open letter calling for just that.
Jacqui Hames, a police officer put under surveillance by the News of the World in pursuit of negative stories, said this was a once-in-a-generation opportunity to clean up the press.
"We've got some very powerful, very strong-minded, strong-willed people running our papers, and if they think they can stick two fingers up at (a new regulator) and walk away, then they will," she said.
"I think it's time for politicians to be statesmanlike, and the public will be very grateful. If David Cameron can get the support and the courage to seize the opportunity, I think he'll be looked upon as someone who has made a huge change in our society for the good." ($1 = 0.6284 British pounds) (Editing by Guy Faulconbridge and Will Waterman)

Before You Go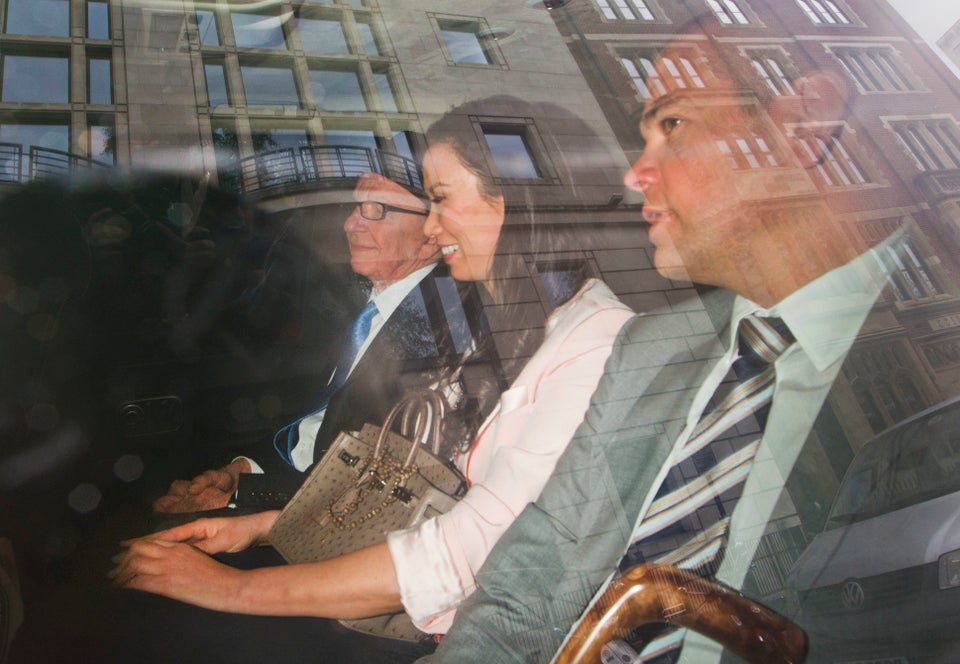 The Murdochs
Popular in the Community