Call it a race for your bottoms.
American denim companies are locked in a technology battle to improve women's pants, as more and more women abandon jeans for stretchy leggings and yoga pants.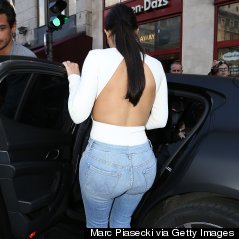 Kim Kardashian is still a denim fan.
Jean-sellers like Levi Strauss and VF Corporation, which owns Lee, Wrangler and 7 For All Mankind, are scrambling to add more stretch to their fabrics to appeal to the growing number of people seeking clothes that are both comfortable and flattering. Meanwhile, pioneers of form-fitting garments like Spanx are working to create springy pants that look like jeans and steal customers loyal to denim.
"Today's consumer is on a quest for casual comfort, whether it's jeans or yoga pants," James Curleigh, the president of the Levi's brand, told The Huffington Post.
Last fall, Levi launched its new Revel women's fit, jeans that use a patent-pending "Liquid Shaping Technology," a flexible coating applied to the inside of the pants. The coating is supposed to limit the stretch of the fabric in specific areas in order to slim the wearer's thighs and fit more comfortably. The super-soft material will "keep its shape while showing off yours," the company boasts.
Under its Lee brand, VF launched a trio of new bendy jeans for women in August. The Heavenly Touch, Curvy Fit and Easy Fit lines use extremely soft denim fabric, but still look like regular denim.
Scott Baxter, head of the jeanswear business at VF, told HuffPost that it took years to get the jeans from the drawing board to store shelves.
"You're starting to see all of the hard work from our folks starting way back in 2010," said Baxter. "It takes a while to develop it and get it through the system."
VF is also opening a denim innovation center near its headquarters in Greensboro, North Carolina, later this year to ensure that new advancements keep coming. Previously, the company typically focused on projects that took between six months and two years to complete. With the new center, VF wants a central location to work on "breakthrough" ideas that may take even longer to develop, said Baxter.
Smaller jean-makers have mobilized too. Canada-based Silver Jeans Co. created a hybrid denim jean and yoga pant. Dubbed "Joga Jeans," the pants combine a traditional denim exterior with a plush knit, sweatpants-like interior. A Levi store in San Francisco. (AP Photo/Paul Sakuma)
Denim has struggled to compete against pliable pants. Total U.S. jean sales fell 6 percent over the past year, according to recent data from market research firm NPD Group. Sales of women's jeans were slightly worse, dropping 7 percent. Pricey denim took the biggest hit. Sales of jeans that cost $75 and up plummeted 32.5 percent from March 2013 to March 2014, NPD found.
Levi laid off 800 employees in March. In July, it announced a 76 percent drop in profits for the prior quarter, falling to $11.5 million from $48.1 million during the same period a year ago. Revenue for VF's jean brands was down 1 percent last quarter, including a 7 percent decrease for Lee. And Lucky Brand Jeans is finding its bearings after its parent company Fifth & Pacific (now known as Kate Spade & Co.) jettisoned the denim business and sold it to a private equity firm in December.
Kids are migrating away from denim too. For the first time ever, leggings were ranked the most popular trend among female teens this spring, according to a study from financial services firm Piper Jaffray.
"Jeans are as much of a wardrobe staple as a white shirt," said Lauren Sherman, editor-at-large at Fashionista. "But fashion is cyclical, and like any brand or item of clothing it will gain and lose popularity as the tide changes."
The movement away from jeans is due to the rise of something the industry calls "athleisure" -- stretch clothes that work outside of the gym.
"This is the new denim," Gap CEO Glenn Murphy declared of stretchy leggings in February while touting the success of Athleta, the yoga-wear company it bought in 2008. Murphy said his two huge mass-market brands, Gap and Old Navy, would be moving toward athleisure clothing too. Athletic-wear would now be touted more at the front of stores, instead of being relegated to its usual spot in the undergarment section.
With the jean-sellers infringing on their turf, athletic-wear companies like Lululemon, Nike, Under Armour and Adidas are also working intensely in their R&D labs.
"The athletic companies are really stepping it up in terms of design and fabric," said Ali Pew, market editor at InStyle magazine. "They don't want to lose their customer to everyone else entering the space."
Even Spanx, the maker of slimming undergarments that devotees consider nothing short of body-shaping wizardry, has entered the jean fight. Its new chimeric spawn promises to combine "the look of jeans with the comfort of leggings," all while keeping "unwanted bulge at bay." Levi and J Brand also have jean lines that claim to make customers look skinnier.
Spanx "Slim-X Super Skinny" jeans
-- Michelle Persad contributed to this report.
Related
Popular in the Community