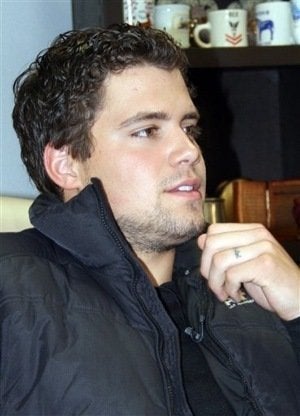 Verne Rupright, the outspoken Mayor of Wasilla, Alaska, is weighing in on recent news that Bristol Palin's ex-boyfriend Levi Johnston has plans in the works to run for the city's top administrative post in 2012.
"Well, it is a little early to declare," explained Rupright to Entertainment Tonight on Tuesday. "Usually most wait until the year the seat is up. But since I am nearly old enough to be Levi's grandfather I think it would be wise for him to get a high school diploma and keep his clothes on. The voters like that!"
Levi seems serious about running for the Wasilla mayorship. In a press release sent out by Entertainment Tonight, Levi said his campaign is "for real" and that wants to "change a few things."
Levi confirms he is running for mayor of Wasilla, Alaska and he's ready to talk about his plans. On his intention to run for his hometown's highest office, he says "It's for real. I'm going to go there and do what I can. Obviously that's where I grew up and that's my home. It's always going to be home to me. [My son] Tripp's going to grow up there and I want to change a few things."


When the opportunity first came to him, he says, "I laughed, but the more and more I thought about it the more and more I looked into things. I do care and I do want to make a difference. Whether I win or not, I want Tripp to look up to me and see what I've done and be proud of his Dad."

Levi says he realizes there's a few things he'll need to do in the next 14 months to make his bid a success come October 2011, "Start with a high school diploma, maybe a run for city council and go from there."

Does he think he can fill Sarah Palin's shoes? "It's fun, but no way is it about the Palins, I'll tell you that."
Support HuffPost
The Stakes Have Never Been Higher
Popular in the Community