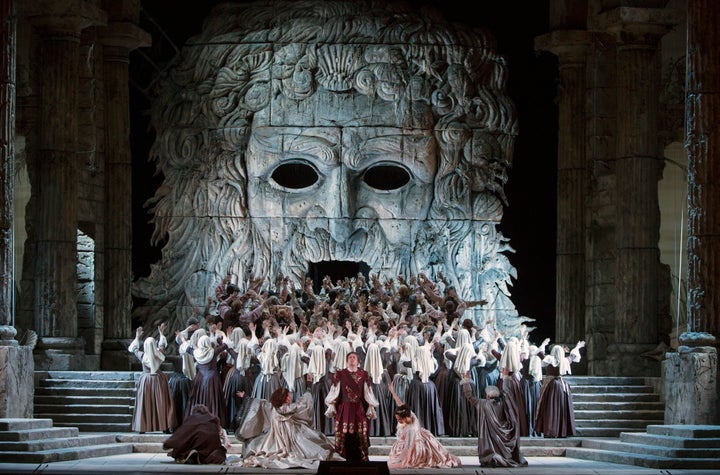 The musical joys of Mozart's Idomeneo are many and varied and James Levine knows every note of them. With a first-rate cast led by Matthew Polenzani in the title role, a trio of excellent sopranos around him, and Levine in the pit, the Met's revival of this breakthrough work is a richly rewarding night of opera.
Nadine Sierra, Alice Coote, and Elza van den Heever each deliver strong performances as the captive Trojan princess Ilia, the Cretan prince Idamante who loves her, and the fated Greek exile Elettra who has designs of her own. The Met Orchestra under Levine's masterful baton and the splendid Met chorus bring an often ignored work vividly to life.
It is a magnificent musical treat the Met will present as part of its Live in HD series when it simulcasts the March 25 matinee performance to more than 2,000 theaters in some 70 countries around the world.
With the novelty of being a child prodigy behind him, Mozart was having trouble finding a job in the late 1770's. He traveled to Paris and Germany, but failed to land a post. However, he made some contacts and a year or so later that social networking provided a commission to write a new opera for the Bavarian Court in Munich.
Mozart had written half a dozen previous operas, but none had really caught fire, and he had not written anything for the stage in several years. In a letter to his father back in Salzburg, Mozart said his great desire at that point was to write "an opera … Italian, not German, seria not buffa." And that was just what they wanted in Munich. It was to be his first big hit.
The opera, of course, was Idomeneo, Re di Creta, to give its full title, and it is a somewhat altered version of a post-Trojan War saga in which love conquers all, which as anyone with a passing knowledge of Greek mythology knows, doesn't happen very often.
Idomeneo was king of Crete and he fought on the Greek side during the Trojan War. On his way home, he ran afoul of Neptune (a k a Poseidon to the Greeks, but nothing much rhymes with Poseidon in Italian), who whips up a major storm. The sea god agrees to save him only if Idomeneo promises to kill the first person he sees when he goes ashore as a sacrifice.
Meanwhile, back on Crete, Idomeneo's son Idamante and Ilia, Priam's beautiful daughter (Troy's answer to the Greeks' Helen) who had been taken prisoner, have fallen in love. But Elettra, who is holed up in Crete after the unfortunate business with her brother Orestes and her mother Clytemnestra, is also in love with Idamante. And as Sophocles made clear, Elettra will go to any length to get what she wants.
The plot really thickens when the first person Idomeneo sees on dry land is his own son Idamante. The rest of the opera is how Idomeneo tries to finagle his way out of killing his son to appease Neptune and whether Idamante and Ilia will find true happiness.
Mozart mostly tailored the opera to the conventions of the times – conventions he would later smash to make opera the theatrical experience it is today – though he was already experimenting with new ideas.
The first act, for example, is mainly four long arias interspersed with choral ensembles. By the second act, however, he has added a trio and there is a moving quartet in the final act that was one of Mozart's own favorites. He also scored orchestral music in some of the recitatives (lovely continuos played by David Heiss on cello and Bryan Wagorn on harpsichord) which was an innovation.
While popular in its time, Idomeneo was largely ignored until the mid-20th century and it was Levine who first brought it to the Met in 1982 in the production by Jean-Pierre Ponnelle that is still seen today. It is a stylized staging befitting the time it was written with crumbling Greek/Cretan columns flanking the stage and a huge stone mask of Neptune as a backdrop.
Polenzani is one of the Met's top tenors, and his second-act aria "Fuor del mar" is a show-stopper. He has the breath control of a deep-sea diver and his long runs, from the bottom to the top of the register, are remarkable. His phrasing is also consistently and notably excellent.
Sierra, a Florida soprano in only her third role at the Met (she was Gilda in Rigoletto in 2015 for her debut and sang Zerlina in some performances of Don Giovanni last fall), is a delight to see and hear. She has a silvery bell-like voice that was especially tender and lovely in Ilia's third-act aria "Zeffiretti lusinghieri."
Van den Heever, a South African soprano also in her third role at the Met, was full of menacing fury, especially in her final act aria "D'Oreste, d'Aiace," a sort of forerunner to mad scenes that became so popular in the early 19th century Italian opera.
Coote, in the trouser role of Idamante, sang with great ardor, especially in her opening aria "Non ho colpa" and her duet with Ilia was touching. Gregory Schmidt, who stepped into the role on short notice, was admirable as Arbace, the King's advisor.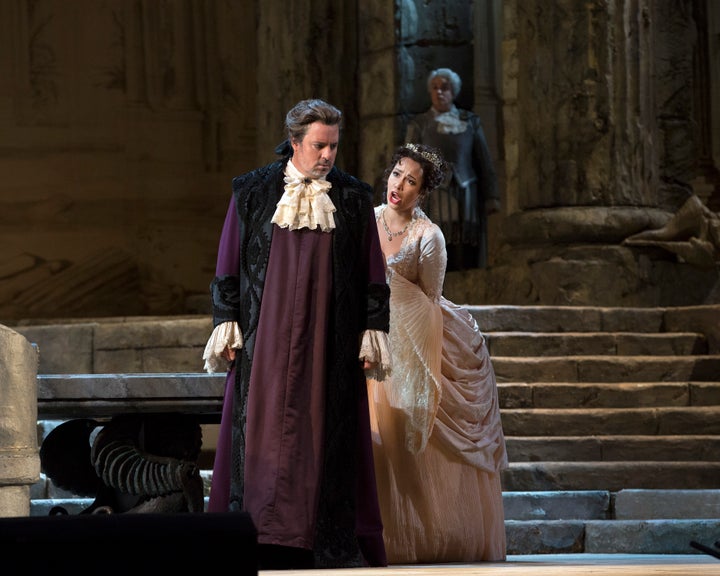 Popular in the Community