You know you may not be a kid anymore when rock 'n roll heroes from your youth start to die -- not in their '20s from too much, sex, drugs and rock 'n roll -- but in their '60s or even '70s from diseases of aging like stroke and cancer.
Last week it was Levon Helm who brought rural white Southern soul to a bunch of Canadians who backed up Bob Dylan and started to call themselves simply The Band, gone at 71 of after a long battle with throat cancer. Last summer it was the great Clarence Clemons, the big man who infused the real Jersey shore's E Street Band with urban funk, gone at 69 of a stroke.
Levon Helm and Clarence Clemons were each the heart and soul of what may be the two greatest rock 'n roll bands ever: The Band -- with its remarkable combination of rock 'n roll funk, white country whine, and a musical precision worthy of the best classical string quartets or the Duke Ellington Orchestra; and The E Street Band -- with its wall of sound backing to the Boss's anthems of youthful escape and adult rebellion.
The Band and the E Street Band are so great in part because they're true ensembles -- bands of brothers. But even so, Clarence and Levon provided any extra measure of soul and magic dust.
They reminded us that even though rock 'n roll is too often corrupted by money and commercialism, at its best it still has the power to rock the soul and perhaps change the world.
Levon's very name -- like his voice and his drums -- evoked the righteous God of the Old Testament and the sad, centuries-long, history of the poor, rural American South. He so inspired Elton John that -- back in the day when Elton was still writing rock 'n roll instead of easy listening pop -- Elton and Bernie Taupin named perhaps their greatest song "Levon":
And he shall be Levon
And he shall be a good man
And he shall be Levon
In tradition with the family plan
And he shall be Levon
And he shall be a good man
He shall be Levon
(For an amazing version of "Levon" in which Elton is accompanied only by his own piano and a percussionist, click here.)
"If it doesn't come from your heart, music just doesn't matter," wrote Helm. That everything Levon did came from the heart is evident both in his drum work -- some of the best in the history of rock -- and in his voice -- one of the most authentic and soulful in the past half century of American music.
As a drummer, Levon combined incredible power with incredible subtlety, so subtle that its greatness often went unnoticed. The E Street Band's "Mighty" Max Weinberg calls him "one of the rare breed of drummers that are able to set not only the beat but the scene of a song's story as well. Perhaps this is what journalist Jon Carroll meant when he said that Levon is the only drummer who can make you cry." And Grammy Museum Executive Director Robert Santelli calls Levon "the greatest white blues drummer of all times. He had an innate ability to create something that not only had great authenticity, but also was strikingly original in the way he played it."
Like the Beatles, the Band was a group with 3 extraordinary vocalists -- Rick Danko, the plaintive Richard Manuel (who later committed suicide) and Levon Helm -- who traded off on lead vocals and intertwined their voices in moving harmonies. But taking nothing away from Danko's and Manuel's greatness, there was something extra special about Levon's voice -- In a single phrase, his vocals could encapsulate centuries of life of poor white people in the rural south. His voice was almost like books full of Mathew Brady Civil War photos and Walker Evans great depression photos.
Nowhere is this powerful combo of great drumming and great singing more evident that in "The Night They Drove Old Dixie Down." The song is triggered by a might drum beat followed immediately with the plaintive words,
Virgil Caine is the name and I served on the Danville train
'Til Stoneman's cavalry came and tore up the tracks again
In the winter of '65, we were hungry, just barely alive
By May the tenth, Richmond had fell
It's a time I remember, oh so well
Even amid righteous destruction of slavery and the restoration of the Union, in Levon's voice you can still feel human empathy for the poor southern white man's despair at defeat that echoes from end of the Confederacy right up to the birth of the Tea Party.
Radiation treatments for throat cancer led Levon to lose his voice for 3 years. In 2005, to revive his career, to have a regular venue to perform in, and help pay off his medical debts, he began holding "Midnight Ramble" concerts in his barn based on the Southern medicine shows of his youth, where he was often joined by such musical greats as Emmylou Harris, Cheryl Crow, Elvis Costello, The Black Crowes, Allen Toussaint, Dr. John, Steve Earle, John Hiatt, Ray LaMontaigne, Jackson Browne, Mumford and Sons, and his daughter Amy Helm, among many others. A version of the show was captured on a 2011 CD and DVD, "Ramble at the Ryman":
Late in life in Levon also recorded two extraordinary CD's, the largely acoustic "Dirt Farmer" where his tone and soul is often reminiscent of the great Ralph Stanley, and "Electric Dirt" which almost sounds like a reincarnation of the Band
The last track on "Electric Dirt" is a rollicking boogie-woogie version of Nina Simone's Civil Rights anthem "I Wish I Knew How It Would Feel To Be Free" which remains as relevant today in the age of Occupy, as it was in the Civil Rights era. It's as good a final statement from Levon as I can imagine:
I wish I knew how
It would feel to be free
I wish I could break
All the chains holding me
I wish I could say
All the things that I should say
Say 'em loud say 'em clear
For the whole round world to hear
Bruce Springsteen was destined for greatness no matter what. But it's hard to imagine Bruce and the E Street Band ever having been the same if the change didn't come and the Big Man never joined the band in a flash of lighting on a stormy night in a seedy club in Asbury Park, New Jersey. It's almost as iconic a story as Robert Johnson's legendary meeting with the devil at the crossroads of Highway 61 and Highway 41 in the Mississippi delta.
Bruce had the words and the boundless energy. But the Big Man provided the soul, the funk, and the gravitas.
Look at the iconic photo from the cover of the "Born to Run" album -- a skinny, mischievous young Bruce resting his head on the Clarence shoulder as though the Boss just couldn't go on without the Big Man's strong and gentle support.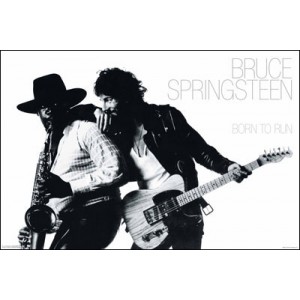 Clarence Clemons didn't have the virtuoso saxophone chops of jazzmen like John Coltrane, Sonny Rollins or Paul Desmond. He was more in the tradition of R & B greats like King Curtis and Junior Walker. But he brought a depth of feeling and soul to the E Street Band that's unimaginable without him.
It's almost impossible to think of songs like "Born to Run" or "Jungleland" without the Big Man's sax wailing out in the greatest R & B tradition.
And just to show he never lost his relevance, Clarence's last public performance was on Lady Gaga's "Edge of Glory" video where, sitting on the stoop blowing his sax, he made Gaga's music stronger, more soulful -- and yes, even more cool -- as he had been doing for the Boss for over 35 years.
Shortly after 9/11 Springsteen wrote "Land of Hope and Dreams" and performed it, with a stirring solo from the big man, to help heal a city and a nation.
This year Springsteen recorded a more militant version of "Land of Hope and Dreams" for his new CD "Wrecking Ball". Shortly after Clarence's death Springsteen mixed in an earlier live solo from the Big Man which may have been his last recording. In Springsteen's current Wrecking Ball tour, Clarence's nephew Jake more than capably takes over the sax part. There's no better send-off for the Big Man than the closing lyrics in which Bruce and The E Street Bands ends by reprising the lyrics of Curtis Mayfield's Civil Rights anthem "People Get Ready" for a new generation:
This train
Dreams will not be thwarted
This train
Faith will be rewarded
This train
Hear the steel wheels singing
This train
Bells of freedom ringing
[This train
People Get Ready
Don't Need No Ticket
You just thank the Lord
People Get Ready]
And in case you're wondering if Levon and Clarence ever made sweet music together live on this earth, the answer is "yes" as you can see in this clip of "The Weight" from Ringo Starr's All-Starr Band featuring Levon on lead vocals and drums, Clarence on sax and tambourine, Ringo on drums, Dr. John on piano and vocals, and, as best as I can make out, the late great Rick Danko on bass and vocals, the late great Billy Preston on keyboards, Garth Hudson on accordion, Nils Lofgren and Joe Walsh on guitar, and just about everyone singing harmony. It's a musical gumbo that includes bits and pieces of the Beatles, The Band, The E Street Band, the Eagles, New Orleans funk, and Neil Young's Crazy Horse.
I don't know if there's a heaven or not, but that's about as close to rock 'n roll heaven as I can imagine.
POSTSCRIPT: I would be remiss not to at least mention two other recent entrants into rock 'n roll heaven:
• Etta James one of the greatest female R & B and jazz singers of all time, not as famous but equally as talented as the Queen of Soul herself, Aretha Franklin.
• Dick Clark. He couldn't sing or play an instrument, but along with New York DJ Alan Freed, he introduced black music to a generation of white teenagers in what was then a largely segregated 1950's America.
Calling all HuffPost superfans!
Sign up for membership to become a founding member and help shape HuffPost's next chapter