 Tonight Catherine Popper, bassist for Jack White, Ryan Adams, Grace Potter and the Nocturnals, leads a benefit tribute to The Band's Levon Helm at Hill Country Live in Manhattan. All proceeds support Helms' 'Keep It Going!' project, which is devoted to keeping the Woodstock barn, studio, and home of the legendary Midnight Ramble up and running.
Man, I thought I was doing something wrong. Levon stared a hole in my face while he played, his body moving but his face completely stationary. Staring. I had convinced the engineer to set me up on his right side, since he often sang into his left. Thought it would make it harder for him to look at me. Nope! It took me a few times playing with him before I realized that stare was about information and connection. "Where you at, girl? Be here now, just a little on the backside of the beat. Ain't this fun?"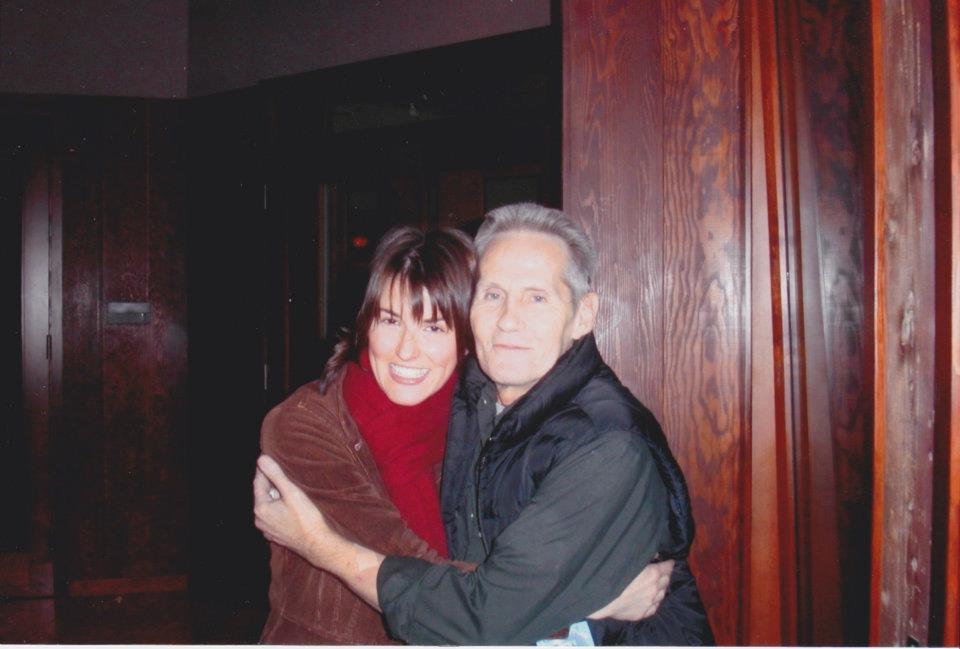 We did a few recording sessions together with local folks. He invited me over to hang in the barn to join a myriad of other musicians who came over for the low key jam sessions and tea by the fireplace. He introduced me to his daughter Amy and I love her to pieces. His wife Sandy would give my Jack Russell Jake unreasonably large cuts of meat. One time that little turd buried her ham hock outside and came back in and make a bed inside Levon's bass drum. He hooted and hollered and didn't play drums til she woke up.
After being on the road and not making it up to the house for a few years, I was asked to play a couple of the rambles with Levon. I was shocked at how they had reconfigured the barn and opened it up to the world. People were everywhere -- looking at his photos, milling around the property, petting his dogs -- getting the full experience with the price of admission. It was quite a lesson for me in how to receive and give back with the same motion. In the early days, his house was constantly on the verge of being taken from him and it was everything. It was where he lived and loved, gave to the musical community, healed himself, found his voice again and it eventually became his workplace in which he allowed thousands of people inside to feel that light and warmth. And now he's got two grandbabies that can grow up on his music in that house and continue the tradition of giving it all away.
I've never heard a musician say a bad or even indifferent word about Levon Helm (and this is not a man who was shy about voicing his sentiments). The common thread musicians share in their reverence for Levon's playing and spirit verges on the supernatural. At his funeral, the pastor begged us not to mourn but to rejoice. What about us? How would we manage without this huge force in each of our lives, this constant source of light that was so personally gifted to each of us? The whole world was wondering the same -- people who had never met the man. Thousands of Woodstock residents lined the streets and ringed the cemetery gates to pay their respects and to find comfort. So what would the community do without him? What would the world do?
My friend Seth helped organize this thing, this benefit. He wanted to honor Levon's life and legacy. He relished the idea of turning one more person on to the wealth of light this music can afford. Puss n Boots opened a ramble a few years ago. Sasha was completely geeked out about playing Levon's drum kit. Norah had recorded with Levon prior and we were all jazzed to share our spirited set of sloppy covers with an overjoyed room. And here now, a superb way to combat the grief of his loss on a personal level -- try to give a little something back to Levon's band and staff to Keep It Goin'. There's so much light left in that barn, so much music left to be made! I don't feel like I'll ever be able to repay the universe for the education I got from Levon. I stopped trying to hide my southern accent, learned to laugh at people who had "opinions" about my playing and always looked at my drummer. I try to always be kind to other musicians and open myself up to young musicians who express admiration and need guidance. The only time he ever got cross with me was when I told him I usually go to bed hungry. So I try not to do that either. I reckon the most important one he left me with is to try to leave a room in better shape than it was before you walked into it. This one is gonna take a minute, maybe a lifetime to figure out.
You can see Catherine perform tonight at Hill Country Live, along with Puss 'n Boots, Suzanna Choffel, Fredro Perry, The Cheating Hearts, Bug & Bru (of The Defibulators). More info here.

Popular in the Community