Copenhagen, Denmark -- Wearing my Woodstock Film Festival hat -- at the Copenhagen International Documentary Film Festival -- I was all set. Years ago, I had been one heavy devotee of The Band, an enthusiastic participant at the Woodstock Music Festival, a resident and lover of the artistic village of Woodstock. So I was hyped for Ain't In It For My Health: A Film About Levon Helm. Helm, for those who don't know, was the former drummer of The Band and a veteran of the Woodstock concert and is a long-time resident of Woodstock.
Film biographies on musicians mostly go one of two ways: emphasize the music or emphasize the musician. Last year Jonathan Demme's Neil Young's Trunk Show gave us the music -- Young hardly talked. A brilliant film. And Tom DiCillo's When You're Strange focused on Jim Morrison the musician -- the Doors' music was limited. Less than brilliant. Jacob Hatley's film on Levon Helm is more balanced, with both the man and his music. Helm words suck us into his story as his music moves our body.
Now 70 years old, Levon Helm is far from the crazy Helm of his youth. There is archival footage of The Band, discussions about the "glory" days, but mostly it is the former Band drummer sitting at his kitchen table chatting with friends and family and other musicians. He goes on tour, but not for long. He spends more time at the doctors, and working in his recording studio in Woodstock.
So the subject terrain ends up being rather broad, stretching from the fame of the past to the aging pains of today.
Of course demons never really leave, and on a few occasions, we catch Helm retreating inward, the past overshadowing his present, but only a few times. And personalities don't change as much as mellow, yet there are always the signs -- Helm's stubbornness, his rural Arkansas suspicion of the Suits. Yet, what dominates this delightful film is Helm's easy smile and quick laugh around the kitchen table talking about the rough past and the much more comfortable present as the aging musician moves closer to his end.
Although an intimate documentary, Ain't In It For My Health: A Film About Levon Helm does not really unravel the hidden Levon Helm. Maybe what is hidden is what we see -- easy smile and quick laugh, mellowed and wounded yet still fighting. An Arkansas country boy living in the comfortable woods of Woodstock.
The next night, with the Scandinavian night turning windy frigid, I was similarly hyped, but for a different musician. Born in New Jersey and reared in a working class family, I was jacked high to watch the new film on Bruce Springsteen.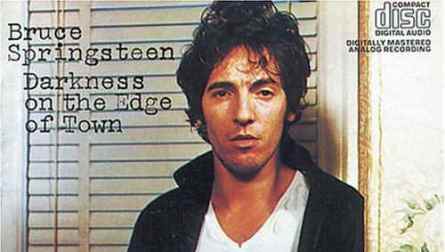 The Promise: The Making of Darkness on the Edge of Town is a riveting 90 minute documentary that zeros in on the "Boss," but in the 1970s when he was struggling to understand himself and his work. Again, there is an easy smile and quick laugh, yet the focus of this film is the past when Springsteen was relentlessly struggling to realize his musical vision.

Directed and edited by Thom Zinny, the focus is tightly on Bruce Springsteen's crucial album. While the earlier album, "Born To Run" made Springsteen a huge star, several years later the more mature Springsteen insisted upon moving in another musical direction and the result was the stunning "Darkness on the Edge of Town." But it was a difficult trip for Springsteen and the E Street Band, which this film shows in a powerful way.
Whereas Helm has his demons under control and today has pretty much settled down, we see here a Springsteen still reaching out, attempting to form an artistic vision, to form his personal values, and all of this in the context of a bad business relationship.
Few if any musicians have an articulate life philosophy that can hold an audience for an entire feature film, which Springsteen does. There are interviews with all the members of the E Street Band, but The Promise: The Making of Darkness on the Edge of Town is about Bruce, about Bruce realizing his artistic vision when in his 20's, about Bruce moving from a young man working from "artistic instinct" to the more mature musician reaching out for "artistic intelligence."
Both films have music, great music, yet both have their strongest spotlights on the musicians themselves. Neither film, however, presents a babbling Jim Morrison-type, stoned and drunk and self-destructive with nothing to really say to us. In fact, both Helm and Springsteen have a lot to tell us.
With Levon Helm, the musician is traveling down the homestretch of his life, the riotous past is present yet mostly behind him -- he is proud he did it his way, and today he loves his land in Woodstock. With Bruce Springsteen, he looks back upon a crucial transitional time in his life, when he learned not only to make the album he wanted to make, but to be the man he wanted to be.
In rootless America, both men found self-knowledge and personal strength after embracing very different communities -- Woodstock and small town New Jersey. In both, this is where their human spirit triumphed. That spirit that makes great art and refuses to crumble before the altar of anything-for-the-buck.
And in both, we win by watching their fascinating stories unfold, listening to their sharp and smart words about the past and today. And we understand, as Springsteen says, compromise is necessary in life, but we should never compromise our crucial values.
Note: an earlier version of this blog contained two errors, which have been corrected. "Born to Run" was changed from "initial" to an "earlier" album and mention of Springsteen's "failed marriage" was deleted because that occurred later.
Calling all HuffPost superfans!
Sign up for membership to become a founding member and help shape HuffPost's next chapter