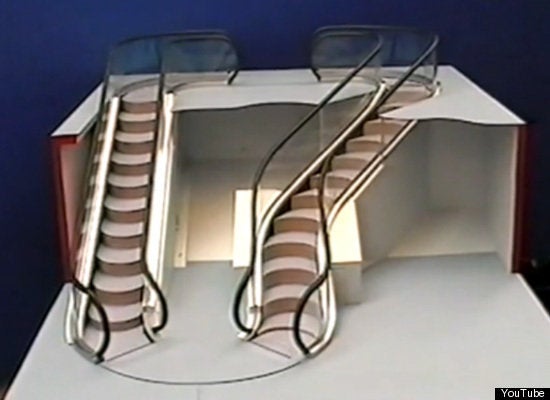 The escalator may soon have a bold new look.
Developed by City University London professor Jack Levy, the so-called Levytator resembles a conveyor belt and is the world's first freeform, curved escalator.
How does it work? "Unlike traditional designs, where redundant steps move underneath those in use, the Levytator utilises a continuous loop of curved modules, which can follow any path upwards, flatten and straighten out, and descend once more, all with passengers onboard," City University London explains.
As all of the steps can be accessed from above, maintenance can be carried out much more easily [...] It also means that no excavation is required when installing the Levytator. This could be particularly useful in the heritage sector, where the system could be placed on top of a grand staircase in a listed stately home, providing better access for elderly and disabled visitors, but not destroying the fabric of the building.
David Chan, a consultant on the Levytator project, notes that it "can carry twice as many people as a traditional escalator, but at a comparable price."
This next-generation escalator is patented in the U.S., U.K., Europe and China, and it may be coming to a mall near you. Watch the video (below) to see the Levytator in action.
UPDATE: A HuffPost reader points out that there is a curved escalator at the Wynn in Las Vegas, while another notes that there are curved escalators at the Forum Shops at Caesar's Place. It is not clear that these make use of the Levytator's technology.
WATCH:
[via
]
Popular in the Community