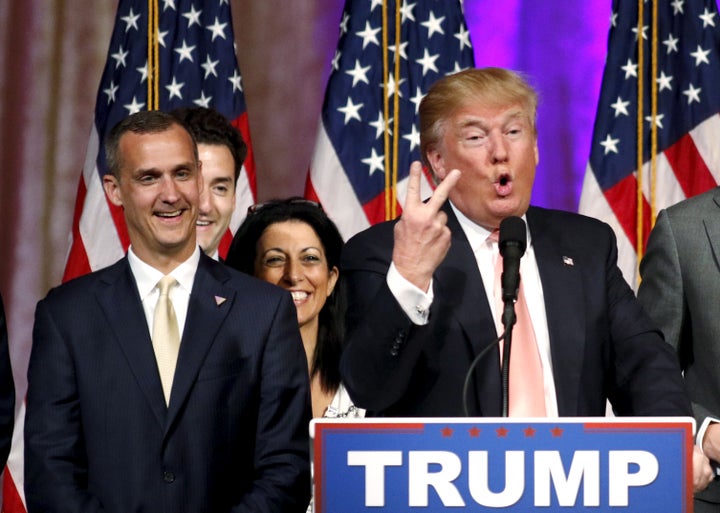 WASHINGTON ― Former Donald Trump campaign manager Corey Lewandowski has made more than a half-million dollars from the GOP nominee's run. Dan Scavino has made nearly $183,000 from it. Current campaign manager Kellyanne Conway's polling firm has been paid nearly $382,000 in a single month.
None of them has donated even a single dollar to Trump's campaign, according to Federal Election Commission records.
In fact, a Huffington Post review of Trump campaign filings shows that among a dozen top staff members of his campaign who cumulatively have made over $2 million from it, only one has donated: spokeswoman Katrina Pierson, who gave $250 on June 30.
Campaign staffers, particularly top staff, typically donate to their campaigns, in part to show lower-ranking staff that they believe in the enterprise.
Among Hillary Clinton's top staff, campaign manager Robby Mook has given eight donations of $100, plus one for $250. Communications director Jennifer Palmieri has given $500, as has top adviser Huma Abedin. Since the start of Clinton's run, her campaign has paid Mook $142,000, Palmieri $187,000 and Abedin $195,000.
As former Florida Gov. Jeb Bush prepared for his run for the GOP nomination last year, senior adviser Sally Bradshaw gave $5,000 to the super PAC supporting him.
Neither Lewandowski nor the campaign responded to HuffPost queries about the lack of donations. Lewandowski received $100,000 from the campaign in September, even though he was fired in June. He now works for CNN as a political analyst, where he consistently defends Trump, and continues to have a close relationship with him, including flying with Trump on a recent campaign swing.
Because the maximum individual contribution limit is $2,700 per election, staff contributions cannot realistically amount to a significant percentage of a campaign budget. Further, in the case of Trump, a major selling point he used in the primaries and continues to use is that he primarily spends his own money.
Trump actually spent only a few million dollars of his own money early in the primaries, and then relied largely on revenue from the sale of "Make America Great Again" hats and other campaign souvenirs until late autumn. At that point, he began spending tens of millions out of his own pocket. Since he won the nomination, though, Trump has cut back his own underwriting to $2 million a month and has relied on both large and small donations to his campaign, mainly through joint fundraising committees with the Republican National Committee.
Popular in the Community