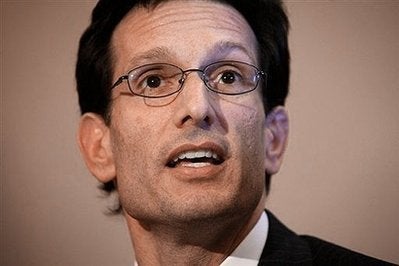 House Republican Leaders John Boehner (Ohio) and Eric Cantor (Va.) have taken roughly $60,000 from the health insurance company that owns the research firm the Lewin Group, regularly cited by opponents of health care reform, according to Federal Election Commission filings.
Cantor, meanwhile, recently urged his Republican colleagues, at the top of a summer-strategy memo, to refer voters to an "[i]ndependent analysis by the Lewin Group" that makes that case that giving Americans a public health care option would cause more than 100 million people to lose their current coverage.
The analysis, as Democrats point out, does not look at any of the current health care bills that have moved through congressional committees so far and comes up with a much higher estimate for lost coverage than the Congressional Budget Office has produced.
And with the once-prestigious research firm owned since 2007 by UnitedHealth Group, a major health insurer, it becomes that much easier to cast doubt on its analysis.
Boehner and his leadership PAC have taken in $29,125 and Cantor and his PAC have gotten $28,000 from UnitedHealth's political action committee, not including what they've also gotten from the company's executives and employees.
Michael Steel, a spokesman for Minority Leader Boehner, dismissed the notion that the contributions from the Lewin Group's owner undermine its reliability. "The Lewin Group is, as both Republicans and Democrats have said in the past, the gold standard when it comes to this sort of analysis," he said. Steel pointed to a June 2007 Wall Street Journal column jointly written by Senators Ron Wyden (D-Oregon) and Bob Bennett (R-Utah) calling the Lewin Group "the gold standard of independent, health care analysis."
He also noted that Rep. Dennis Kucinich (D-Ohio), a strong health insurance industry opponent, himself cited Lewin Group data in July 2009.
Brad Dayspring, a spokesman for Cantor, said that the focus on the Lewin Group owner's contributions is a distraction and an attempt to "impugn studies that show how tens of millions of Americans will be forced to give up the care they currently have under their risky plan."
The Republican Study Committee, a coalition of conservative House Republicans, defends the Lewin Group's objectivity: "For over 35 years, Lewin has provided its services to clients with a variety of political perspectives including the federal government and the Commonwealth Fund, a liberal health care organization," reads a statement from the RSC.
"Lewin Group has a long history of providing objective and independent policy analyses," said Commonwealth Fund President Karen Davis in a statement to HuffPost. "Nevertheless, when UnitedHealth purchased Lewin, we required assurance of the on-going independence of Lewin Group analysis and required full disclosure of the corporate relationship in any of the work Lewin did for us, and we published this disclosure in Commonwealth Fund reports that used Lewin analysis. By mutual consent, the Commonwealth Fund's relationship with Lewin was recently terminated."
Elaborating on the mutual dissolution, she added that Lewin "had other clients paying more for the work and we were concerned about differences between their modeling and CBO's modeling."
Steel and the RSC also cited Lewin's work with the liberal group Families USA, which worked with Lewin on a report on the number of uninsured as recently as March.
"I can't join the chorus that says this is a dictated product from the insurance industry. Knowing John Sheils and his colleagues. I think he has integrity," Ron Pollack, the founding executive director of Families USA, told HuffPost. The research firm has put up a wall between it and the insurance side of the business, Pollock says he's been told by Sheils, and he has no reason to doubt that.
Lewin says the same thing. "Lewin Group operates with editorial independence. So the actions that the folks over at UHC take -- really, a sister company -- are wholly independent of that," said Lewin Group's Kyle Christenson.
"There are technical and business practices in place that ensure separation of Lewin's staff, systems and data, as well as the overall work product. Learn more at www.lewin.com/integrity," added Lewin spokesman Gregory Butera.
The number that the Lewin Group came up with may have been the result of more quotidian motivations, rather than a desire to destroy the public option, said Pollack. The Lewin Group does for-profit research and has been known to thrust itself into the debate with splashy reports, even before it was owned by UnitedHealth.
"I think for a for-profit operation that wishes to get better known, it makes sense that they issue studies that are designed for broad public consumption and might have some very large numbers attached to them," said Pollack.
More importantly, he said, the Lewin study is irrelevant not because the company itself is tainted but simply because the study isn't a review of any of the plans put forward by Congress. That, of course, doesn't stop the GOP from citing it.
And citing it. And citing.
The Lewin Group referred comment on its parent company's contributions to UnitedHealth, which didn't respond to requests. The company, however, spreads its money around. The Center for Responsive Politics records UnitedHealth spending $2,620,000 to lobby so far in 2009. It dropped $4,710,000 in 2008, $5,064,000, in 2007 and $3,340,000 in 2006. It has split its contributions more toward Democrats the last several years, handing $138,700 to House Democrats in 2008 and $100,500 to House Republicans. Senate Democrats took in $71,500 that year, while Senate Republicans got $58,300.
Jeff Muskus contributed reporting
REAL LIFE. REAL NEWS. REAL VOICES.
Help us tell more of the stories that matter from voices that too often remain unheard.