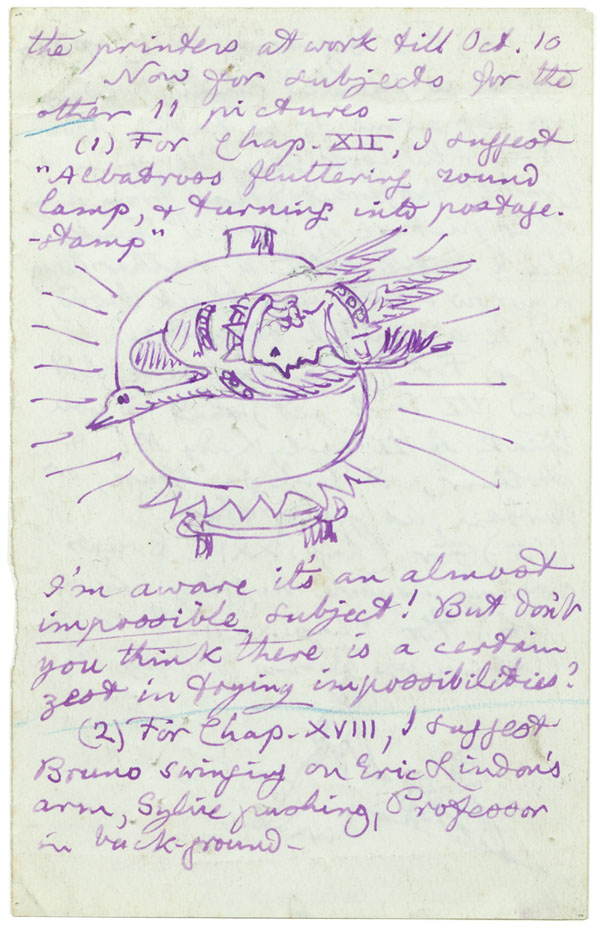 Lewis Carroll's original sketch for "The Mad Gardener's Song" in Sylvie and Bruno

"The Mad Gardener's Song"
-------------------

He thought he saw an Albatross
That fluttered round the lamp:
He looked again, and found it was
A Penny-Postage-Stamp.
"You'd best be getting home," he said:
"The nights are very damp!"

--from Sylvie and Bruno
A couple of years after the first publication of Alice's Adventures in Wonderland, the recently established Aunt Judy's Magazine printed two new stories by Lewis Carroll: "Fairy Sylvie" and "Bruno's Revenge." Several years later, Carroll decided to use these as the basis for a novel, and in 1889 he was hard at work finalizing the first volume, Sylvie and Bruno, for publication.
Carroll enjoyed drawing throughout his life and he has been lauded as "the most outstanding photographer of children in the nineteenth century," but he always turned to professional artists when it came to illustrating his children's books.
The caricaturist Harry Furniss, who also illustrated the works of Dickens and Thackeray, worked for several years with Carroll on Sylvie and Bruno, and their collaboration is richly documented in a series of letters from Carroll to Furniss. Their correspondence discusses in detail the composition and illustration of the story, and Carroll has filled his letters with sketches to guide the artist.
Carroll hoped to see the first volume published by Christmas 1889, and in a letter (shown above) from September of that year, Carroll notes that "the case looks almost hopeless" because seven chapters still need to be illustrated. He then goes on to describe in detail a number of illustrations that he wants Furniss to try. To depict The Mad Gardener's Song in chapter 12, Carroll asks him to show an Albatross turning into a postage stamp. He then acknowledges, "I'm aware it's an almost impossible subject! But don't you think there is a certain zest in trying impossibilities?"
For more information about this item, click here.