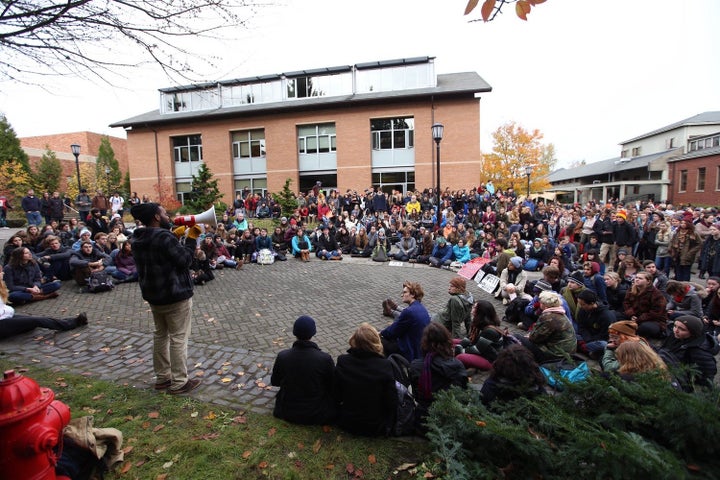 Students at Lewis & Clark College in Portland, Oregon, are pushing for change on campus after a racially charged attack on a black student that they say the administration hasn't adequately addressed.
The group formed after three white men allegedly assaulted Tanguy Muvuna, a black L&C student, on campus Friday. The attackers allegedly called Muvuna a racial slur, pushed and slapped him and told him he was "going to die tonight," according to reports.
College president Barry Glassner said that the school was "working actively with legal authorities to bring the assailants to justice" in a statement on Saturday. Police are investigating the incident as a potential hate crime, Oregon Live reported.
The student activists, who call themselves "LC Black Lives Matter," say that the school needs to do more to address racism on campus. They staged protests in the days following the incident and occupied Glassner's office on Tuesday.
"You have created a culture of fear...I am so hurt," one student said during the sit-in, according to the group's website.
Among their proposals is a buddy system that will pair students who feel unsafe walking alone on campus with a companion for support.
These students are also looking to increase the number of faculty of color and add a required class for freshmen that focuses on "social justice and engagement." They met with faculty members Tuesday night to discuss their ideas.
As Elliott Young, the school's director of ethnic studies, pointed out in a blog for The Huffington Post, "there are only three black full-time faculty and zero Native American faculty out of 125 professors." 
During the sit-in, Glassner spoke briefly to the students but did not stay to meet with them, they said. "I hear the pain and frustration they are expressing. I hear their stories. I hear their call for action," Glassner said in a letter later on Tuesday.
On Tuesday, Muvuna said he wan't angry. "I have many friends here, black friends and white friends,'' he said. "I'm not angry. I'm not upset. I love everyone here. I love the white people. I love the black people here. Many white people here, they are not racists. I'm safe. I'm safe here.''
"I never asked to be born black. To be black is not a crime," he added. 
A few days before the attack, the school also discovered racially fueled hate messages that had been posted on Yik Yak, a messaging app popular among college students. 
"Hate has no place at Lewis & Clark," Dean of Students Anna Gonzalez said in a letter to the community. "We must work together to ensure an inclusive experience for all members of our community and maintain a campus where all are free to learn in a safe and welcoming environment."
PHOTO GALLERY
Scenes From The Protests At Mizzou
Calling all HuffPost superfans!
Sign up for membership to become a founding member and help shape HuffPost's next chapter