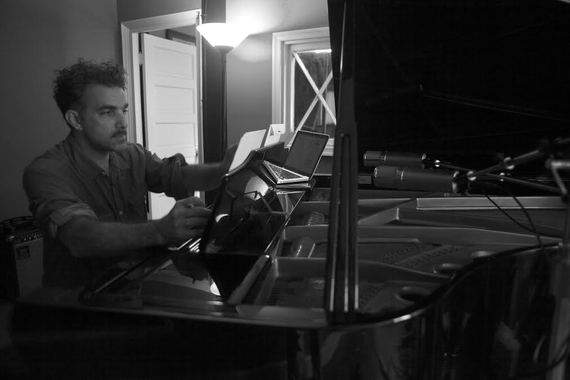 There are hells from which some never emerge, anguishes so insidious they leech the spirit of its purpose and pleasure until the mind resigns itself to a sorrow so permanent no joy can crack its carapace. For two years I mucked through such a hell, one wrought by Obsessive Compulsive Disorder and co-occurring depression that nearly cost me my graduate degree, my art and, twice, my life. It's why I haven't written a piece for HP in so long, and why I spent the teeth of last year's football season at a clinic in rural Wisconsin. I overcame the sickness, some don't and it's a crime. Yet, perhaps surviving oblivion--and the grave recognition that some, in fact, do not--fosters a deeper, more earnest appreciation for the redemptive--that being the soul's reassertion of itself; its conquest over, and adamant refusal of, the blackness that can so oppress. In the case of musician Lou Rogai this redemption takes the form of a double LP three years in the making. It's called Triumvirate, and it is gorgeous, and it is heartbreaking, and it reminds one that grace exists in this life if we have the dogged strength to finally find it.
Lewis & Clarke is Lou Rogai, of that there can be no doubt. Though he's played under the moniker since 2003 with a shifting cast of accompanists (most notably the gifted O'Hara brothers, Ian and Shane), Rogai has always been the project's beating heart and sole songwriter. The music is his. I met Rogai in 2009, at a show in the now-closed, utilitarian bar Hotti Biscotti in Chicago's Logan Square. He was clad in plaid flannel, wore his unkempt hair long, and had a nervous energy about him that dissipated only when he took the stage. I remember, even more than the music, the slightly feral glint in his eyes and the sinews in his wrist and forearm when he shook my hand, hard, after his set. There was no mistaking, even then, that the man had weathered storms. At the time, Rogai was headlining a tour he'd organized in support of Lewis & Clarke's EP Light Time--a four-song collection that includes a haunting rendition of Leonard Cohen's "Chelsea Hotel No. 2", and that is the second panel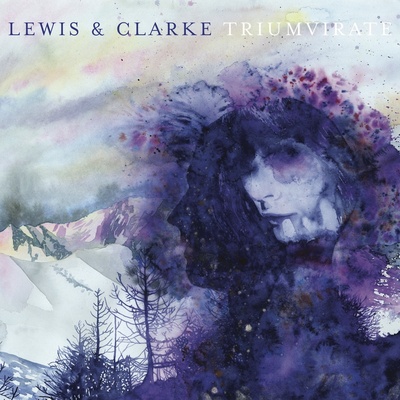 of the triptych Triumvirate will complete upon its release. Only now, and still only vaguely, do I know the story behind this triptych. The first installment, the 2007 full-length, Blasts of Holy Birth explores the emotional and psychological terrain of the birth of Rogai's only son. The creation of Light Time was then prompted by the harrowing dissolution of Rogai's relationship with his son's mother. The forthcoming Triumvirate, by way of metaphors delicately spun (if at times difficult to decode) is a response to the crises of the intervening years--years marked by a series of vindictive custody battles, deaths, depression, creative stagnation, and the challenges of single fatherhood. Throughout the course of the trials cataloged above Rogai was also charged with keeping his record label, La Société Expéditionnaire viable in an age of digitized music, despite the fact that his longtime friend and one time protégé, Timothy Showalter (Strand of Oaks) left the label shortly after releasing one its most acclaimed albums, 2009's Leave Ruin, citing artistic differences. Leave Ruin remains Strand of Oaks most cohesive and focused offering, and that is, in large part, because Rogai was instrumental in shaping it. I still recall the car ride to a Fogged Clarity concert in Wheaton, IL when Showalter explained to me how Rogai curated the recording of the Strand of Oaks song, "Sister Evangeline". Rogai set up a piano in a garage draped with black curtains, lit only with candles, and accompanied Showalter while he sang and played guitar. Rogai halted the recording abruptly countless times imploring Showalter to sing sadder, sadder. His rigor almost brought the two to blows that night, but the resulting track is the richest, and perhaps, most poignant, on an already poignant album.
The time and effort Rogai invested encouraging and helping to realize his close friend's music undoubtedly made Strand of Oaks defection from La Société Expéditionnaire all the more painful. While Strand of Oaks went on to release three more full-length albums since Leave Ruin, and, of late, achieve modest fame, Rogai was left to press forward, sacrificing his own art to promote the work of his other label mates, and thus remained quiet, until now.
Triumvirate is not a rumination on hell, but an informed and elegant chronicle of its formative properties. It is a grizzled captain surveying the storm's damage, settling into the peace of a sea finally calmed. The album, in both form and function, is an act of healing. That healing is facilitated by Triumvirate's luxuriantly textured string arrangements that both invite reflection and serve as the shimmering ligature of Rogai's lyric dreaming. Though Triumvirate clocks in at 75 minutes, it is without dalliance, and wastes little time getting to the heart of its matter. The opening track, "Eve's Wing" is an expansive sonic arras that, over the course of 10:40, conveys, albeit abstractly, the tale of Rogai's friend and frequent collaborator, cellist Eve Miller. While out on tour, Miller fractured her arm at a rest stop after a seemingly innocuous fall and was, for a long while afterwards, denied her livelihood, uncertain if she'd ever play again. "Eve's Wing" is a tribute to Miller's crucible, and ultimately, a testament to her resilience and recovery. But Rogai also uses Miller's struggle as a mirror to better investigate his own, and his positioning of the track at the album's forefront establishes a tonal and thematic frame for subsequent songs. The lines Rogai sings leading into the shiver-inducing string crescendo in "Eve's Wing" could very well be the manifesto for Triumvirate:
Without fear/Without force/Without might/Without shape/Without sight/Let it bellow and bowl/Bend every note/Let it tether and toll/Unlock the folds/We will spin it from coal/We will turn dust to gold/It will never be sold/Let it grow/Let it go.../Let it grow...
The above seems an urging to relinquish egoism and sorrow, and embrace, again, the wondrous freedom requisite for continuance and growth; for the emergence from hell.
In many ways, Triumvirate feels like a very private album. As listeners, we are the equivalent of nurses in the hospital room of a convalescent, privy to the patient's most intimate conversations with himself and his family. These conversations are conducted largely through imagery and metaphor that can, sometimes be tricky to interpret, but are beautiful nonetheless. Who but Rogai can truly know the impetus of these lines appearing in "Resistance":
You are crushing light/Cursed with a touch/That will steal our time/And your soul in mind/Secret winter, frozen jaws/Icy flow before the thaw/Hollow story left untold/Bend it, bend until you fold...(?)
Triumvirate reminds us that it is often necessary for one to craft and weave their own semiotics in order to arrive at revelation. Our crises and failings are wholly our own,
why should we not forge a unique, artful language to address and escape them as long our audience can discern a resonant approximation of its meaning? This, of course, can be regarded as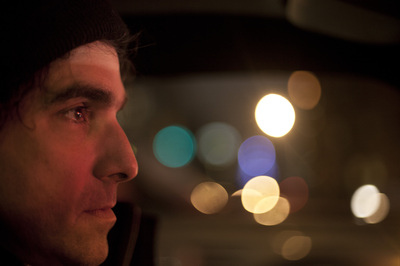 an argument for lyric poetry, and fittingly so, as Rogai is issuing a carefully lineated songbook in addition to Triumvirate's two LPs. It must be mentioned that, as a practicing poet, I'm wary of abstractions, especially when they are left to accrue unclarified, however, one develops enough of a trust in Triumvirate's vision as it unfurls to not only permit, but relish in even its most abstruse obsessions.
Its ambition and scope make Triumvirate somewhat difficult to classify, but alas, one must try: If a steel worker from Pittsburgh had a child with an organic vegetable farmer from Western Oregon and that child, after being trained in both vocations, was sent to a liberal arts school to study classical literature and music theory, Triumvirate, 15 years later, might be the album she/he would create. This is not Rogai's story, but it speaks to the aesthetic of his new record. Amid the burnished strings and sumptuous piano lines there is a gritty, agrarian ethic pulsing through Triumvirate. One feels the reverence for landscape and labor at its core; its beauty is not effortless, it is workmanlike, earned like a harvest wrested from black soil. In the sparse and stirring "The Reach and the Grasp" Rogai sings in a pleasantly rusted, undulant tenor:
The hills have hearts in lonely dawn/And we're listening to its pulse/In a cadence of stormy march/We count the miles between the claps/The lines are etched into the shell/It's the genius of design/There's a feather frozen still in the waterfall/Will you take it as a sign?
For Rogai, there is an order and instruction to be found in nature if one has the poise and patience to observe it. The origin of Rogai's fondness for landscape isn't hard to pinpoint, he lives on the fringes of a National Park in Delaware Water Gap, Pennsylvania where he swims, hikes, records and runs his label. His music is informed by the grandeur he wakes to each morning--rivers and mountains, the skyward arcs of hawks and falcons--all the splendor we can lose sight of when we're suffering. Rogai suffers less now. He lives with his son and fiancée, and his love for them was pronounced in the two discussions we had in preparation for this piece. In both phone calls, Rogai effusively updated me on his son's growth in school, music and life. Today Rogai is clean-shaven, with considerably shorter hair. He and Showalter have reconciled and since collaborated on a forthcoming Lewis & Clarke song, and a new calm now mingles with the lingering wildness in Rogai's eyes. You can see it in the superb short film, A Map of a Maze (directed by Kevin Haus, shot by cinematographer Dan Papa) made to mark the release of Triumvirate, or the recent session he recorded for Fogged Clarity in an abandoned stone chapel near his home. In each video, Rogai has the look of a man who has survived to create something special.
I assure you, on both counts, he has.
___________________________________________________
*Pre-order "Triumvirate" here.
**Watch Lewis & Clarke's Fogged Clarity session here.
***Watch A Map of a Maze here.
REAL LIFE. REAL NEWS. REAL VOICES.
Help us tell more of the stories that matter from voices that too often remain unheard.