Charlottesville, VA - Transworld Business Advisors of Virginia Beach, VA and Charlottesville, VA have Lex Meredith as President and Principal Broker. He's an extremely laser focused guy who is continually looking for the next opportunity to improve. A helper, a giver and an overly competitive individual. He quoted Billy Beane: "I hate losing, even more than I love winning" and that would about sum up his personality type.

"If I do something, I want to be the best in the world at it, not second or third. If I don't truly believe that I'm the best in the world at what I do, then I can't promise people the things that I promise them. I'm not always the most likeable guy in the room, that's for sure, but I promise my perspective and ultimately my actual clients three things. I say to them, "you're not always going to like me and you're not always going to hear what you want to hear from me but I will promise you this... I will always tell you the truth, you'll always know where I stand on an issue and I'll always do what's in your best interest."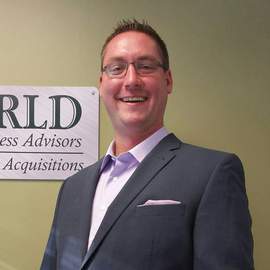 What has driven you in building such success?
"That's a great question! When I was young I wanted to be a garbage man. It just seemed to me that riding on the back of that truck would be the most fun ever! The two key factors at this point in my life though, are my desire to help people and my desire and love of the win, in that order. I think that my deep love of Country has also contributed. I see this country heading in a certain direction financially and I want to be part of the solution and the best way that I could find to do that is to help people become entrepreneurs. Helping someone buy, sell or franchise a business is the most important role that I can see myself in with regards to the business community to help them at all points in their journey from the beginning to the end in retirement."
How important is it to keep personally connected to the process of procuring your team?
"Hiring is an extremely important responsibility and putting the right candidates in the right spot is essential to building a strong company name and reputation. As the #1 ranked business brokerage in the world, keeping that ranking and increasing our market share is of the utmost importance to us and me personally. When your company is entrusted with the sale of someone's business or helping someone purchase a business, that's the largest and most important transaction that anyone will make in their life. It requires someone not only with an integrity-first mentality but also someone with the drive that it takes to work a business deal as that can be a confusing and 24-hour a day process at times."
Best interview question you have asked?
"I was taught by a great mentor to watch what people do and not what they say so instead of telling you what my best question is I'll tell you one of the tactics that I've found to weed out the lazy. I interview at 6:30 A.M.! I find you can tell a ton about a person by how they react to scheduling and ultimately showing up in a timely manner for a 6:30 A.M. interview."
"I also like to end interviews with "There are a lot of people that we've interviewed that are a lot more qualified than you are..." and leave it hanging to see what they say. If they push back and say 'No, you haven't; I'm the one you're looking for' you may have someone worth taking a closer look at."

What are your underlying and long-term goals?
"My main focus is giving back to my community and speaking with teens both in Virginia and nationally via social media. I was physically abused by my father growing up, had a troubled childhood and wasn't a very good student. I can't stand to see people enabling a victim mentality because of that and I try to encourage victims to get out of it. Because of that my passion is to eventually be able to help restructure the entire education system.

I believe that some major gaps are being completely missed in school including finance, how to run a household financially and balance a checkbook. I believe that sales skills should be taught to everyone because whether you choose sales as a career or not, every single day you are alive is a series of sales. You want to get a job? Better know how to sell. You want to go on a date with a girl? Better know how to sell. You want to get a promotion? Better know how to sell! Master sales professionals are the highest paid individuals on the planet. I also think classes on entrepreneurship along with the "basics of investing" that would teach kids early that saving their money is not the way to financial independence. Every dollar you "save" gets smaller and worth less every second that it's sitting in a savings account. It's actually working in reverse from what our grandparents taught us it would do for us. You might as well throw money off a bridge. I'm a big believer in "save to invest, not simply to save" which is something Grant Cardone says.
Thoughts about entrepreneurial inspiration?
"Social media is a great way to influence others around you. Simply start surrounding yourself in real life and in your social media life with more positive influencers and in turn your life will start to become better as you pick up new knowledge and start applying it. Then share that knowledge with those around you and encourage them to do the same. Create that culture and watch what happens!"
REAL LIFE. REAL NEWS. REAL VOICES.
Help us tell more of the stories that matter from voices that too often remain unheard.