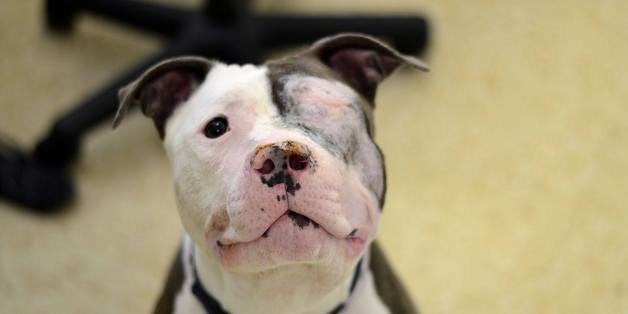 It's impossible to know what Lexi's life was like before she was discovered tied up to a Brooklyn fence, bleeding from her eye and her nose.
Jackie O'Sullivan with Second Chance Rescue thinks Lexi's previous family might have become overwhelmed by medical needs, which were many -- Lexi had a massive tumor in her head -- and figured abandonment could offer the two-year-old's only chance.
"They probably tied her to that fence in the hopes that somebody would help her," she says.
Somebody did. In late March, Lexi was pulled from the New York City animal shelter by Second Chance, a New York-based pit bull rescue group that specializes in dogs who have been abused or neglected, or have serious medical needs. She was brought straight to the emergency veterinarian, who removed the dog's bum eye and as much of the tumor as could be gotten.
Then Lexi underwent three weeks of intense radiation treatment, after which she was fostered by veterinarians and staff from Faithful Friends Animal Hospital, who -- like everyone who came into contact with Lexi, either in real life or on her Facebook page, which has more than 62,000 fans -- had fallen in love.
The radiation was supposed to buy Lexi another one to two years, says O'Sullivan. But a couple of weeks after finishing treatment, "the tumor started to grow again. It basically was a monster."
There was nothing to be done at that point, except to make Lexi happy.
When she wasn't acting as a canine receptionist at the vet's office, Lexi got playdates with doggie friends. She went hiking.
A Second Chance volunteer took Lexi to the beach.
Lexi still put in appearances at adoption events and fundraisers, as well, where "even if she was a little bit tired, she was wagging her tail," says O'Sullivan.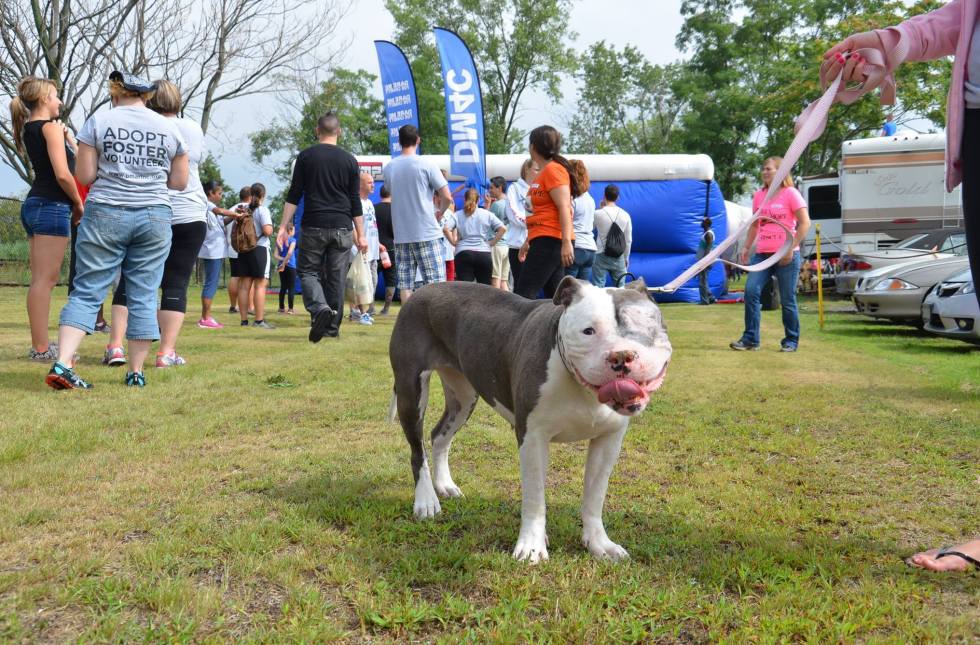 Last week, Lexi took a turn for the worse. Her little tail kept wagging, but she didn't want to eat. On Thursday, Lexi's caretakers made the heartbreaking decision to end her suffering.
"We knew the day had come," says O'Sullivan. "We wish we had more time with her but the tumor was just relentless."
O'Sullivan says she hopes that Lexi's legacy will live on in people committing themselves to homeless dogs who need medical care, and to working toward overcoming prejudice against pit bulls. Second Chance has helped more than 700 dogs already this year, she explains; if more people took in fosters, or volunteered, or donated, this group alone could help even more.
But even beyond that, she says, she's just been really heartened, hearing from so very many people who were touched by this "sweet, gentle dog."
"We just wanted to give her the best life we could," O'Sullivan says, "for as long as she had."
And get in touch at arin.greenwood@huffingtonpost.com if you've got an animal story to share.

Calling all HuffPost superfans!
Sign up for membership to become a founding member and help shape HuffPost's next chapter