Mayor Jim Gray charted a deliberate course when deciding how to remove two Confederate monuments that stand in front of the historic downtown courthouse of Lexington, Kentucky.
"We've been examining the question for almost two years," Gray told HuffPost on Monday. "Some would say that's way too long. I would say that change is better accepted when it's understood. It's not unexpected that you'd have pushback and challenge and different points of view on this. We've given it time for understanding, and th erefore, there's a better chance for acceptance of the path forward."
Lexington, like Charlottesville, is a genteel southern university town with a progressive tilt that sets it apart from the more conservative areas around it.
Unlike Virginia, Kentucky did not leave the Union during the Civil War, but it was a slave state that sent thousands of soldiers to fight for the South, and Confederate imagery is not an uncommon sight there.
Confederate monuments dot the state's landscape, at least seven high schools still use "Rebels" as their mascot, and Kentucky is home to nearly 20 groups affiliated with the Ku Klux Klan or other white nationalist organizations, according to the Southern Poverty Law Center.
But so far, most responses to Gray's announcement have been positive, he said, even if some local residents disagree with the plan.
The Lexington Police Department, meanwhile, is not aware of any potential organized protests or actions from white supremacist or similar groups, said Brenna Angel, a spokeswoman for the department.
Police are monitoring such groups online, and the department has begun to examine the way police handled the rallies and counter-protests in Charlottesville, Angel said.
She said the police have also been in contact with groups who support Gray's effort, and plan to keep communicating with them throughout the process of moving the monuments in an effort to ensure that potential counter-demonstrations would remain peaceful.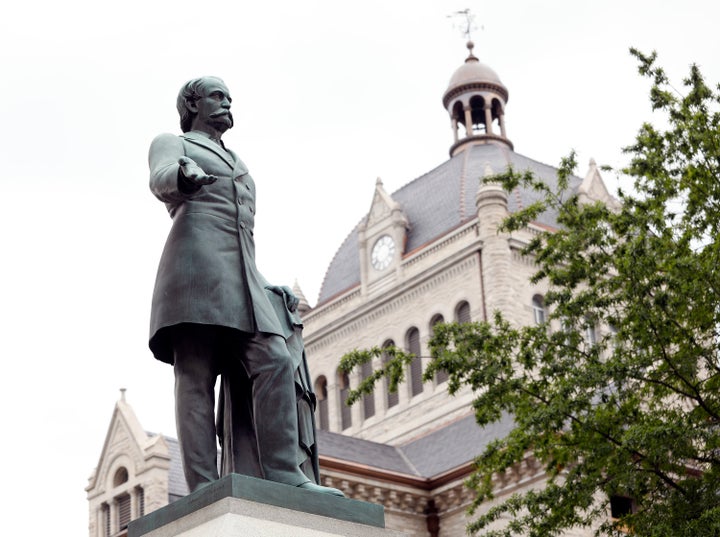 Even if Gray's plans were to evince a stronger reaction ― if white nationalists or neo-Nazis descend on the city as they did in Charlottesville, and have in multiple other cities ― those opposed to the monuments' removal shouldn't expect their resistance to work, said Steve Kay, Lexington's vice mayor and a member of the city council.
"The fact that there might be some kind of reaction is, in my mind, no reason not to go forward with something that is right for our community," Kay said. "If people from the outside or locals feel they need to protest or counter-protest, we need to be ready to handle that. But the last thing in the world we want to do is to be intimidated. That's exactly the wrong thing to do, is to back off from what's right because some people threaten violence."
Gray and Lexington's city council began exploring the removal of the two Confederate statues that sit outside the historic courthouse in 2015, when a grassroots group known as Take Back Cheapside began pushing the city to remove them from the courthouse location.
The monuments honor two Lexington natives: John C. Breckinridge, the 14th vice president of the United States who later became the Confederate secretary of war; and John Hunt Morgan, a general who led Confederate troops in raids across Kentucky, Indiana and Ohio before a Union soldier killed him in battle in 1864.
The statues' location is a major reason why Gray and other city officials feel they need to be removed. The Cheapside area, where the old courthouse is located, was once the site of Lexington's slave auctions, where thousands of slaves were bought and sold while others were held in prison pens nearby as they awaited sale to locations deeper in the South.
"The Cheapside location, when you think about it clearly, there's really no other choice," Gray said. "We have two Confederate statues that are standing on really sacred ground. These men fought to preserve slavery and today they're honored on the very ground where men and women and children were sold into slavery. That just isn't right."
Councilwoman Angela Evans, one of three black members of Lexington's city council, said that the statues' presence in Cheapside has made the area "a sore spot and a place of pain for the African-American community."
"I'm certainly happy to see that it is now being recognized for what it is, and what it means to a large part of Lexington," Evans said.
"These men fought to preserve slavery and today they're honored on the very ground where men and women and children were sold into slavery. That just isn't right."
Gray on Tuesday will formally submit a proposal to the city council to remove the Confederate monuments. The council must first vote to accept the proposal before it would hold a final vote later in the week on whether to approve it. Council approval would forward the proposal to the Kentucky Military Heritage Commission, which would also have to approve the measure in order for the city to relocate the statues from their current site.
Take Back Cheapside, the group that has been pushing for the statues to be removed since 2015, is planning to rally outside Lexington's city hall this week in an effort to convince council members to green light the removal process.
"We're just making sure we target any council member who may not vote for it to make sure they understand ... that it's not a debatable issue," said Russell Allen, one of Take Back Cheapside's organizers.
Even if the Heritage Commission approves the petition, the statues won't disappear from the city: the current plan would move them to a park in Lexington's suburbs, where there are other military monuments, and where they would be joined by two statues honoring Union soldiers.
That plan, Gray said, is the result of the city's lack of total control over the monuments and their location. The commission would not approve a move unless the city found a new location for them, he said.
Allen, for now, says he is satisfied with the plan to move the statues to the park site.
"The goal is to accurately depict the history," he said. "We want to get those statues around greater men than those men ― great black leaders, great Union leaders. We want to tell the full story."
"Right now," he added, "we want to make sure, first and foremost, that we get those Confederate generals and slave owners out of a former slave auction block."
Kay, Evans and Councilman Jake Gibbs, who represents the area where the statues are located, all support the plan to remove the monuments, and all three said that while they had not discussed Gray's proposal with their fellow members, they expected it would win the eight votes needed to pass. (They were the only three members who responded to HuffPost's general inquiry to the council.)
"I've had interesting conversations with people who think we should respect the past and not tinker with it," said Gibbs, who also teaches history at Bluegrass Community and Technical College in Lexington. "I respectfully disagree with them."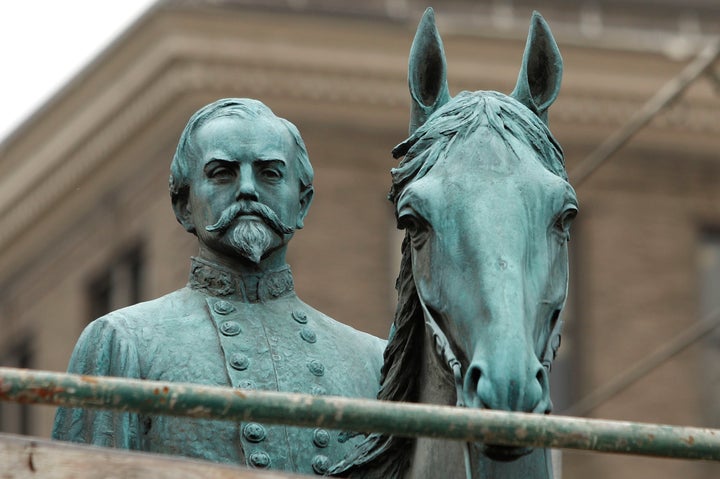 The statues, Gibbs noted, were put in place shortly after the Civil War, amid efforts to derail Reconstruction and prevent the full enfranchisement of newly-freed African-Americans.
"Statues like these in Lexington and all over the South started popping up around this time," Gibbs said. "They were statements that white supremacy was back."
Groups promoting white supremacy and similar ideas have been on the rise in recent years, according to the Southern Poverty Law Center. Richard Spencer, the white supremacist leader who has organized rallies across the country, said Monday that his group and others will return to Charlottesville for more demonstrations, and said they could venture to other cities as well.
No matter what opposition he may face, however, Gray said that the last few days have only bolstered his resolve.
"What the events in Charlottesville did was confirm that this was the right thing to do," he said.
This article has been updated with comments from Russell Allen.
Sign up for the HuffPost Must Reads newsletter. Each Sunday, we will bring you the best original reporting, long form writing and breaking news from The Huffington Post and around the web, plus behind-the-scenes looks at how it's all made. Click here to sign up!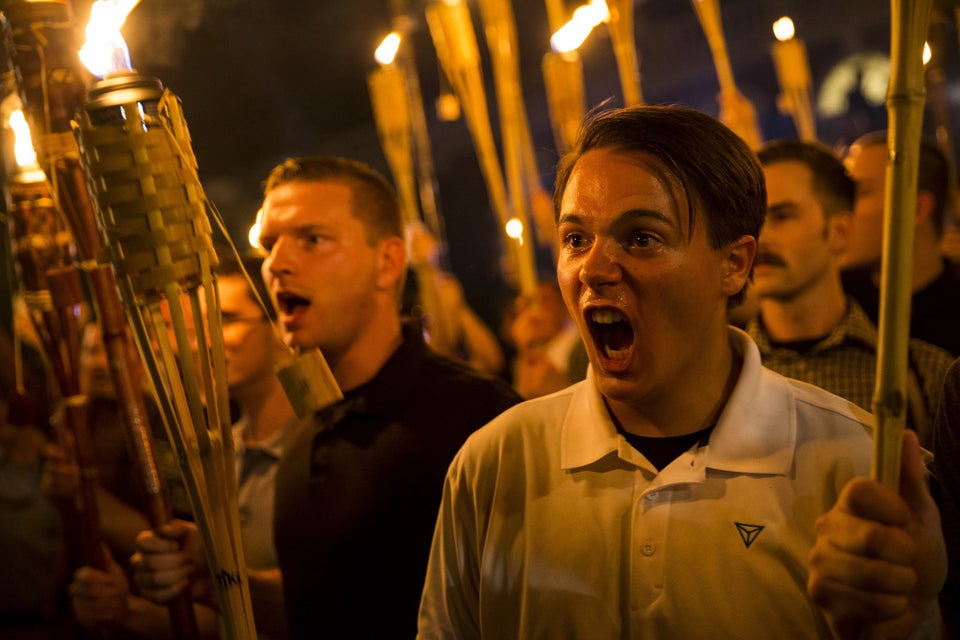 Clashes In Charlottesville
Popular in the Community