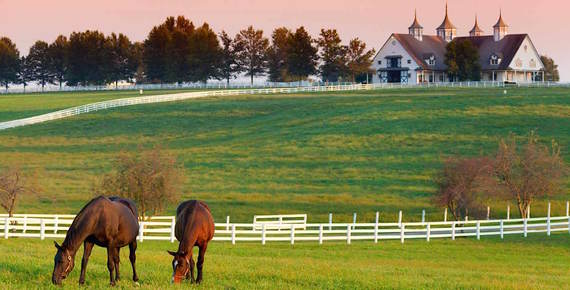 If it's springtime in America, there are few places lovelier to be than Lexington, Kentucky. The city by that name is well worth visiting, but it is in the surrounding hillsides that you find the soul of the place, especially between April and October when this "Horse Capital of the World" showcases thoroughbred racing by the world's finest horses and jockeys at Keeneland Race Course, which this October will host the 2015 Breeders' Cup World Championships.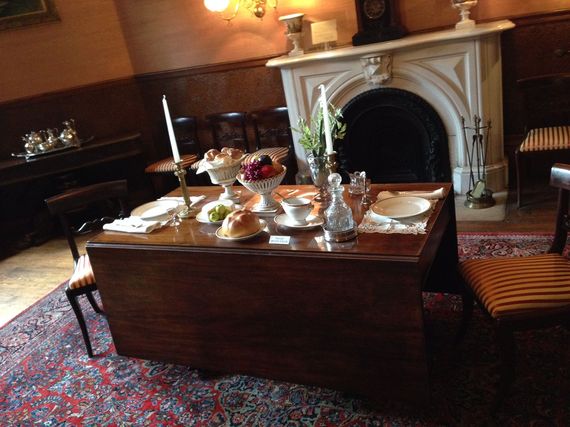 It is also a region rich in history, including Ashland (above), home of the great and brilliant 19th century statesman Henry Clay, which is set on a 20-acre wooded estate with an English parterre garden. Guided tours are given six days a week to this bucolic spot, of which Clay wrote: "I am in one respect better off than Moses. He died in sight of, without reaching, the Promised Land. I occupy as good a farm as any that he would have found, if he had reached it; & it has been acquired not by hereditary descent, but by my own labor."
One can also walk the African American Heritage Trail, created by sociology professor Doris Wilkinson based on her original brochure "A Guide to the African American Heritage in Downtown Lexington, Kentucky."
Kentucky's native spirit, bourbon, is proudly boosted around the region, with six of the most popular distilleries along the Bourbon Trail within five to thirty minutes of the city center. Both Wild Turkey and Four Roses have new visitor centers.
It would be wholly wrong to characterize Lexington's gastronomy as awash in grits and barbecue, though you can readily find both at Billy's BAR-B-Q (here since 1978). But there are also the marvelously evocative Holly Hill Inn in an 1838 ante-bellum mansion, an excellent family-run restaurant featuring traditional and modern cuisine at very good prices;and an always convivial fine dining restaurant named Dudley's, located in the stately Northern Bank Building, built in 1889, whose owner, Debbie Long, knows well the meaning of personal and culinary largess.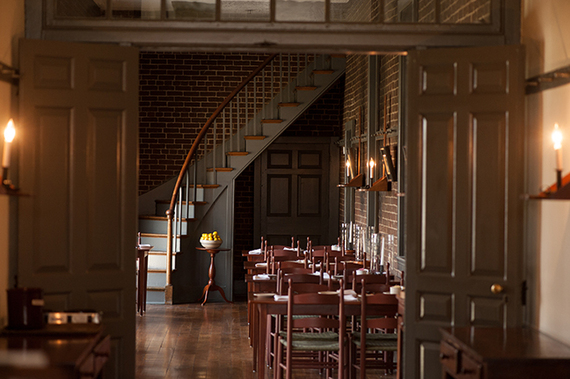 Certainly unique is the restaurant that is oddly called the Trustees' Table (above) at Shaker Village of Pleasant Hill, which is the largest restored Shaker community, with 2,900 acres of farmland and 34 renovated 19th century buildings. Examples of the distinct Shaker design can be found in every house and piece of furniture, as it is in the restaurant -- where you need not be a trustee to dine. And the food, whose ingredients come largely from local gardens, largely reflects the kind that the community once would have consumed, starting with hot corn sticks and a cole slaw that is far more addictive than the sober-sided Shakers might have wished.
There are plump, hot chicken croquettes chock full of mushrooms, onions, chives and parsley ($13.95), served with a rich cream sherry sauce, corn pudding and baby green beans in dill butter. I loved the potato and ham soup ($2.95 or $4.95) and slow-roasted pork on brioche bread ($12.95) -- as juicy and delicious as you'll find in any local barbecue spot, only here they add fontina cheese and a sweet pepper relish. Dining within the walls of this darling restaurant adds measurably to one's appreciation of the whole enterprise at the Village, where, as the old hymn says, it is indeed a gift to be simple.

One of the favorite dinner spots in Lexington, in a refurbished landmark building dating to 1938, is Coles 735 Main, where just about everybody seems to know each other, not least the management and wait staff that greets you. The interior has history on its side, including three restored English hunt scene murals that had been painted for the restaurant in 1949 by local art teacher Theresa Newhoff, who put local people into the scenes of the "Blessing of the Hounds."
Native-born chef-owner Cole Arimes has had long experience at some haute cuisine restaurants outside of Kentucky, and it shows in his precision and in the way he imbues old dishes with bright flourishes. Even a somewhat questionable idea like panko-crusted fried avocado worked, not least because it came with a meaty crab salad and lemon-saffron aïoli ($10). It was also so good to see that Arimes knows well how once-dismissed Iceberg lettuce is supposed to work -- with real crunch -- under hard-boiled egg, chives, tomatoes, Gorgonzola, and barrel-smoked bacon dressing ($8). A pork belly confit with micro salad and red onion vinaigrette ($12) seems right at home here, and, if tuna sashimi ($12) seems far afield, it's still a pretty good rendering.
Pastrami short ribs are cured and smoked in-house, with wasabi-spiked whipped potatoes, kimchi, and a delightful sorghum Pommery demi-glace ($30). Best of all dishes I tried was one urged on me by the waiter, who promised it would be one of the best steaks I'll ever eat. And it was, a Black Angus strip (below) of admirable marbling and good minerality, seared perfectly and oozing red juices, all accompanied by smoked garlic grits and compound butter -- a steal at $33.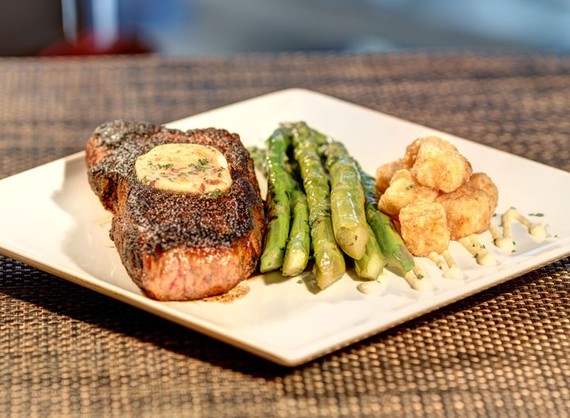 All desserts I sampled were up to what preceded them, from bourbon ball flourless chocolate torte with smoked pecans ($6) to a Key lime pie with Chantilly cream ($7). Coles is all about pleasing the customer, not by merely giving him what he thinks he wants to eat but by engaging him to try what he's going to end up loving.
For a charming night out, at a restaurant smack in the middle of a vineyard, head for Jean Farris Winery & Bistro, whose husband-wife owners produce a wide range of bottlings that include everything from Chardonnay and Cabernet Sauvignon to "Vintner's Blended Reds" like Tempest (Tempranillo, Cabernet Sauvignon and Cabernet Franc) and Hell Hound, a mongrel mix named after their dog Hades.
The dining area is set in a barn-like space, and it's casual, with plenty of encouragement to try the estate's wines by the glass, which match up splendidly with starters such as the Butcher's Board of house-made charcuterie like duck rillette, pȃté, white fish, truffled lardo and Kentucky cheese ($16). In addition, there is a selection of cheeses (one for $6, three for $14), many of them from the state's thriving cheese industry. Too bad that on the night I was there all cheeses came to the table cold.
For a main course I went with a fine pork loin with sweet potato chips, blue cheese, bacon, Brussels sprouts, and a pepper jelly demi-glace ($26) and a sous-vide slow-cooked duck with kimchi lentils, orange suprèmes, and sweet soy reduction ($26), which honorably married the best of east and west flavors.
For dessert the chocolate bourbon tart was good, but the raspberry cobbler was a reminder of how cooked fruit and streusel epitomizes class homespun cookery.
For something even more down home but seeming very much up to the moment, try County Club (below), located within a renovated garage by owner/chef Johnny Shipley. It's a very friendly, very laid-back place, with roomy booths, concrete walls and black Formica tables--none of which helps to muffle the booming '70s music.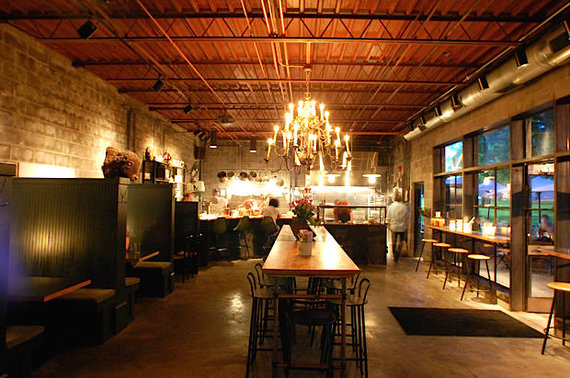 The menu is largely Kentuckian in style, with some added comfort foods like French-Canadian poutine -- a mound of French fries with gravy and cheese curds ($12). The requisite burger ($10) is a winner -- a quarter pound of nicely assembled beef with bacon jam, sharp cheddar, smoked portabella mushroom and gochujang ketchup (below).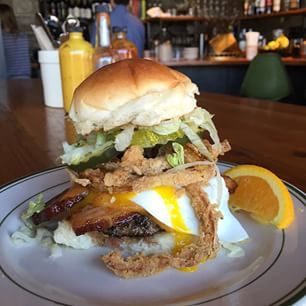 The chopped pork sandwich made with smoked shoulder ($8) shows off Shipley's skill at slow-roasting and smoking, and his sauce is very important to the final outcome.
Given the low prices for so much goodness here, the portions of so-so ice cream at the end are paltry, but then, they're not the point of coming here. You just go, you settle in, you eat, you grin, you vow to come back soon, and you do, soon.