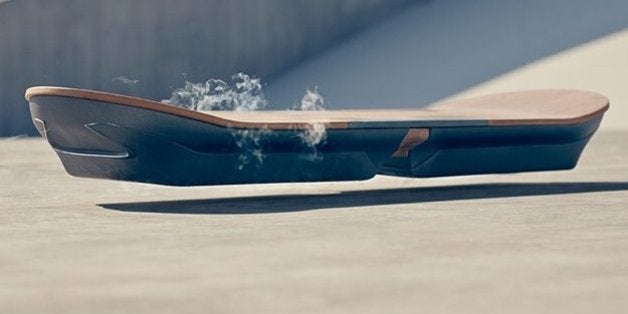 Lexus is going back to the future. The luxury automaker unveiled a hoverboard prototype, dubbed Slide, in a video released Tuesday.
The device, which looks to be the size and shape of a skateboard, appears to float about two inches off the ground as it exhales fog from the liquid nitrogen used to cool its superconductors and magnets, according to a web page Lexus set up to showcase the experimental device.
The board levitates using the same magnetic technology that moves high-speed trains in Japan, the Toyota-owned company's home country.
The technology behind the Lexus Slide -- which harkens back to hoverboards that appeared in the 1989 flick "Back to the Future Part II" -- could be a first step toward a flying car.
"We have been studying the flying car in our most advanced R&D area," Hiroyoshi Yoshiki, a managing officer in Toyota's Technical Administration Group, said last June, according to Bloomberg News, which first reported on the Slide. "Flying car means the car is just a little bit away from the road, so it doesn't have any friction or resistance from the road."
Lexus said it will begin testing the board in Barcelona this summer.
The company says this thing is "ridable," but it should be noted, however, that the teaser video doesn't actually show anyone standing fully on this thing, or riding it around.
Engadget got Lexus to elaborate on how functional the prototype is: "We ... confirmed that like the other examples we've seen, there is a metal surface underneath the skate park shown here -- it's real, but you won't be riding this thing just anywhere."
Watch the full video teaser here:
Calling all HuffPost superfans!
Sign up for membership to become a founding member and help shape HuffPost's next chapter