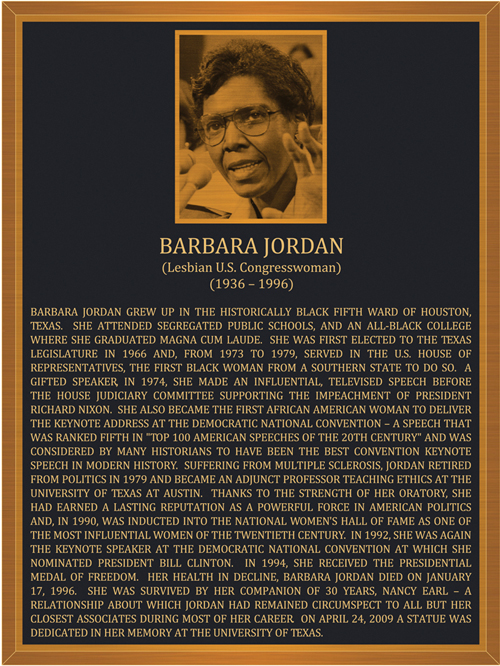 Imagine going through grammar school and high school not learning one thing about the history of your people. Not learning about the scientists, artists, astronauts, politicians, sports legends, and so many others who were just like you.
That happens even in 2012, even in places as progressive as Chicago. For the gay, lesbian, bisexual, and transgender community, history is a hit-or-miss educational adventure. Sure, we see gay culture splashed across the small screen on a daily basis now. What used to be freak shows on the talk shows has turned into a Modern Family smorgasbord of LGBT lives. While not very diverse (usually they are very white and middle-class), they still represent a major step forward from the recent dark ages of public culture.
But because most LGBTs grow up in families that are not like us, we don't get the LGBT 101 basics we need to more fully understand where we come from, and what our place in the world can be. Television provides the window dressing, but without historical context, one could get the impression that we were all cut from the same cloth: reality-show bimbos, talk-show hosts, and gays jumping to enter the suburban-married-two-parent ideal for some Americans.
We are so much more. The LGBT community is about as diverse as you could imagine. And because we are not learning about the accomplishments of LGBTs in the classroom, at least on any significant scale, the self-esteem of our youth is left damaged.
Thankfully, California has made a big step forward on this topic, adding LGBT issues into the curriculum. Because they are such a large public school system, they can help influence the educational process across the country. But it is going to take a major 50-state effort to make sure no child is left behind when it comes to inclusion of the vast diversity of our lives.
Teaching about these issues has been controversial ever since people started to come out in large numbers in the U.S. Teachers have been targeted for witch hunts, and still many of them fear for their jobs if they even talk about their own relationships in the same way a heterosexual teacher might mention a spouse. Even more difficult for them is integrating LGBT issues naturally into their coursework, for fear of parents protesting.
Teaching about this history is important for LGBT youth, who often have very little support at home. But it would actually be presenting a more accurate history. Right now, by not talking about the full lives of our historical figures, school curricula are actually participating in a lie.
On Oct. 11 in Chicago, The Legacy Project (TLP) is taking one giant step forward to help educate all people, including LGBT youth, about the pioneers who came before them. Some were out in life, others were only discussed as LGBT posthumously. TLP has created The Legacy Walk, a public display of plaques on the North Halsted Street rainbow pylons. In its first dedication, they are presenting 18 plaques honoring a diverse array of national and international people who should be found in any history book. And the fact is, most of them are in the history books -- but not as their complete selves.
The brainchild and passion of gay activist Victor Salvo, his Legacy Project dream has taken years to fulfill. He has met with hundreds of academics, historians, politicians, business groups, and others to create a project that will be the first of its kind in the world. Chicago is used to firsts on LGBT issues: Henry Gerber started the first known U.S. gay organization in 1920s Chicago -- and was promptly fired from his job.

The plaques dedicated on Oct. 11 will be just a start. There are many more people TLP expects to honor over the years. But here are just a few you can see unveiled next week:
Harvey Milk, who was among the first openly gay elected officials in the U.S.
Jane Addams, a Nobel Prize-winning social justice pioneer, and also a lesbian
Barbara Jordan, the first African-American woman elected to Congress from a Southern state, and also a lesbian
Barbara Gittings, a lesbian activist who spearheaded the drive to overturn the classification of homosexuality as a mental illness in the 1970s
Bayard Rustin, a civil-rights pioneer was Dr. Martin Luther King's mentor and architect of the 1963 March on Washington, and also a gay man
Dr. Margaret Chung, the first U.S.-born Chinese woman to become a physician, and also a lesbian
There are of course thousands of other pioneers who could be so honored, and plaques are just one way to make sure our histories are not forgotten. But this is one important step toward recognizing the complete personhood of these historical figures.
The Legacy Walk Inaugural Dedication is Thursday, Oct. 11, 2012, National Coming Out Day. There is a VIP reception at 2 p.m. at Sidetrack bar, followed by a tented outdoor ceremony from 3 to 4:15 p.m., the dedication reveal at 4 p.m. and a reception at 4:30 p.m. See legacyprojectchicago.org.
Popular in the Community