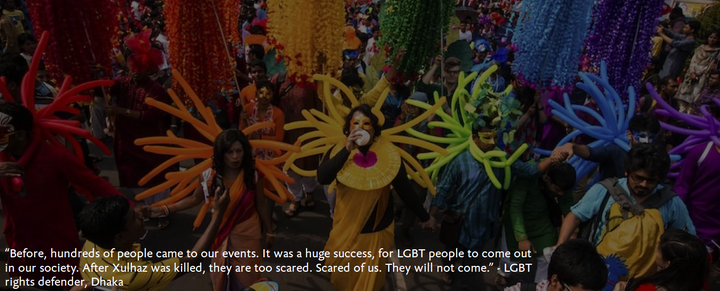 When I met him in the back of a rental car in Dhaka, Bangladesh, in September 2016, LGBT activist Anam* had three conditions: no photos, bring him back home before dark, and change his name in anything I wrote.
Anam has been living in hiding in Dhaka for one full year this week. He left his flat downtown days after his mentor and friend, Xulhaz Mannan, was murdered in his home. Xulhaz was the founder of Roopbaan, Bangladesh's first LGBT magazine. He was an activist, organizer, writer, and "walking hub" of Dhaka's urban gay social scene, according to friends. He was also an employee of the US Embassy in Dhaka.
On 25 April 2016, a group of men armed with machettes forced their way passed the guard at Xulhaz's building, broke into his flat, dragged him into a bedroom and hacked him to death. The men murdered Xulhaz's friend and Roopbaan colleague, Mahbub Rabbi Tonoy, before fleeing the building.
In the weeks after his murder, more than 40 LGBT rights defenders – almost all known activists working on the issue – deleted their Facebook profiles and changed their phone numbers, severing most ties linking the community. The groundbreaking Roopbaan publication came to a screeching halt, and Anam told me that for more than six months he couldn't convince Roopbaan colleagues and friends to meet even socially.
"When they murdered him, it all stopped. We all stopped. Every activist I know changed their phone number and deleted their Facebook profile. People are too scared to meet, too scared to talk. Now I'm trying to work on small things, like translating the LGBT magazine into English so we can send it abroad. But every time I start to work a bit, the phone calls start again. Someone breathing into the phone, telling me to be careful..."
The LGBT community and the activists it used to rally around remain at high risk in Dhaka, and represent the extreme conditions under which human rights defenders work on a wide range of issues. Between February 2013 and June 2016, at least 14 human rights defenders and writers were murdered in Bangladesh. Attackers targeted those working on women's rights, indigenous peoples' rights, freedom of religion, LGBT and other human rights issues. Extremist groups pledging allegiance to Al-Qaeda in the Indian Subcontinent often claimed responsibility for the murders, a majority of which the government has so far failed to properly investigate. Despite ongoing reports of growing extremist networks inside the country – and accusations that Prime Minister Sheikh Hasina herself is pandering to Islamic hardliners – the government routinely denied that international terrorist groups were operating in Bangladesh until July 2016. That month, the worst terrorist attack in Bangladeshi history killed 20 people, the majority foreigners. Yet, even the "anti-terror" campaign prompted by the cafe attack has been characterized more by late-night raids and extrajudicial killings than by thorough, transparent investigations.
Human rights defenders in Dhaka say police routinely ignore requests for protection when they receive death threats, encouraging them instead to stop writing, silence their activism, or leave the country. Others say ongoing persecution of civil society in Bangladesh, coupled with police departments known for misogynistic and homophobic attitudes, preclude them from even trying to report the threats they receive. In the weeks prior to Xulhaz's murder, police had detained four other LGBT activists planning to participate in a "Rainbow Rally" as part of a national festival. After spending hours in the police station fighting for his colleagues' release, it's little mystery why Xulhaz didn't report ongoing death threats to those same authorities.
According to HRDs, police departments' refusal to protect them from extremist militants is just one of the risks they face.
"People think the only problem is that we're being killed – that 'extremists' are murdering activists. This is what makes the news," Anam told me as we drove back to his rental flat. "But no one talks about the government arresting us, making new laws to silence us, and refusing to protect us when we tell them about the death threats."
Since 2013, Sheikh Hasina's government has carried out a systematic campaign of demonizing and criminalizing those working peacefully for human rights in Bangladesh. Following the murders of some of the most prominent HRDs and writers in the country, the government released statements which criticized the writings of the murdered HRDs rather than the attackers' crimes. Some government officials scolded activists, telling them to be more "moderate" so as not to upset the extremists. Parliament amended the Information and Communication Technology Act, which now states that publishing anything which "hurts or is likely to hurt religious sentiments" is an offence – one for which activists can be legally arrested without a warrant.
In the year since Xulhaz's murder – and the more than four years since the activist killing spree began – Sheikh Hasina's government has done little to assure LGBT rights defenders and other activists that it prioritizes freedom of expression, assembly, and protection of civil society space. Xulhaz knew his country was cracking down on freedom of expression, and particularly hostile to queer, LGBT movements. He worked strategically to build gay community life without endangering the people within it. Anam explained that, as part of their security plan, Roopbaan could be ordered by phone but was not available on newsstands for fear of inciting violence against LGBT Bangladeshis. During the first print edition, Xulhaz's contact book alone helped activists sell hundreds of copies. Yet, despite his efforts to work safely without state protection, Xulhaz's activism still cost him his life.
When he was murdered, the LGBT activist community splintered not because they disagreed about the way forward, but because they agreed that survival was paramount. The government has done little to assure them – or other human rights defenders – of their safety. If Sheikh Hasina wants to start mitigating the growing criticisms that she's more interested in placating extremists than building a strong, secure Bangladesh, she needs to start by protecting human rights defenders.
Video Credits: Kiron Chakraborty and Erin Kilbride for Front Line Defenders
Calling all HuffPost superfans!
Sign up for membership to become a founding member and help shape HuffPost's next chapter