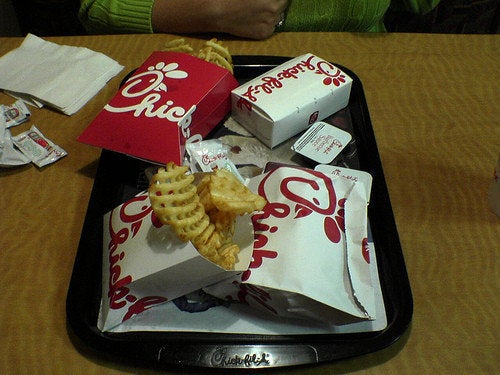 Fried chicken enthusiasts in Chicago were delighted when Chick-fil-A's first location within city limits opened early Thursday morning. Hundreds lined up beginning Wednesday evening to be among the first customers of the 30 E. Chicago Avenue restaurant, but vegetarians were not the only Chicagoans who are likely passing on the celebration.
Earlier this year, the blogosphere was abuzz with news that the College Park, Ga.-based fast-food chain has actively supported several groups opposed to same-sex marriage. According to a report published by LGBT advocacy advocacy group Equality Matters in March, the company has provided more than $1.1 million of support to organizations who oppose gay marriage and other pro-LGBT provisions, such as Focus on the Family, the Alliance Defense Fund and Family Research Council -- a group which, in 2010, earned the Southern Poverty Law Center's "hate group" designation for its anti-LGBT messaging.
Further, the company regularly sponsors a marriage retreat through its WinShape Foundation for its employees that explicitly bars same-sex couples, as revealed in an e-mail exchange made public by the blog Good As You.
Chick-fil-A president Dan Cathy in January stated his company has "no agenda against anyone" but acknowledged they have "a long history of trying to encourage and strengthen marriages and families, both within our Chick-fil-A system and with our customers."
"While my family and I believe in the Biblical definition of marriage, we love and respect anyone who disagrees," Cathy added.
But many LGBT activists remain unconvinced. Last month, organizers with GetEQUAL Illinois protested at the location of the new restaurant and distributed "coupons" detailing the company's history of "homo/transphobia … topped with workplace inequality" to passersby. The coupons were titled "Reserve your FREE Bigot-fil-A Deluxe." Similar protests were organized concurrently at other Chick-fil-A locations across the country, as the Windy City Times reported, and some colleges, including Indiana University South Bend, moved to ban the restaurant from their campuses in response to the controversy.
Lindsey Dietzler, a principal organizer of the Chicago protest against Chick-fil-A, said no follow-up actions outside of the newly opened store were currently planned but he encouraged the LGBT community and their supporters to continue to stand against the chain nonetheless.
"They've come out and said they're not actually anti-gay when their actions prove the opposite to be true," Dietzler said to HuffPost Chicago. "One of our most powerful forces as a community is our combined economic impact and if we hurt their pocketbooks, they will listen to us."
"But they don't have any reason to listen unless we act as a collective," he added.
Veteran gay organizer Andy Thayer, co-founder of the Gay Liberation Network, too, hoped "people who give a damn about equal rights" will be conscious about the political affiliations of the businesses they patronize.
"Chick-fil-A has gone to some great lengths to hide their relationships [with these groups]. They want to have their anti-gay cake and eat it too. The question is whether we, as a community, will be stupid enough to fall for it," Thayer told HuffPost Chicago.
And for those who support the LGBT community but say, "It's just a chicken sandwich," Thayer encouraged them to turn elsewhere for their fried fix.
"Realize that you have choices, so why not make them?" he added.
According to a Chicago Tribune report, the new downtown Chick-fil-A is just the first of at least 18 planned to be opened in the area over the next three years as Chicago is "a focal point in the chain's growth strategy." The company, which is closed on Sundays largely for religious reasons, is now the second-largest limited-service chicken chain in the company and is slowly gaining ground on the industry's long-time leader, KFC.
In 2002, the company also received flak when one former store manager, a Muslim man, alleged he was fired when he refused to participate in a group prayer to Jesus Christ during a company training program. The suit was, according to Forbes, settled on undisclosed terms.
Popular in the Community