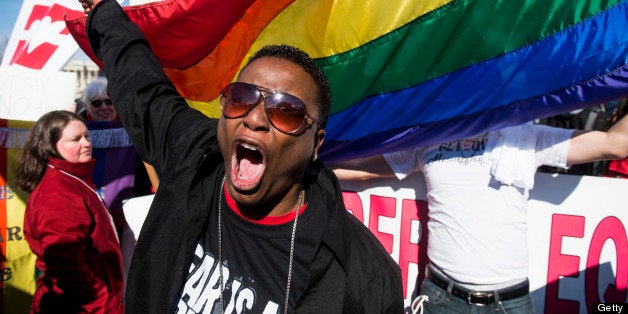 In the survey, conducted online among 1,197 self-identified gay, lesbian, bisexual and transgender adults, 92 percent of respondents said they feel society has become more accepting in the past decade, and the same percent said society will be more accepting in another 10 years.
But only 19 percent of LGBT adults said they experience "a lot" of social acceptance, and 53 percent said there continues to be "a lot" of discrimination against LGBT people. About 39 percent said that at some point in their lives, they were rejected by a family member or close friend because of their sexual orientation or gender identity. Thirty percent said they have been physically attacked or threatened and 21 percent said they have been treated unfairly by an employer.
Although many surveys have tracked changing attitudes toward LGBT Americans and same-sex marriage in recent years, this newest survey is likely the largest and most comprehensive that looks at how LGBT Americans themselves are experiencing the changes. As the Supreme Court prepares to rule on two landmark same-sex marriage cases, the survey paints a picture of a demographic that has lived through what Pew calls "the arc of social acceptance," but still has a ways to go.
"There's an interesting juxtaposition between people saying they've experienced such substantial change and greater acceptance, and yet there are still sufficient amounts of stigma out there that many people are not comfortable being entirely open," Gary J. Gates, a Williams Institute scholar at the UCLA School of Law who served as an adviser on the survey, said on a conference call with reporters Thursday.
Gates, the author of The Gay and Lesbian Atlas, said that he was most surprised by the finding that so many LGBT people have not come out to their parents or their close friends. Just 56 percent said they had told their mother about their sexual orientation or gender identity, and less than 40 percent said they had told their father.
In another apparent juxtaposition, fewer LGBT adults described themselves as "very happy" compared to the general population (18 to 30 percent), but they were also more inclined than their straight counterparts to say the country is "headed in the right direction."
Gates saw a possible connection between LGBT Americans' lower level of personal happiness and higher optimism about the country's direction. "In a weird way, people who are less happy now are more optimistic," he said.
M.V. Lee Badgett, an adviser on the survey who is also a professor of economics at the University of Massachusetts Amherst, added that "LGBT people who feel that there is more acceptance said that they were happier." And yet, Badget cautioned against drawing a strong conclusion from the survey's happiness data. She and the other researches on the conference call noted that LGBT Americans lean Democratic and atheist, and Republicans and religious people generally tend to report greater happiness.
Ahead of the Supreme Court's ruling on same-sex marriage -- the issue that has dominated recent media coverage of gay rights -- about half of respondents said they think the best way to achieve equality is to become a part of mainstream institutions, like marriage.
The survey was conducted by Pew from April 11 to 29.
Support HuffPost
Every Voice Matters
Popular in the Community