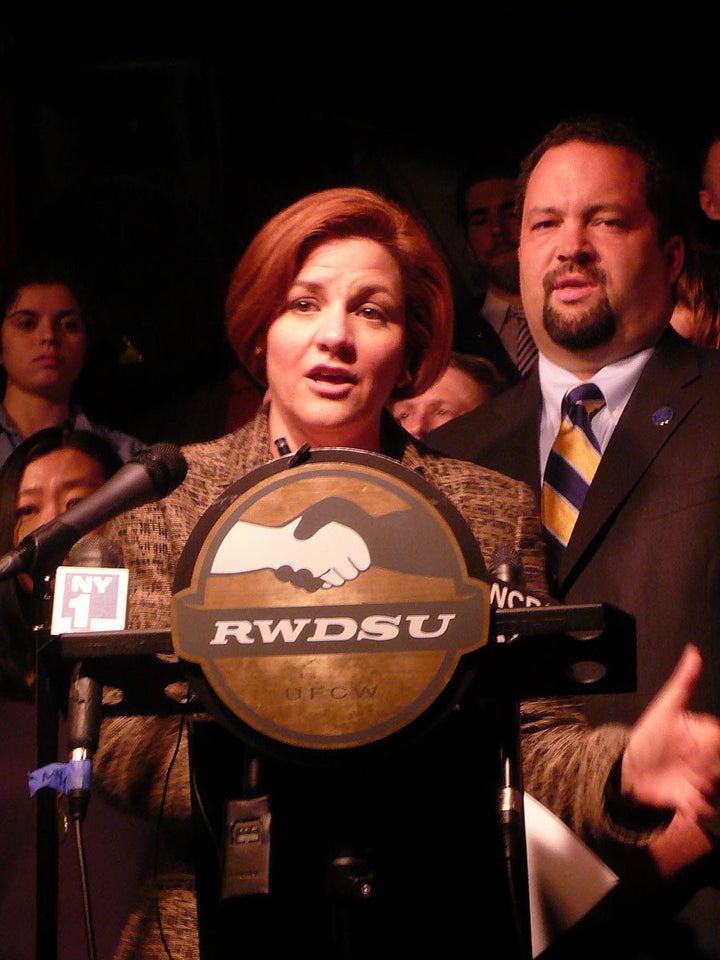 On Tuesday, more than a dozen progressive groups, ranging from the National Association for the Advancement of Colored People to Empire State Pride Agenda, gathered at a bar where the modern gay-rights movement began more than four decades ago. In what appeared to be the strongest showing yet of solidarity between black and lesbian, gay, bisexual and transgender leaders, the groups arrived at the Stonewall Inn on Christopher Street to announce a June 17 protest against the city's stop-and-frisk practice, which they say is ineffective, unjust, and harmful.
The event marked what many in the lesbian, gay, bisexual and transgender rights community hope will be a new, broader focus of LGBT groups in the city now that they have won the fight to legalize same-sex marriage. Some also spoke of their hopes for a new chapter in the long and sometimes tense history of relations between black and gay rights groups. As the Reverend Al Sharpton put it, "Today, we go from dating on activist occasions to a marriage."
If any issue will spark a long-lasting coalition between these progressive groups, police conduct is a powerful contender. Last year, the New York City police department stopped and frisked nearly 700,000 people, most of them black or Latino, in what amounted to a more than 600 percent increase since Bloomberg's first year in office, according to a report by the New York Civil Liberties Union. Earlier this week, New York Gov. Andrew M. Cuomo and the speaker of the Assembly supported a change to New York law that would drastically reduce the number of people arrested for marijuana possession due to stop and frisks. And in a sharp turnaround, Mayor Bloomberg and Police Commissioner Raymond W. Kelly said that they, too, supported the change.
But the city's stop-and-frisk practice remains firmly in place. Bloomberg has frequently defended it, saying it makes the city safer. A Bloomberg spokesman declined to provide comment and referred The Huffington Post to the mayor's other public statements on the matter in recent months.
Those gathered at the Stonewall said the stop-and-frisk practice doesn't make the city safer if you are young and black, or gay or transgender, or all of the above. Chris Bilal, a gay black 24-year-old who moved to the city in the summer of 2010, said he has already been stopped three times by the police. Like 88 percent of people stopped on the street by the NYPD under the Bloomberg administration, Bilal was never arrested or ticketed. Most recently, he told the crowd, he was in a park in Harlem dancing to Beyoncé with some friends when police approached them for questioning and demanded identification.
"We've been assured that these discriminatory practices somehow make our city safer," Bilal said at the event. "But a city where LGBT people are afraid to carry condoms for fear that they'll be used as evidence of sex work is not a safe city; a city where a transgender woman of color cannot walk down the street without being stopped by police is not a safe city."
There are no statistics showing the number of LGBT New Yorkers stopped by the police, but studies show that LGBT people of color are likely targets of police violence and harassment.
"This issue is ours," said Stuart Appelbaum, president of the Retail, Wholesale and Department Store Union and the only openly gay labor leader in New York. Appelbaum, one of the organizers of Tuesday's event, pointed to the history of the Stonewall Inn itself, where a group of gay and lesbian patrons spontaneously fought back against a 1969 routine police raid, sparking riots across the country.
He said he was moved by the speeches and broad show of support, particularly from groups within the LGBT community. "I think this was a huge moment because LGBT groups were willing to stand up on an issue that was being spearheaded by other communities," he said.
There are many within the LGBT community who have criticized mainstream groups for a single-minded focus on marriage, to the exclusion of broader civil rights issues, such as police brutality against transgender people or the huge number of queer homeless youth. Tuesday's event could serve as a turning point.
"It signals a real change of our organizations working together, not just in solidarity with someone else's movement and agenda but seeing our agendas as shared. That's huge," said Katherine Frank, the director of the Center for Gender and Sexuality Law at Columbia Law School.
Historically, marriage has also been seen as a sticking point between black and gay civil rights groups. Until recently, polls long suggested that the majority of the black community does not support legalizing same-sex marriage, and few major civil rights groups offered support. In 2008, when California voters banned same-sex marriage by approving Proposition 8, a majority of black voters supported the measure. Some groups, like the National Organization for Marriage, the nation's leading group in fighting same-sex marriage, seized on black voters' stance. A recently leaked internal document revealed the group's strategy to defeat marriage equality campaigns by "fanning the hostility" between blacks and gays.
But when Christine Quinn, New York City Council speaker and a mayoral candidate, stepped up to the microphone Tuesday, she swiveled around to lay her hand on the arm of NAACP's president, Ben Jealous. "I've gotten a lot of nice wedding presents," Quinn, a lesbian who married her longtime partner last month, said to Jealous. "But the best was a text saying your board had passed a resolution in support of marriage equality."
Standing on the Stonewall Inn's upstairs stage, framed by red curtains and gold tinsel, Jealous spoke urgently and personally about the need for collaboration between the groups, mentioning that his own brother is transgender.
Every day in school, he said, our children recite the pledge of allegiance, "'One nation, indivisible with liberty and justice for all.' But in this city, if they are black or Latino, Asian, queer or questioning, transgender like my brother, they walk out on the street and they find something else is the reality," he said. "We can no longer tolerate the notion that some people are more criminalized because of who they love or what color they are."
REAL LIFE. REAL NEWS. REAL VOICES.
Help us tell more of the stories that matter from voices that too often remain unheard.