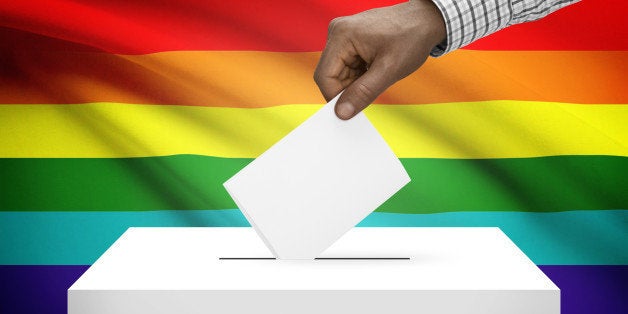 WASHINGTON -- With the Supreme Court set to rule in the coming months on marriage equality, the gay rights community already is gearing up for its next big fight: the push for a comprehensive federal nondiscrimination bill.
The Human Rights Campaign is out with a new poll Tuesday that shows 74 percent of lesbian, gay, bisexual and transgender Americans believe such legislation should be a "top priority" for the community. Only marriage equality scored higher.
The bill appears to have wide support among the general pool of likely 2016 voters as well, with 69 percent saying they support it and 27 percent opposing it. Even 51 percent of Republicans say they back these protections.
Federal law already prohibits discrimination on the basis of race, color, religion, sex or national origin in regard to housing, employment, education, credit, jury selection, federal funding and access to public spaces. But there are no explicit federal protections for sexual orientation and gender identity, meaning LGBT individuals are susceptible to discrimination unless the state they live in happens to have its own protections.
According to the HRC survey, which was conducted by Greenberg Quinlan Rosner, 63 percent of LGBT Americans surveyed say they've experienced discrimination. Forty-seven percent have faced discrimination in the workplace, 19 percent in accessing public spaces, 14 percent in housing and 8 percent in the education system.
In 2013, the Department of Housing and Urban Development conducted the first-ever study examining housing discrimination against same-sex couples at the national level. It found that they were "significantly less likely than heterosexual couples to get favorable responses to e-mail inquiries about electronically advertised rental housing." In fact, heterosexual couples were favored over gay male couples in 15.9 percent of the tests, and over lesbian couples in 15.6 percent.
"This data again demonstrates that most Americans are shocked to discover that many LGBT Americans can be denied a job, a room in a hotel, a seat at a restaurant, a place in school, equal access to credit, or housing because they still lack explicit federal protections from discrimination -- and that once people learn that, they overwhelmingly support the basic idea that LGBT Americans should be judged only on their merits, just like everyone else. It's time to act," said Sen. Jeff Merkley (D-Ore.).
In November 2013, the Senate passed Merkley's Employment Non-Discrimination Act, which would have made it illegal to discriminate on the basis of sexual orientation or gender identity in the workplace. The House, however, never took up the legislation, and many LGBT groups later expressed concern that the bill's exemptions for religiously affiliated institutions were too broad.
Merkley, along with Rep. David Cicilline (D-R.I.), will be leading the legislative fight for a comprehensive nondiscrimination bill this spring. The legislation would be similar to the 1964 Civil Rights Act, which outlawed discrimination on the basis of race, color, religion, sex or national origin.
LGBT advocates expect them to introduce the bill in late spring, before the Supreme Court comes out with its marriage equality decision in June.
According to The New York Times, groups like the Human Rights Campaign, American Civil Liberties Union and Lambda Legal Defense Fund have been meeting to work on a proposed bill for more than six months.
"The simple and unfortunate reality is that for all the progress made in recent years, LGBT Americans still lack fundamental federal legal protections when it comes to issues like employment and housing," said David Stacy, government affairs director for the Human Rights Campaign. "Nearly two-thirds of LGBT Americans report experiencing discrimination, which is why now more than ever, we need a federal bill to ensure that everyone, including LGBT Americans, has a fair chance to earn a living, advance themselves, and be judged on their performance, not on who they are or who they love."
The HRC poll also includes a cautionary note to politicians, with 64 percent of likely voters saying they would be less likely to support their member of Congress if he or she opposed a federal nondiscrimination bill.
Vice President Joe Biden gave his endorsement to such legislation at a recent Human Rights Campaign event, saying, "We have to pass the federal non-discrimination legislation, and we need to pass it now."
GQR surveyed 1,000 likely 2016 voters by live interviewers from Jan. 25 to 31. It also interviewed 1,000 LGBT Americans online from Jan. 23 to Feb. 3, using a web panel monitored by Research Now.
Want more updates from Amanda? Sign up for her newsletter, Piping Hot Truth.
Support HuffPost
The Stakes Have Never Been Higher
Before You Go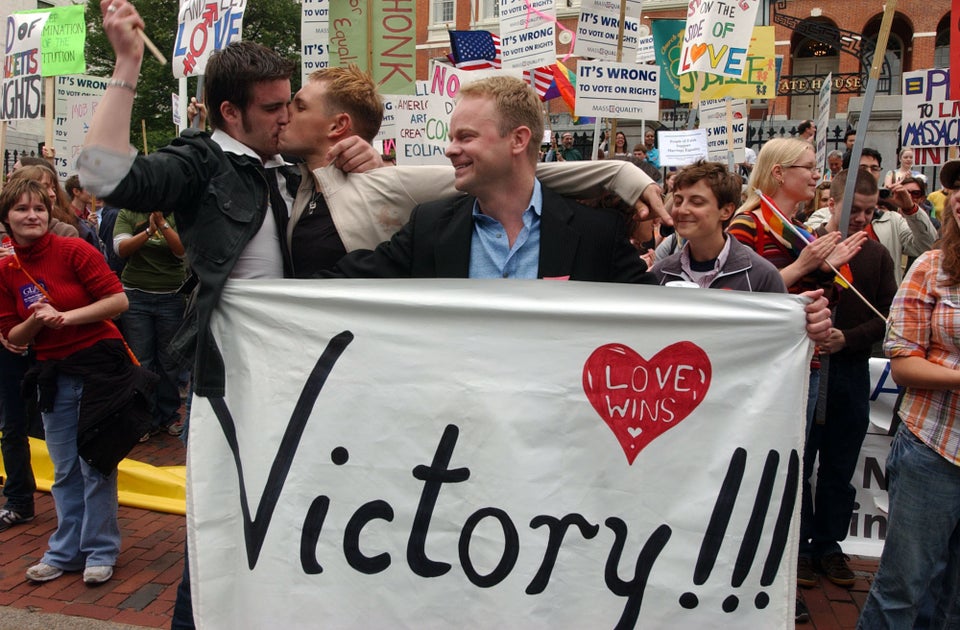 10 Incredible Improvements For LGBT People Since The First State Legalized Gay Marriage
Popular in the Community