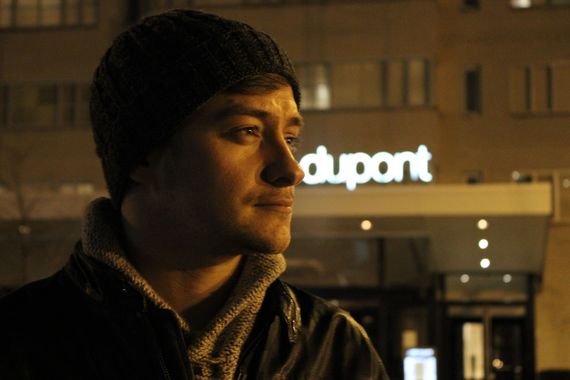 It was a corner café in Dupont Circle, the day after polar vortex barreled through Washington DC, shrouding everything in white stillness. Small, soft flecks of snow dislodged by the biting, cold wind fell abruptly from a few odd leaves on the asphalt and diffused. It was freezing. Homeless men shivered into the café, taking in the aroma of baked coffee beans, trying to escape the bitter cold. 24-year-old Anatoly Kazakov was sitting on a chair facing a glass window, looking out at the cold, calm streets of what is known as the gay mecca of the district.
Dressed in a black, leather jacket with a wolfish smile and rough, prickly stubble, his confidence oozes from the recently acquired, long American drawl evening the rough edges of his Russian accent and stilted English words. "After this interview I am going to the gym, lots of hot men there," he told me with a rakish smile and a twinkle in his light brown eyes.
Anatoly escaped Chelyabinsk, a major Russian city near the Ural Mountains in July; a month after the controversial gay propaganda bill was passed by the state Duma and signed into a law by Putin. He is among the several LGBTQI Russian men and women who are seeking asylum in the US and other countries since the ban. The law bans propaganda of "non traditional sexual relations" among minors, which Putin claims is aimed at "keeping the children safe."
With one suitcase & $1500 Anatoly reached New York and after a few, brief stopovers, finally made Washington his home in November last year.
"It's hard to be a person from the third group, people treat you like you have a mental problem," he says. A short work and travel exchange program to the US in 2011 shook him from the stoic comfort of anonymity and denial and forced him to come out in front of his family and friends in Russia.
It's been two years since then that his father spoke to him and withdrew all financial support. "He told my mother that he didn't want to have a faggot at home. He said he didn't want to see my face ever again. Not a big loss in my life," he laughs drily as his eyes drift to the cold streets outside. "I live with the idea of being open. I even told my employers while looking for a job that I am gay, of course they said no."
In February 2013, three years after he was forced to leave his home and family, the LBGTQI activism against the then proposed anti-gay law was gathering force in Russia. Anatoly was organizing a demonstration in Chelyabinsk along with other activists when they were violently interrupted by anti-gay vigilantes. He says they tore through their protests, ripped their placards and brutally attacked them in full public view. After ten minutes of a confused haze of blows and kicks, the assailants fled. Anatoly was hit from behind and pinned to the streets till he was finally rescued by his friends and taken to the hospital where he spent two weeks recovering from a concussion. "I thought by holding placards people will see us and know that we are asking for the same rights that they have. I thought it would change something. Now I know it was like a voice in an empty room," he says.
Anatoly knew that the passage of law was imminent and life would get even worse where he would never be able to live a life of an openly gay man. He then decided to flee his country and the fate of a perennial outsider, consigned to a life of fear and shame. He came to America and is applying for asylum.
"In Russia I could have been a mid-level manager, here my degree means nothing, I have no money, but what about life? What about living? Here I can live," he says.
Anatoly's visa expires at end of January, his asylum plea is close to being complete with the help of a pro-bono lawyer, initiating the process of application to the Department of Homeland Security.
There are days of wait and uncertainty, before he can finally get a work permit and then an interview as his hope hinges on if he is granted asylum in the United States. His money is all spent, and he is heavily in debt but he continues to bear it all with a smooth confidence and an ironic smile.
"There was a period of depression, you have to pay rent, and you don't have a job. You feel lonely and abandoned. But I am a person who doesn't give up, I roll," he says.
Asylum seekers in the US have to wait between 150-180 days after filing their application, which must be within a year of their arrival in America, or get an asylum status, before they can get the employment authorization document. They also have no access to any government-funded programs.
"Many offices have tremendous backlogs so it takes longer than 6 months...Most immigrants cannot rely on their ethnic communities, because if you are from a country which discriminates against LGBT people very likely the community here might reflect the same view. It's a desperate situation," says Max Niedzwiecki, coordinator of LGBT Faith & Asylum Network, a non profit helping asylum seekers in the US.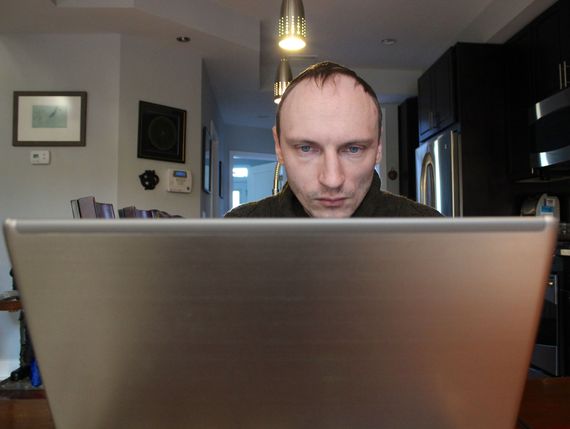 "I like cooking because when I cook the result is now. At least it's faster than my LGBTQI activism in Russia where I didn't see any results," 31-year-old Viacheslav Revin says while pouring borscht, a traditional Russian soup, in a white plastic bowl for me, gently pushing aside a grey cat purring towards him. He is a Facebook ninja, sharing, liking and writing posts about the Russian LGBTQI movement and the clampdown all in one breath from his worn out Toshiba laptop while gently chiding his cats in Russian from a temporary shelter at Columbia Heights in Washington.
An LGBTQI and human rights activist since 2007, Revin's politics went beyond the anti-Putin rhetoric, as his sexual identity and the forces trammeling it back home made political activism an existential necessity. Thousands of miles away from his home at Nizhny Novgorod, Revin is living a life of a desperate wait for asylum after his visa expired this month. Sitting alone for long hours with two cats to keep him company who crawl up to him confused by his Russian endearments, time hangs oppressively on many silent afternoons as he sifts from one Russian online article to another before hitting "post."
"It's not good when you stay at home. I can walk on the streets, go to some museum and meet people, but really I should have a job. What do I do with my whole day? I don't want to work illegally," he says.
When Revin is not online, he calls up his new found friends and LGBTQI activists and organizes protests in front of different embassies of rogue countries unleashing a behemoth of anti-gay laws across the world or demonstrate against Putin's laws in America's capital.
"I do my activism through Facebook, try and find some help for Russian LGBT activists by talking about what's happening in Russia, so that people don't forget. If anything happens on Russia in the US then people remember. It's about international solidarity," he says haltingly in broken English. It was his relentless activism that led anti-gay vigilantes prowling for dissenters online, recommend his name for action to the police after he tweeted at two members of the state Duma against their silence on the gay propaganda law. He initially decided to escape to Ukraine but luckily he says he was invited to a human rights conference in DC when he took the opportunity and escaped last July.
"Speaking in English is too much, it stresses me. Sometimes I switch off and I can't understand anything," he says. His open laptop with Google translate sits in between us helping us stumble through the conversation in English. He says he wants to end the sister city relationship between Philadelphia and Nizhny Novgorod, by the sheer force of his idealistic activism to make an example out of his hometown to stop the atrocities against gays.
"After Sochi a lot of people will come here, just wait and watch. Things will get worse once the world stops paying attention to Russia after Sochi," he says.
According to Immigration Equality, an organization leading in providing legal support to asylum seekers in the US, the number of inquiries on asylum from Russia doubled in 2013 with the frequency trebling since the gay propaganda ban took effect, compelling them to start a Russia Emergency Fund to get more lawyers and translators to help address the growing cries for help from the country.
"What is most shocking to us is that for so long without a doubt and change, the number one calls that we used to get was from Jamaica... and for the first time ever Russia eclipsed the calls that we were getting from Jamaica which is a huge sign for us about how acute the problem was." Trina Olson, Deputy Director, Immigration Equality, says.
The gay propaganda law by Putin, according to political observers, is strategically timed to clamp down against any political opposition and take the attention away from the lapses of his administration and public delivery system, by stoking a nationalist, traditional, Slavic identity threatened by LGBTQI members, immigrants and Asians, thereby following the classic divide and rule statecraft.
"The wave of opposition to Putin's leadership has been the most threatening phenomenon that the Kremlin has seen and that began in late 2011...Seeking to identify that the movement was obsessed with sex, not wholesome and not part of the essential Russia is a way to alienate and isolate them," Matthew Rojansky, Director of Kennan Institute, a leading American think tank on Russia and former USSR countries, says.
News of detention of LGBTQI activists, horrific attacks by anti-gay vigilantes from Russia seem to have escalated or at least brought to notice, after the ban took effect. But law in Russia and its enforcement according to some is incidental and is often merely a tool subject to political considerations and opportunism.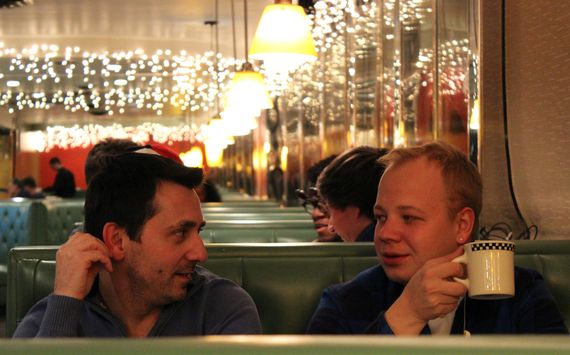 Alexander and his spouse Michail, who don't wish to reveal their last names, know it only too well. The couple sitting at a burger joint in College Park in Maryland where they arrived in September last year, recounts the traumatic times when Michail was kidnapped and almost killed.
Four assailants webbed a trap and lured Michail who was the owner of a printing business, near Kuzminki metro station, Moscow, to meet him supposedly for business. He was pulled out of his car and bundled inside another with a black plastic bag wrapped around his head, and driven around Moscow for one hour where he was assaulted repeatedly. The attackers dumped him bleeding and hurt on the streets but before driving away one of them shot a bullet close to his head and said, "Ask Alexander to do what we told him to or you die," Alexander remembers, looking at his spouse now sitting next to him eating tiramisu with his teeth that had to be fixed after they were shattered.
Alexander used to work for an agency, which he doesn't wish to name. Trouble started one day when he says a man in a grey suit and an indistinguishable face approached him when he was out on a smoke break and asked him if he was patriot. He says the man was from FSB and wanted him to infiltrate an agency to provide them with information, which he refused. A week later the man appeared again, but this time with a credible threat not just to Alexander but also his spouse.
"They wanted me to spy for them and when I refused they threatened me. They knew everything, our marriage in America in 2010, and the date. They said you know about the new law, and you know what happens to gays in prison. You should worry for your gay husband as well," he says. A week later Michail was kidnapped.
They made a few frantic calls to their friends in the US, changed the dates of their tickets, which luckily they had bought for a Christmas vacation. Michail left his business and the couple fled to America. They say they cannot go back to Russia without being killed and the only escape is asylum.
"When we left Russia we didn't know about asylum, we just decided to go away. You have to realize, he was afraid that he would be kidnapped again. We could do nothing if we were arrested. That was not a life, calling each other every ten minutes and checking if we are ok, to see if anyone is following you. It's not a real life," Alexander says.
According to a section of LGBTQI activists in Russia, the FSB seems to have an inordinate influence on the private lives of people, often using the new law as a tool to muzzle protests.
Andrew Obolensky, a Russian gay activist from Moscow says his father first discovered that he was gay after he received a call allegedly from FSB agents telling him that "his son is a faggot and an LGBTQI activist."
"The authorities' tactic is to create a very tense situation and friction in families. I talked to my father and how we should not take the bait of the provocation. I didn't want to break up my family." Andrew was on a short visit to the US late last year when he travelled extensively to create international solidarity over LGBTQI issue in Russia.
The gay propaganda law makes it difficult for activists in Russia to demonstrate against the intimidations and attacks on the members of the community with permission for picketing or assembly routinely denied by the police, forcing activists to devise novel ways to initiate street actions putting these activists at great risk especially in far flung areas of Russia away from the media glare usually centred around Moscow.
30-year-old Gleb Latnik, a grass root LGBTQI activist from Pervouralsk, in the Urals, was "kidnapped" by special agents before a scheduled demonstration in July last year. He says he was picked up in a car by men with no IDs or uniform and taken to a police station where he was grilled for 8 hours and finally released when the news of his detention created ripples in the social media. "I had the most ridiculous conversation with them for 8 hours. It was not a legal arrest. They knew a lot about me more than I remembered about myself... I kept very calm, they asked me to call my friends and say that I was ok, I refused. They finally let me go," he says.
These men continue to stay in Russia and protest however they can, putting their personal safety at risk while some leave everything behind and try to make a new life far away from home in countries where they don't understand the language and live a life of desperate wait, for a life in asylum.
Popular in the Community