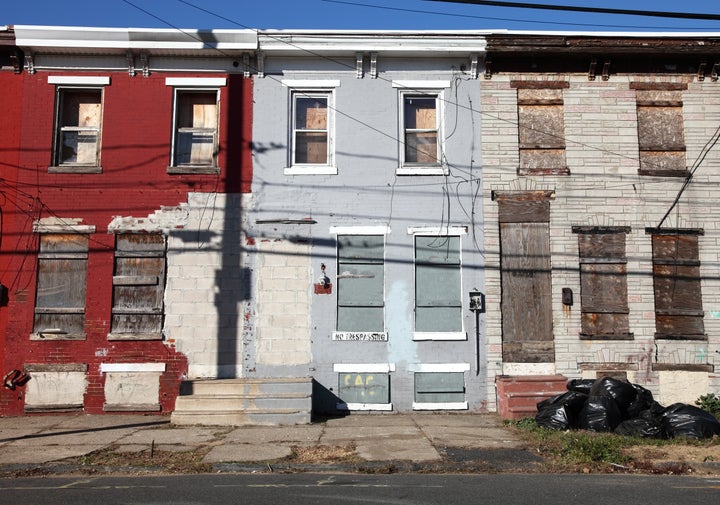 Economic growth and stability were a cornerstone of Donald Trump's presidential campaign, and yet, in the first 100 days, we have not seen strategy that delivers on those promises. Instead, his budget proposal, executive orders, and efforts to repeal Obamacare signal that his agenda will seriously undermine financial security for millions of Americans, including disproportionately impacting LGBT Americans and their families, who are already at increased risk for economic insecurity.
According to a 2012 Gallup survey, 21 percent of LGBT people living alone had incomes less than $12,000–near the poverty line–compared to 17 percent of non-LGBT people living alone. A study of transgender Americans found nearly one-third lives in poverty compared to 14 percent of the population as a whole. Older female same-sex couples are twice as likely to be poor as older heterosexual couples because of the combined effects of their sexual orientation and the gender wage gap. And according to the Williams Institute, African Americans in same-sex couples are more than twice as likely to live in poverty as African Americans in married opposite-sex couples; and have much higher rates of poverty than their white counterparts.
Anti-LGBT laws at the federal, state, and local levels create legal inequality that leaves the most vulnerable members of the LGBT community without crucial supports. The failure of the law in protecting LGBT people and their families has serious financial consequences, including:
Failing to adequately protect LGBT students, and transgender students in particular, means LGBT students are much more likely to feel unsafe, unsupported and unable to thrive in school, leading to higher rates of skipping school and severely impacting their future opportunities.
Lack of protection from discrimination in housing, healthcare and employment can make finding work, making a living wage, finding affordable housing, and meeting basic needs much more difficult for LGBT people.
Despite the 2015 Supreme Court ruling that made marriage available to same-sex couples, many LGBT older adults whose partners died before the ruling continue to be denied access to spousal benefits like Social Security and pensions—critical supports many older adults rely on later in life.
Given their higher rates of poverty, it is not surprising that LGBT people, and LGBT people of color in particular, are more likely to rely on safety-net programs to make ends meet and to support themselves and their families. Which is why President Trump's budget proposal is so concerning. Among the most devastating proposals for low-income families in the President's budget are changes to Medicaid and the Children's Health Insurance Program, which would drastically decrease the number of people with insurance. The proposed budget would also cut the food stamp program, known as the Supplemental Nutrition Assistance Program (SNAP), by $190 billion, and cut Temporary Assistance for Needy Families (TANF) by $15.6 billion. These programs are particularly critical for parents, who often struggle to make ends meet even when working full-time.
The President also proposed cuts to the federal student loan program for low-income students and would eliminate federally-subsidized loans. In addition, the budget proposes to eliminate the public service loan forgiveness program, which makes it possible for individuals with high loan burdens to serve the public as teachers, firefighters, and doctors despite having significant debt from student loans.
Beyond the budget proposal, Department of Education Secretary Betsy DeVos rescinded official guidance clarifying that transgender students are protected from discrimination under Title IX, leaving transgender students at higher risk for harassment and violence. And, President Trump recently signed an executive order relaxing the federal contractor requirements that have previously ensured fair treatment and pay for employees, including women and LGBT employees.
LGBT families aren't alone in having their economic security jeopardized by these actions. Low income communities around the country, communities of color, and immigrant communities are all facing uncertainty, and LGBT people are part of those communities, too. If the Administration truly wants to support economic growth and stability, President Trump must enact nondiscrimination protections, strengthen safety net programs for low-income families, increase access to high-quality healthcare, and make education more affordable and accessible for all students. This is how all families can fully participate in our economy and work for a better future.
REAL LIFE. REAL NEWS. REAL VOICES.
Help us tell more of the stories that matter from voices that too often remain unheard.