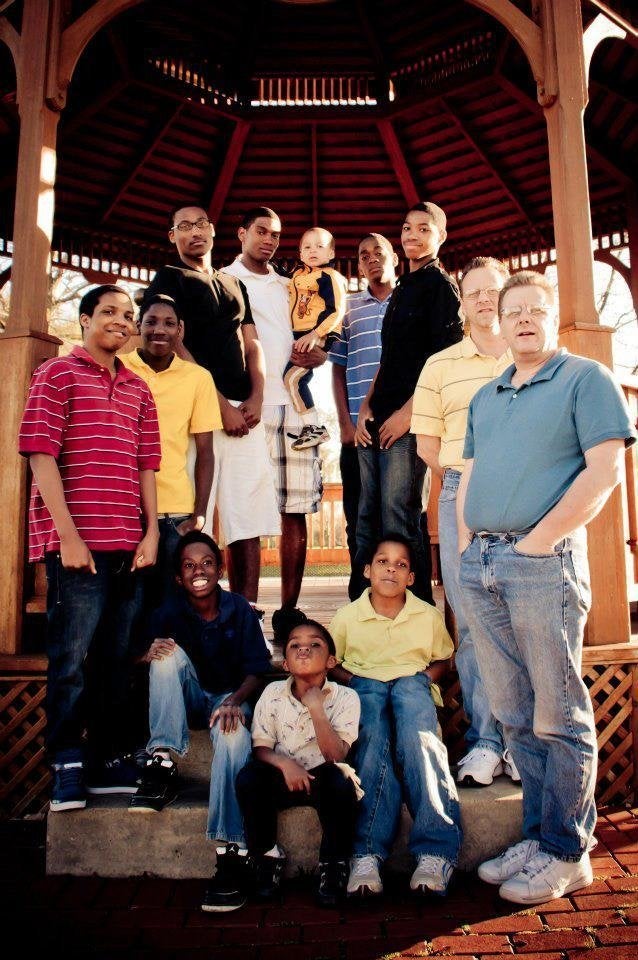 As part of our Family Friday series, every week we spotlight one family, share the story of their love and send lots of love and support to them from our own huge family all over the world.
This month, we're celebrating National Adoption Month by partnering with the ever incredible Family Equality Council. All November, we'll be celebrating families who have adopted or in the process of doing so. Join us in celebrating these very special families and show them some love. Your families are beautiful. Thank you for continuing to share them with us.
This week, we got to sit with a very special family who have 10 sons. Clint and Bryan have been outspoken about their family and the importance of adoption. Prepare to be inspired by their story and take notes. They are a family that knows the meaning of togetherness and unconditional love.
You may have seen them on Oprah's special, 10 Kids, 2 Dads. We've included a clip from their show in their gallery of photos below. Meet Clint and Bryan.
The Huffington Post: How did you and your partner meet?
We met through a mutual friend. I had stopped a friend's house and Bryan was there. We went out that evening and we've been together ever since. We've been together for 21 years.
Tell us about your wedding
We had a ceremony about two years after we met. It wasn't a legal one.
How has your extended family embraced your nuclear one?
We get together with Bryan's extended family on a pretty regular basis. Sometimes I think Bryan is closer to my mother than even I am. We all get along really well, my family treats him like just another in-law and they love the kids.
Tell us about your children and your adoption experience.
Our first child is our 14 year old, Keegan. We didn't know what the hell what we were doing with that one [laughs]. We adopted him at birth. About a year later, we were thinking we'd find him an older sibling. I contacted Adopt America, and one of their coordinators found a pair of twins for us. They were 7. That's how we adopted Mark and Kenny. We had told the case worker while we were adopting them that if they ever get another little one, call us. Months later, after a few other attempts that didn't go through for several reasons, we adopted a 3-year-old little boy, who is our son Caleb. Soon after that adoption was finalized, the agency called with three little boys who were brothers. We were told we were their last hope to be adopted together, or they'd have to be separated to find them homes. We chose to take them in and that's how we got Dereck, Graham and Seth.
About a year later, I wanted another baby, we discussed it and we reached out to One True Gift. They found a birth mother for us and that's our son, Liam. They then called us two years later with a birth mother who wanted a gay family, and they asked if we were interested. That's how we got our son, Hayden. The agency that handled Hayden and Keegan's adoption called us four years ago and that's how we got Cooper.
We'd like to adopt again.
How have you tackled the challenge of explaining anti-gay sentiments to your children?
Well, I have mouth on me, which doesn't help matters. When we got our first child, we were living in a suburb of Detroit and I would bring him with me to the mall. At first it would bother me that people would stare at us. I mean, here I am this white man with a black baby. I didn't want the stares to affect him. As he got older, he would see these people staring. I had enough of it and I didn't want him to feel any different for being in our family. So I started to teach him how to raise his middle finger. You'd get these little old ladies at the mall shopping and gawking at us, and I'd teach him to give them the finger. You'd never see an old lady turn faster when a baby gives them the finger. It became our joke, but we had to stop him from doing it when he got around six.
All of my kids are very quick to respond if kids try to say something and it shuts them up. They're pretty good about putting other kids in their place. They are very proud of their family -- just like we are.
There aren't many issues, now. The way we've brought them up has taught them how to come across to the outside world. And these days they have friends with two moms and stuff. The school has been great too.
What makes you proudest of your family?
That we're a family. We've taken children the straight world has thrown away and proven to the outside world that we have great children. They were overlooked (especially in the foster care system). They overlooked such great kids. People are unaware of what great kids you can get in the foster system, instead of running overseas and adopting overseas. We've taken children that have been classified as "mentally handicapped" or "self injurious" and none of it's true. Our child who was labeled "mentally handicapped" is gifted and talented in math and science. The kid's so intelligent, if I have a question about something I ask him. Our one son was classified as "self injurious" is so outgoing that he was the star of his football team and colleges were looking at him for football scholarships.
They were passed over because a) their age, b) their ethnicity, and c) people are looking for the perfect infant. But you can find "perfect" kids that are older too.
Share with us anything you'd like to say to other LGBT couples considering adoption.
It's not as hard as you think. The state we live in, they are begging for families and they love gay families. People think the cost of adopting a child is so outrageous, but it isn't true. Our children in foster care didn't cost us anything. I feel that people should be aware that there are organizations that center around gay and lesbian families. There are a lot of organizations and resources out there.
The old stereotypes aren't out there anymore. People are starting to wake up and see that there is a whole group of families that can be tapped into to provide homes for these children. I think there were will be less children in foster care as more people realize that.
You can see a few beautiful photos of Clint and Bryan's beautiful family below. To see more families and learn how to share your own, scroll to the bottom.
PHOTO GALLERY
Meet Clint and Bryan's Family
REMINDER: If you'd like your own family featured on a Family Friday, please email us at gayvoices@huffingtonpost.com. Remember that family is what we make it, so if your family is you and the pack of LGBT folks who you'd go to the mats for, send them over. We want to see them, too.
REAL LIFE. REAL NEWS. REAL VOICES.
Help us tell more of the stories that matter from voices that too often remain unheard.
BEFORE YOU GO
PHOTO GALLERY
Gay Voices First #FamilyFriday!