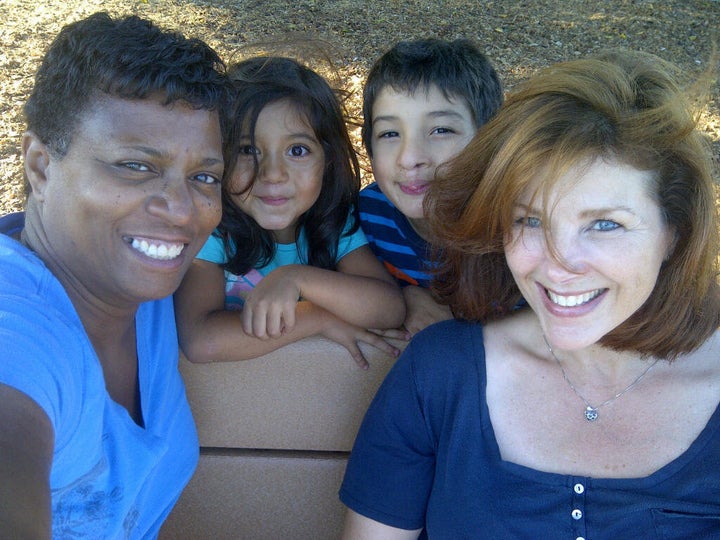 As part of our Family Friday series, every week we spotlight one family, share the story of their love and send lots of love and support to them from our own huge family all over the world.
Since we've launched our Family Friday series, we've gotten so many beautiful submissions from you and we've been genuinely touched by your stories. Your families are beautiful. Thank you.
This week, we're featuring a very special family who seem to have two of everything: two beautiful children, two moms and thanks to Prop 8, two wedding anniversaries. When Ellyn reached out to us, here's how she described her amazing family:
Aside from being a gay family, we are a tri-racial family (I am black, my wife is white and our kids are both hispanic) and that makes for a unique prospective. The four of us are so lucky to have been brought together all from different families to make one amazing loving family... All we know is that our home is filled with love and laughter and the occasionally raised voice and we wouldn't have it any other way.
They have a great story, that we're honored to share with you here. So without further ado, meet Ellyn, Lorraine, Augie and Lula.
The Huffington Post: How did you and your partner meet?
Our paths crossed several times over the years because we had mutual friends in common, and gay L.A. is a small town. Over the years though, one or the other of us was either in a relationship or bitter about a relationship so we never dated. Lorraine, being the wiser of the two of us, knew we had some sort of connection that could not be ignored and waited until the time was right to suggest that we hang out as friends. I agreed, thinking that there was no harm in making a new friend. So we went out to dinner and a movie as friends but when I dropped Lorraine off that night, I thought to myself, "I am going to spend the rest of my life with that woman." It was a thought I had never had about anyone else, and yet I didn't find it strange at all. A few days later, I called Lorraine to ask her out on a date (leaving out the part about spending the rest of my life with her). Luckily, she also wanted to explore more than a friendship and said yes to the date. Less than three months later she said yes when I proposed marriage, and less than six months after our first date, we bought our first house.
How long have you guys been together?
We have been together for 12 years. We've been married for 11 years and legally married for 4.
Tell us about your wedding and how Prop 8 affected it
First of all, the fact that we have had two weddings is a direct result of Prop 8. Our first wedding was all about celebrating our love and commitment. We had a big wedding and invited 125 of our family and friends. It was an amazing day and one that we will never forget. At that time, whether or not it was legal did not factor into nor diminish our decision to marry.
In May of 2008, the California State Supreme Court overturned Prop 22 (which had passed in 2000), opening the door for gay people to legally marry in the State of California. In anticipation of that ruling, Prop 8 was crafted and looked like it was going to end up on the November 2008 ballot in CA. My thinking was, let's wait and see what happens in November because I honestly thought that Prop 8, if on the ballot, would not pass. Lorraine, on the other hand, thought that we should get married while it was legal in our state. If Prop 8 was struck down, then yay us, but if Prop 8 passed, we would at least have been legally married for a time, even if the marriage was later declared null and void. She felt it was important to take a stand and exercise our rights while available to us. We wanted to be legally married, and by the time the opportunity came around, we already had two kids and wanted for our family those protections under the law afforded legally married couples.
Our second wedding, seven years after our first, was a private ceremony with just us and a minister. Going to the courthouse and getting a license to marry, as a gay couple, was almost more momentous than the ceremony itself. As it turns out Lorraine was right. Prop 8 passed 12 days later and again made gay marriage illegal in the state of California. Those married in the brief window between the striking down of Prop 22 and the passage of Prop 8 remain legally married. We are so grateful that we are legally married, and we want that for every couple that wants that for themselves.
How has your extended family embraced your nuclear one?
For the most part both of our families have been great. Both our parents have been fantastic, fully supporting and embracing our relationship and nuclear family. Lorraine comes from a very large family and a few of her siblings, especially brothers, have had a difficult time accepting her sexual orientation. We're patient.
Tell us about Augie, Lula and your adoption process.
We adopted both of our children through the Foster Care/Adoption program of the Los Angeles County Department of Children and Family Services. This is a program that is designed for families that want to adopt and places children with their adoptive family while the adoption process is happening. We brought Augie (Augustus) home from the hospital when he was 5 weeks old. He was born with a severe bilateral cleft lip and palate. It was not our intention to adopt a child with special needs but, when we met him, we fell in love with him and knew that he was our son. Augie's birth parents relinquished their parental rights before he was placed with us, and that made for an easy and uncontested adoption. Augie's adoption was finalized when he was about 18 months old.
Lula (Tallulah) came to us when she was 4 months old. She was removed from her birth mother because of severe neglect. The adoption process took 3 years and 9 months. This was partially due to the fact that the birth mother did just enough in the eyes of the court to delay terminating her parental rights. There were also problems locating the birth father and, in the end, we felt that the social worker (who had enormous sway in the process) was homophobic which further delayed the adoption. For 3 years and 9 months we lived with the threat that we would lose our daughter and that our son would lose his sister. That was the hardest time of our lives, and we are so grateful that the judge ultimately recognized that Lula was indeed with her family and made it official. Both kids are spectacular. They are healthy, happy and self-confident. We feel so honored to be on this ride with them.
What makes you proudest of your family?
We are proud of our marriage, which is the foundation of our family. We are always aware that our relationship has to come first in order for our family to thrive. The love, joy and respect that Lorraine and I show each other is a model for our kids. We are proud of who we are in the world. We are proud of being an "out" family. We treat people with respect and always give them the benefit of the doubt and feel we get the same in return.
You can see a few beautiful photos of Ellyn and Lorraine's beautiful family below. To see more families and learn how to share your own, scroll to the bottom.
PHOTO GALLERY
Family Fridays: Ellyn's Family
REMINDER: If you'd like your own family featured on a Family Friday, please email us at gayvoices@huffingtonpost.com. Remember that family is what we make it, so if your family is you and the pack of LGBT folks who you'd go to the mats for, send them over. We want to see them, too.
REAL LIFE. REAL NEWS. REAL VOICES.
Help us tell more of the stories that matter from voices that too often remain unheard.
BEFORE YOU GO
PHOTO GALLERY
Gay Voices First #FamilyFriday!