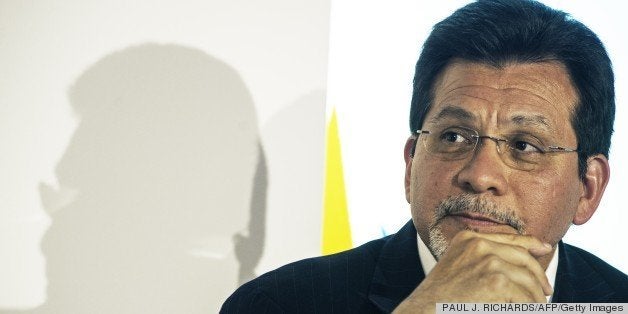 The Supreme Court was unequivocal in its statement of the equality of married same-sex couples when it struck down Section 3 of the Defense of Marriage Act (DOMA) in its United States v. Windsor decision.
Yet former Attorney General Alberto Gonzales and law professor David Strange made a wholly unfounded argument to the contrary July 18, 2013, in The New York Times. Their attempt to carve LGBT families out of federal immigration protections is baseless and punitive.
The Supreme Court's DOMA decision made clear that the federal government must apply the same rules to married same-sex couples as it does to married different-sex couples. The Obama administration and the Department of Homeland Security took the appropriate steps to implement that ruling in the immigration context, spelling out that the immigration rules on marriage recognition work the same way for lawfully married same-sex couples.
Specifically, this means that Citizen and Immigration Services will look to the law of the place where a same-sex couple married to determine a marriage's validity for immigration purposes. The Board of Immigration Appeals (BIA) affirmed this interpretation in Matter of Zeleniak, a decision issued less than a month after the Windsor ruling. The BIA stated explicitly, "The Supreme Court's ruling in Windsor has therefore removed section 3 of the DOMA as an impediment to the recognition of lawful same-sex marriages and spouses if the marriage is valid under the laws of the State where it was celebrated."
There is no longer any reason to deny to same-sex spouses the protections our immigration laws extend to those who are lawfully married. Mr. Gonzales and Mr. Strange refer to a 30-year-old case in their attempt to reinstate federal discrimination against same-sex couples, but that case has been completely undermined and is no longer meaningful. In Adams v. Howerton, the court relied on an outdated law, repealed in 1990, that prohibited admission of "homosexual aliens." The other bases for that court's ruling -- that same-sex couples cannot have children and that no state allowed same-sex couples to marry -- have been negated by the realities of myriad same-sex families with children and the 14 United States jurisdictions that do allow same-sex couples to marry. In the face of the Supreme Court's recognition of the equal liberty of LGBT people and the validity of their relationships, in both Windsor and Lambda Legal's case decided by the high court in 2003, Lawrence v. Texas, Adams v. Howerton is simply no longer good law -- a proposition that the Department of Justice has recognized for several years.
Faced with the Windsor decision's powerful declaration of equality, Mr. Gonzales and Mr. Strange offer no explanation of how it could possibly be permissible to apply different immigration rules to LGBT spouses. Even the Bipartisan Legal Advisory Group, which so vigorously defended DOMA's constitutionality on behalf of House Republicans, has recognized that in light of the Windsor decision, it can no longer continue its opposition.
The Supreme Court's ruling on DOMA marks a great victory for the most basic principles of fairness. At long last, the federal government will cease discriminating against legally married lesbian and gay couples in providing recognition, benefits, responsibilities and protections.
Lambda Legal is part of a coalition committed to compassionate, comprehensive immigration reform, and we are thrilled that the Supreme Court's DOMA ruling means lesbian and gay binational married couples today have less to fear from our nation's broken immigration system. Like straight couples, U.S. citizens legally married to same-sex spouses will be able to sponsor their foreign spouses' roadmap to citizenship and keep their families together.
The DOMA decision is historic, and it will provide an estimated 28,500 married same-sex binational couples with an easier roadmap to citizenship, but we are still fighting for all 11 million immigrants, including at least 267,000 LGBT immigrants. We continue to fight to strengthen our immigration system so that it will work to keep families together.
Related
Popular in the Community