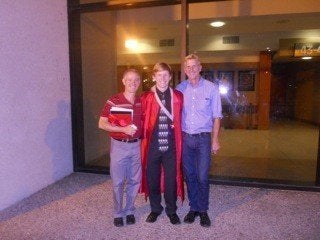 As part of our Family Friday series, every week we spotlight one family, share the story of their love and send lots of love and support to them from our own huge family all over the world.
Since we've launched our Family Friday series, we've gotten so many beautiful submissions from you and we've been genuinely touched by your stories. Your families are beautiful. Thank you.
This week, we're excited to share a small family that's doing something truly amazing and unique. When Scott and Mark reached out to us, we were very touched by their story, we're sure you will be too. They've been together for 25 years and have found a special way to share their love in the most generous way.
Meet Scott, Mark and Dillon.
How did you and your partner meet?
We met at a dance bar that was very popular in Austin, TX in the late 80s. I (Scott) was out dancing with a friend from school. Mark was out on the town alone and just hanging out. I saw him standing on the side of the dance floor and thought he was very cute. I asked him to dance (which I never did in those days). We danced and talked and I felt like I had met the most amazing man. It felt like love at first sight.
What's been your secret for being together for 25 years?
We have always said that you have to have the three C's:
Communication
Compromise
We love each other deeply and really enjoy being around each other. There was a time when we were living in Kansas and knew no one that we admitted, "I love you but it's a good thing that I like you." We feel that we were meant to be together and are willing to work at our relationship to keep it going forward. Like everything, it goes in cycles. We both realize what we have is very special and are very thankful.
Has your extended family embraced your nuclear family?
Both Mark's parents are deceased. I have my father and a sister. My family lives in South Carolina and we don't see each other on a regular basis. They seem to think that we are doing a good thing and I think they would welcome Dillon at a family gathering when that time comes. Some of our friends think we are crazy for taking in someone and financially supporting them as Dillon is in college. Other friends think what we are doing is amazing. Our Austin family has welcomed Dillon with open arms.
Tell us about Dillon. How did you find each other?
Dillon is an amazing young man. He left his small town in Texas because of bullying at his high school and family problems with the split of his mother and father. It was time for a change and he felt moving to Austin would be a better place for him. We met him a few months after he had moved to Austin through a mutual friend. His living situation in Austin was horrible and he needed a "home" that offered some stability as he finished high school. He moved in on a trial basis. I think we knew right away that Mark and I hoped he would stay. We decided we would do everything we could to get him through his senior year in high school and into college. We knew it would be difficult financially but we wanted him to not have to work so he could focus on school. He finished in the top 10% of his class and is now a freshman at Austin Community College.
How has having him in your home changed your lives?
We have family time where we all sit down to dinner and talk about the day or whatever is going on in our lives. We have made sacrifices personally to help him and support him. Mark and I had talked about adoption for a long time and this has shown us just how selfless you need to be to have a family. It is only a glimpse into raising a child but incredibly rewarding.
We love this idea of "situational fostering"! How can others do the same? Any tips for couples thinking about taking in a teen?
I'm not sure about how others can replicate this. We went into this with an open mind. There were not expectations that it would be a permanent thing. We weren't looking for this kind of situation -– it just found us. I would say that if others were thinking about mentoring a teen, they have to be very aware of what they are getting themselves into. In our situation, Dillon was already 18 and legally independent. There was not any potential for repercussions from his family. The ground rules need to be set and there needs to be open dialogue about expectations. Just as we all want, love must be unconditional and there needs to be a support system that will hopefully provide a nurturing environment for the teen to grow and learn from their mature mentors. We are not necessarily here to be Dillon's fathers but we have in some ways played various roles -– that of mother/father/friend and we have grown to trust one another as any good relationship should.
You can see a few photos of Scott and Mark below. To see more families and learn how to share your own, scroll to the bottom.
PHOTO GALLERY
Family Friday
REMINDER: If you'd like your own family featured on a Family Friday, please email us at gayvoices@huffingtonpost.com. Remember that family is what we make it, so if your family is you and the pack of LGBT folks who you'd go to the mats for, send them over. We want to see them, too.
REAL LIFE. REAL NEWS. REAL VOICES.
Help us tell more of the stories that matter from voices that too often remain unheard.
BEFORE YOU GO
PHOTO GALLERY
Gay Voices First #FamilyFriday!