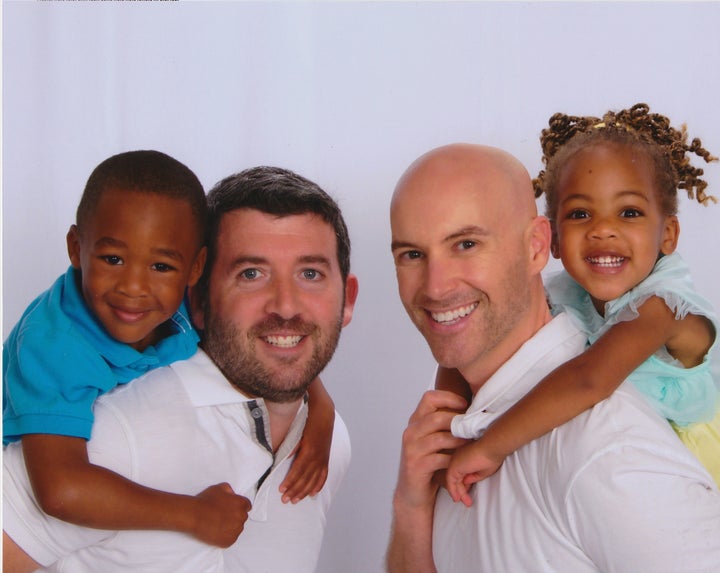 As part of our Family Friday series, every week we spotlight one family, share the story of their love and send lots of love and support to them from our own huge family all over the world.
Since we've launched our Family Friday series, we've gotten so many beautiful submissions from you and we've been genuinely touched by your stories. Your families are beautiful. Thank you.
Ever since we started asking for you to send us photos of your families, our inboxes have been brimming with smiling children that literally melt our hearts. When Scott emailed us about his beautiful family, we couldn't get over the glowing faces of his children, Chance and Charley. Together with husband Daren, Scott was kind enough to sit down and give us some details on how his incredible family came to be. So without further delay, meet Scott (Daddy), Daren (Papa), Chance (4) and their daughter, Charley (3).
How did you and your partner meet?
We met in 2003 while vacationing separately in Chicago. Daren lived in Kansas City and I lived in Raleigh. As cliche as it sounds, our eyes met across a nightclub and I told my friend I wanted to meet that guy. I ended up changing my flight home and stayed an extra day so we could spend more time together. We returned home and began a long distance relationship, traveling back and forth between Kansas City and Raleigh every 2-3 weeks. After about 6 months I decided to move out to Kansas City, so we could start our life together.
Tell us about your wedding. What state did you get married in? Did you have to leave your residential state to do so?
We are a legally married couple! We were married on May 1, 2009 in Des Moines, Iowa. Marriage is definitely one of those milestones in life that we never thought would be available to us. As we had been together for 6 years, we were already married in our hearts, but being able to have an actual ceremony and getting that marriage certificate was somewhat validating and liberating. While the marriage doesn't provide us any legal protection or rights since we live in Missouri, the point is that the institution of marriage is just as important to us as it is with any other heterosexual couple. Most importantly, we wanted our children to be raised in a family where they can indeed say their parents are a married couple. The decision to get married came about quickly, as some friends were getting married and asked us to join them. The ceremony was a courthouse wedding and we got married in front of a few friends, our son and my now, mother-in-law. Unfortunately the suddenness of the ceremony didn't allow for us to have all our family and friends with us as we only had about 2 weeks to make it happen.
Has your extended family embraced your nuclear one?
Our children have been welcomed by our families and have earned a spot in their hearts. You can't help but fall in love with these kiddos. Unfortunately all our family lives out of town or state. They get to see Daren's parents more often, but they only get to see the rest of the family once or twice a year.
How do you explain anti-gay feelings to your children?
Since the kids are younger, we haven't had the gay discussion yet, let alone how society is so conflicted on that topic. Right now we focus on talking about their adoption story and how families are different. We are learning that you answer their questions and don't elaborate more than needed. Over time their questions evolve and they want more details. They know that their family has two dads, while also realizing they have a mother that lives somewhere else. Besides they are more concerned about who gets to watch which cartoon or fighting over the same toy.
What's your favorite memory about your family? Or tell us what makes you proudest of them.
Above all, it makes us proud to see how happy they are. That's what every parent wants for their kids, so now we just have keep that going the best we can. Since Chance is a year older, he has had more opportunity to create a proud moment. He played soccer with the YMCA for the first time last spring. He had gotten knocked to the ground and started crying and wanted to quit. Daren talked to him and encouraged him to keep trying. He decided to go back into the game and ended up making the winning goal. From across the field you could see how happy he was and then he suddenly sprinted across the field, and grinning widely ran into his papa's arms so he could proudly boast that he made the goal. To brag a little, Chance has learned all 50 states and can recognize them by shape -- and he learned that at home, not pre-school.
Charley has proven to be extremely strong willed already. Any time you try to call her by a nickname, she gets irritated and states, "I am Charley, not a princess!" She has a natural tendency towards swimming. She loves the water and has no fear. She is already out swimming her big brother. She has a nurturing and creative personality, which has helped her in making new friendships. She knows how to work her daddies, too. Whenever she senses us getting upset and our voices rising, she stops us and says in the sweetest voice, "Daddy/Papa, I love you!"
How was your adoption experience? Did you encounter any obstacles in the process because you're an LGBT family?
Our experience was an amazing whirlwind. We were initially trying to adopt internationally as we thought it would be easier, but that proved to be wrong. While waiting we got a phone call from our agency in PA (Adoptions From the Heart). They told us about a baby boy that was born 2 months premature and was being released from the hospital in a few weeks. The problem was they couldn't find a family for him and for some reason they thought of us (even though we were trying to adopt internationally). We talked about it and acknowledged that we were called for a reason and we needed to take a chance with this and said yes. In a weeks time, we had to get all our paperwork re-done so we could adopt domestically. We then drove 22 hours to reach the hospital in Philadelphia the day before he was being released. The next day we were the parents of a 5lb little boy named Chance.
About 10 months later we were back in Philadelphia to finalize the adoption and told the agency that we wanted to adopt again, but was in no hurry. About 3 weeks late they called to tell us about a little girl that was due to be born soon. Again they were having some trouble to find adoptive parents for her. After a mild panic attack, we said yes and suddenly we had a 1 year old and a beautiful newborn named Charley.
Since being together, have you come across any unique challenges by having not only an LGBT family but a multicultural one as well?
We chose our agency because they worked with gay families, so we had an extremely positive experience. We really haven't had any issues, being such a diverse family. We obviously get a lot of looks and you can see people start talking. We can quiet a room though! I try to look at it as we are at least prompting conversations and if people watch how we interact as a family they will see that we really aren't that different. We have had lots of unusual and rude questions which have been balanced out with the encouraging comments.
We have been fortunate that until recently they were in a pre-school where they were adored. But there wasn't the diversity we needed so we have recently changed their schools. We were caught off guard one day when Chance said he wanted to be white like his friends and his parents. We had talks about loving his skin color and that hasn't come up again. Hopefully a more diverse school setting will help. Right now our number one challenge is mastering the hair of our daughter. That's just not an easy task.
You can see a few beautiful photos of Scott and Daren's beautiful family below. To see more families and learn how to share your own, scroll to the bottom.
PHOTO GALLERY
Family Friday: Meet Scott's Family
REMINDER: If you'd like your own family featured on a Family Friday, please email us at gayvoices@huffingtonpost.com. Remember that family is what we make it, so if your family is you and the pack of LGBT folks who you'd go to the mats for, send them over. We want to see them, too.
REAL LIFE. REAL NEWS. REAL VOICES.
Help us tell more of the stories that matter from voices that too often remain unheard.
BEFORE YOU GO
PHOTO GALLERY
Gay Voices First #FamilyFriday!