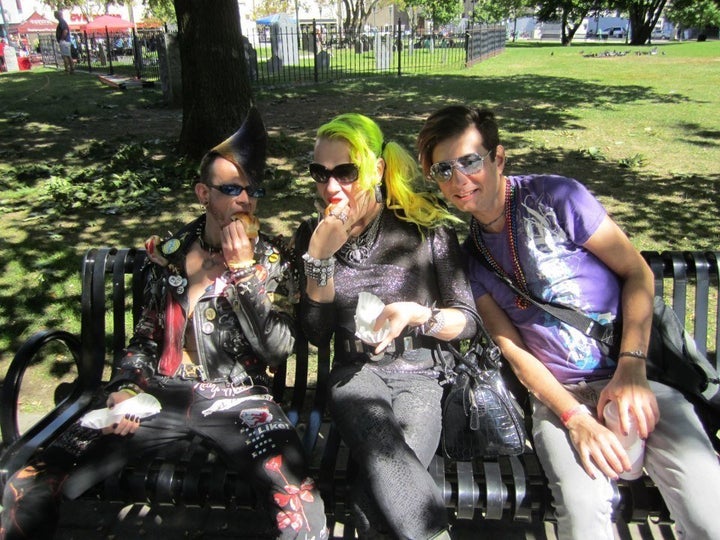 As part of our Family Friday series, every week we spotlight one family, share the story of their love and send lots of love and support to them from our own huge family all over the world.
Since we've launched our Family Friday series, we've gotten so many beautiful submissions from you and we've been genuinely touched by your stories. Your families are beautiful. Thank you.
We first heard from this family when we were asking for families to share what they were grateful for this Thanksgiving. Their submission delighted us so much, we just had to follow up. Here's what they said:
My family is my 2 sistahs, Cosmetica & Trixie. I'm Veronica. Trixie is a tranny. Cosmetica & I don't do drag as much anymore, but everyone always calls us by our drag names. Trixie & Cosmetica's mothers don't even know my boy name (Matthew). I've been friends with Cometica since 1995. We are all thankful for our sisterhood & friendship. We still have our cat fights, but always make up. It's very Golden Girls. I'm Blanche, Trixie is Rose & Cosmetica is Dorothy. Anyways... That's my family that I love & cherish.
Who can read that and NOT want to learn more. So without further delay, meet the Veronica/Matthew, Cosmetica/Shawn, and Trixie/ Jesse.
How did you and your family meet?
Cosmetica and I met in 1995 at a SWAGLY (Suppporters of Worcester Area Gay & Lesbian Youth) meeting. We were both baby drag queens and hit it off right away. I was going back and forth from MA to NYC at the times to club (I was a club kid then). My first words to Cosmetica were, "I'm gonna take you to New York."
A month later I brought her to [the club] the Tunnel in NYC for her first NYC experience. I eventually moved to Phoenix in 1999 for a few years. Cosmetica and I lost touch. During that time she met Trixie at a SWAGLY meeting. They became sisters and went to NYC all the time. At Madonna's Sticky & Sweet concert in Boston I ran into the girls. Cosmetica and I bounced back like I never left for Phoenix. I loved Trixie from the moment I met her. We eventually all started hanging out. Music really does bring the people together. The three of us really do think of one another as family.
What's a good example of you supporting each other through a tough time?
I've supported my sistahs through break up, but I think the best example of being supported my my sistahs is when I found out I was HIV+ last year. I'm only out with certain friends and family. Sucks that I have to be in the closet once again. LOL. The girls have gotten me through some hard times dealing with it.
What's your favorite memory of your family?
There are so many fabulous memories with Cosmetica in NYC clubs. With Trixie it would be this September in the Golden Triangle at Madonn'a Boston show. As a trio, it's when we just drink and kiki about life.
What makes you proudest of them?
I'm proud of my sistahs because they strive to be the best people possible. We all bring happiness into people's lives.
You can see a few photos of Veronica, Cosmetica and Trixie's Family below. To see more families and learn how to share your own, scroll to the bottom.
PHOTO GALLERY
Meet Veronica, Cosmetica and Trixie's Family
REMINDER: If you'd like your own family featured on a Family Friday, please email us at gayvoices@huffingtonpost.com. Remember that family is what we make it, so if your family is you and the pack of LGBT folks who you'd go to the mats for, send them over. We want to see them, too.
REAL LIFE. REAL NEWS. REAL VOICES.
Help us tell more of the stories that matter from voices that too often remain unheard.
BEFORE YOU GO
PHOTO GALLERY
Gay Voices First #FamilyFriday!