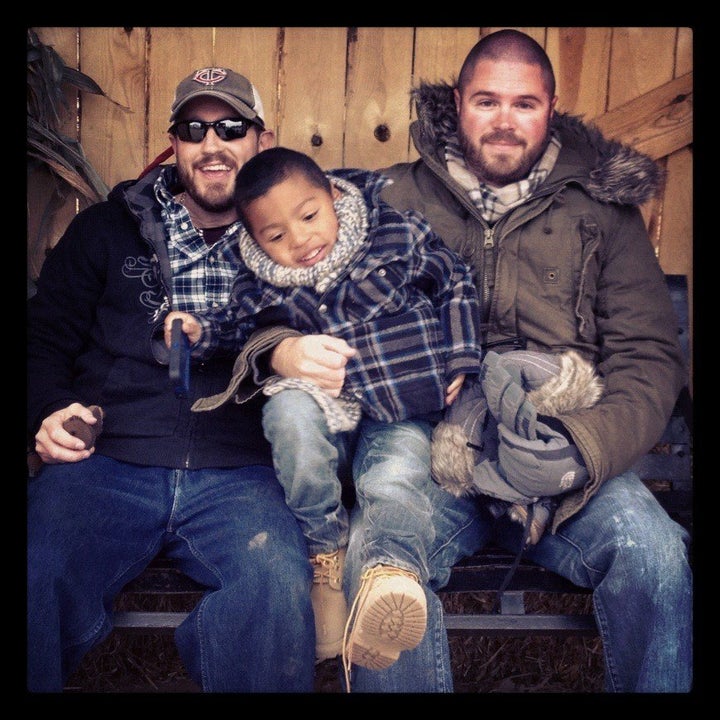 As part of our Family Friday series, every week we spotlight one family, share the story of their love and send lots of love and support to them from our own huge family all over the world.
This month, we're celebrating National Adoption Month by partnering with the ever incredible Family Equality Council. All November, we'll be celebrating families who have adopted or in the process of doing so. Join us in celebrating these very special families and show them some love. Your families are beautiful. Thank you for continuing to share them with us.
This week, we're talking to a very special family. When Wayne reached out to us and shared his family, the first thing he said was, "We also want other potential families to understand that adoptions for same sex couples are much more accessible than some might think." We couldn't think of a better fit for our National Adoption Month special coverage! Keep reading to learn more about Wayne, Vince and their adorable son, Rex (aka the child with the best. name. ever.).
How did you and your partner meet?
Vince and I met at a cafe in Tampa, Florida.
How long have you guys been together? Are you married? Planning on getting married?
We met in April 2006. We're not married and we don't plan to get married, as we do not view marriage as strongly as most of the population. While we obviously support same sex marriage and equal rights for all humans, it is our opinion, based upon our experience, that marriage is totally unnecessary to successfully grow and maintain a family.
How has your extended family embraced your nuclear one?
Nearly a decade ago, Vince's religious family disowned him because of his "lifestyle choice." Fortunately, my mother and my stepfather are very supportive of my family. Unfortunately, they live approximately 1,000 away, so we are unable to visit frequently or use them as our "free" babysitter, like lots of other families.
Tell us about Rex and your adoption process.
Since we wanted to raise a child from birth, we registered for the adoption program of a local county's human services division. We attended several meetings and completed many training hours with several other potential parents (some gay/lesbian couples, some heterosexual couples, some singles) and we completed psychological evaluations, physicals, home inspections, background reports, and interviews with friends and family. This took about four months to complete, at which time we became certified foster-to-adopt parents. Then, we played the waiting game. We were told that it could take approximately six months before a proper match was found for our family. Six months and one week later, just as we had convinced ourselves that we were not going to succeed, we got the call: "A little boy was born yesterday, and he's waiting for you to bring him home." I can't even explain this breathtaking feeling.
What makes your proudest of your family?
Although most who know me will tell you that I complain often about my duties as a stay-at-home parent, I'm very proud and grateful to have had the opportunity to watch Rex grow from a frail, six-pound baby, into a barbaric, three-year-old boy. I'm also really proud that, despite public opinion, we're no different from any family with heterosexual parents or married parents; Rex is a normal boy.
Tell us your thoughts on the importance of adoption and how accessible it is for same sex families.
In the beginning of our relationship, we both agreed we wanted to have kids one day, but we knew that we did not want to attempt surrogacy because (forgive me for the cliche) there are already too many children in the world who need families. We thought the idea of adoption was preposterous because we were in a same-sex relationship and would likely be denied, if not for that reason alone, for the reason that we could not afford exorbitant adoption fees. In March 2008, we spent some time online looking for adoption agencies and stumbled upon two important words that changed our lives: "human services." Until further researching the ins and outs of human services, it had not occurred to us that we could adopt a newborn child at virtually no cost to the adoptive parents, provided we become foster-to-adopt parents. Then, we found a human services division that included same-sex couples on its list of approved families and we knew that our dream could become reality. Ten months later, we were bringing Rex home from the hospital. So, if you want to grow a family, but you are convinced that it's out of your means, think again because there are programs out there for ALL families. Just do your homework!
You can see a few beautiful photos of Wayne and Vince's beautiful family below. To see more families and learn how to share your own, scroll to the bottom.
PHOTO GALLERY
Meet Wayne and Vince's Family
REMINDER: If you'd like your own family featured on a Family Friday, please email us at gayvoices@huffingtonpost.com. Remember that family is what we make it, so if your family is you and the pack of LGBT folks who you'd go to the mats for, send them over. We want to see them, too.
REAL LIFE. REAL NEWS. REAL VOICES.
Help us tell more of the stories that matter from voices that too often remain unheard.
BEFORE YOU GO
PHOTO GALLERY
Gay Voices First #FamilyFriday!