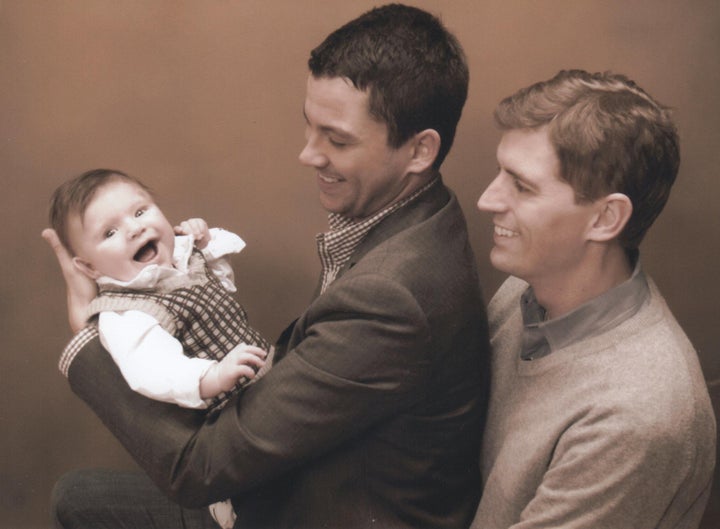 As part of our Family Friday series, every Friday, we spotlight one family, share the story of their love and send lots of love and support to them from our own huge family all over the world. Since we've launched our Family Friday series, we've gotten so many beautiful submissions from you. You've shared your families and stories from your lives. We've been overwhelmed and so genuinely touched by your stories. Thank you.
This week, we'd like you to meet The Lowes, which includes Frank, Jeremy and little Briggs.
You may see us chatting often with Frank Lowe on Twitter. He's always part of our Twitter chats and shares tidbits about his beautiful family often. As our first spotlight, we thought it would be great to learn more about Frank and the family he's so proud of. Here's what they shared:
Jeremy and I met when he was a law student at Washington University (St. Louis, MO), almost 15 years ago. I was working at a tanning salon and one of my customers just set us up, on a fluke. I was actually dating a porn star at the time (no joke), but I quickly fell for Jeremy's bookish charms and we've been together ever since.

Tell us about your wedding.
Our marriage was so lackluster it would literally disappoint the entire gay community. We had just moved to Connecticut from Chicago, Illinois, and then it became legal. We didn't have any friends at that time so we just had a Keeper of the Peace marry us on our back terrace. Lame, I know, but Jeremy still managed to make me cry. It was Nov. 16, 2008.
Tell us about your kids, how do you explain to anti-gay feelings to him?
We have one little 3-year old that I love to tweet about right and left, but even though that Twitter account is a parody of my own life, there is a lot of truth in jest. He is too young to know anything about an antigay sentiment, but we are setting him up accordingly so he avoids as much of that as possible. I have immersed myself into the "Mommy world" of playdates and birthday parties, which makes him just a regular kid amongst others. Additionally, the private school he will be attending will not tolerate anything of that nature.
How has your extended family embraced your nuclear family?
We are actually the longest withstanding couple between both of our families, so it went from them being a little unsure to them asking us for advice. Strange, I know, but they have been wonderful. We have been very fortunate in the fact that we didn't have to deal with any exclusion from our families. It is important to note that if any shade had been thrown our way, we would have simply not tolerated it. We have a no-tolerance policy for any hate, regardless of who it's from.
What do you love most about your family?
Our family is a sausage-fest at the moment. Even our cats our boys -- it's a lot of testosterone in one house. I love the fact that our family is rare in these parts yet we are proud and confident and go everywhere together. Our proudest moment would of course be when Briggs was born. We had a very fortunate adoption process and were able to be in the room when he came out of his mama. Life has pretty much been incredible since, and our family is constantly evolving. Stay tuned.
You can see some of the Lowes' beautiful photos below. To see more families and learn how to share your own, scroll to the bottom.
If you'd like your own family featured on a Family Friday, please email us at gayvoices@huffingtonpost.com. Remember that family is what we make it, so if your family is you and the pack of LGBT folks who you'd go to the mats for, send them over. We want to see them, too.
BEFORE YOU GO
PHOTO GALLERY
Gay Voices First #FamilyFriday!