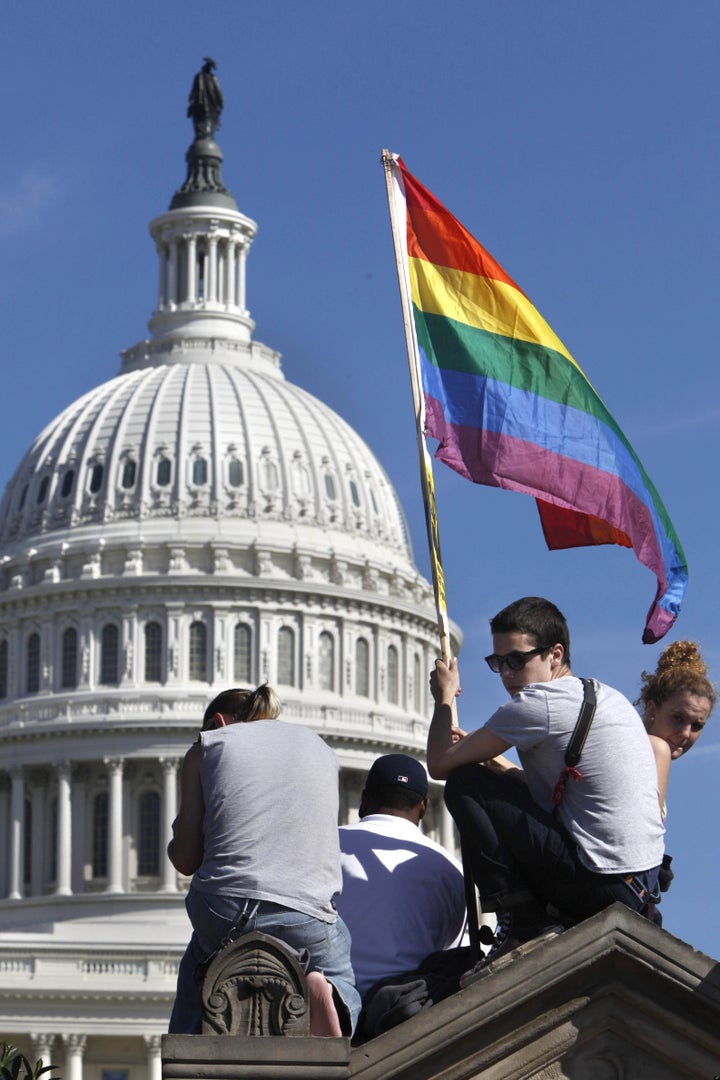 WASHINGTON -- Facing an emboldened Republican House unlikely to consider significant gay rights legislation in 2011, the nation's leading LGBT advocacy organizations are aiming to push for measures that advance pro-equality causes but are a far cry from historic bills like the repeal of Don't Ask, Don't Tell.
A new analysis by the Human Rights Campaign, the country's largest LGBT advocacy group, argues that the 112th Congress will have 53 more lawmakers unlikely to vote on behalf of advancing gay rights than in the previous session; the Senate will have five more, bringing the total of such members in the new Congress to 265:
"There will be some opportunities that will be presented to us," said Allison Herwitt, legislative director at HRC. "I think that going into the 112th Congress, generally, we'll be looking at, what are the bigger bills that will be moving that we can put pieces of pro-equality -- either amendments or provisions -- into those larger moving bills?"
She said the reauthorization of the Elementary and Secondary Education Act might provide opportunities to include measures addressing bullying and harassment. The Older Americans Act could allow advocates to push for provisions that benefit older LGBT Americans. A piece of free-standing legislation, the Tax Equity for Health Plan Beneficiaries Act, would equalize tax treatment for employer-provided health coverage for domestic partners and other non-spouse, non-dependent beneficiaries.
HRC will still work on larger pieces of legislation, like the Employment Non-Discrimination Act and the Defense of Marriage Act, pushing to introduce the bills, educating lawmakers and holding hearings on the issues.
R. Clarke Cooper, executive director of the Log Cabin Republicans, also acknowledges that major measures are unlikely to go anywhere but said there are opportunities to marry the fiscal concerns of the Republican Party with pro-equality legislation. Like Herwitt, he pointed to inequalities in the tax code.
Currently under federal law, employers who offer health benefits for the domestic partners of their employees face unequal treatment: both the employers and employees are taxed at a higher rate and essentially, employers are rewarded for discriminating.
"We have drafted a tax reform bill that would address a 'donut hole' -- people call it different things -- there is currently a problem with the way the federal tax code is written that is punitive to employers, and employees who may have a same-sex partner," said Cooper, noting it would be LCR's first piece of legislation this Congress. "We figure, with the current appetite in Congress for tax reform, and the current appetite for economic growth and limiting the federal budget and balancing the budget, this may be an opportunity for a successful piece of legislation that could be introduced and sponsored by Republicans, with bipartisan support from Democrats."
He is less pessimistic that Republicans will try to take away LGBT rights, pointing to 11 of LCR's endorsed candidates -- including five new members -- who will be in the 112th Congress. He also noted that on Dec. 15, the Republican Study Committee, run by the socially conservative Rep. Jim Jordan (R-Ohio), convened a meeting with conservative and Republican auxiliary organizations -- including the Heritage Foundation, National Rifle Association, and LCR -- and made clear the party will be focused on fiscal issues.
"What Chairman Jordan shared with us is that all the priorities for this Congress are fiscal-related," said Cooper. "One could interpret it as there have been lessons learned either at a pragmatic or principled level by certain Republicans on social issues, that they're not good for the party; they are divisive. And frankly, in many respects, from a true definition of conservatism, social issues don't have a role in the government."
The three priorities identified by Jordan, according to Cooper, were: 1) a rescission package that would eliminate previously approved spending; 2) balancing the federal budget; and 3) federal welfare reform.
Herwitt is less optimistic. She said that LGBT advocates will have to look closely at budget numbers Republicans put out and where they decide to cut spending. Will they go after funding for HIV/AIDS programs? Hate crimes enforcement?
Additionally, as the 2012 elections heat up, she said Republicans might bring social issues to the table again.
"I think they're going to have to give some red meat to their base, and I assume it's either going to be anti-gay, anti-choice, or anti-immigrant, or all of the above," said Herwitt. "So I just think that when you have someone like Jeb Hensarling, who is chairman of the House Republican Conference, he's extremely connected and close to a lot the right-wing religious groups, so there's going to be pressure on the leadership to deliver on some of these issues."
One branch of government that could hold major victories (or upsets) for the LGBT community: the judicial system. There currently are two major cases making their way through the courts, one challenging the constitutionality of DOMA, the other the constitutionality of California's same-sex marriage ban. Either could end up at the Supreme Court.
There will also be action at the state level, with Maryland, New York and Rhode Island looking to advance marriage equality bills, and states like Tennessee, Arizona and Florida likely considering legislation to restrict adoption rights for same-sex parents.
Calling all HuffPost superfans!
Sign up for membership to become a founding member and help shape HuffPost's next chapter