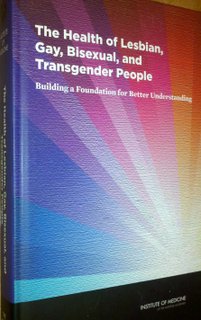 A year ago Dr. Judith Bradford spread the news on The Huffington Post that the government had created the most comprehensive tome ever on the often-overlooked subject of lesbian, gay, bisexual, and transgender (LGBT) health. Indeed, this book-length review was conducted by the Institute of Medicine (IOM), an impartial outside agency unsullied by political influences, whose reports are widely considered to be the gold standard of analysis on a subject.
My colleagues and I were heartened by the release of this book: here finally was incontrovertible evidence of systemic LGBT health disparities and clear documentation of the many ways federal policies had unwittingly masked or even exacerbated this issue. But taking it out of academic talk, folded into the dry pages of that book were the many stories of my friends and family:
The time that my mother suffered horribly as the hospital staff ignored her wishes when her lesbian life partner fell ill and died suddenly (they instead looked to a distant legal relative for all decisions) -- that was in the book.
The time that a transgender friend of mine from New York said brutally, "Everyone knows, if I get hit by a car, don't call the ambulance, let me die," because of her prior mistreatment by city hospital staff -- that was in the book.
The time that my young friend told me he had tried to commit suicide because he couldn't reconcile being gay with being proud -- that was in the book.
The time that my children's mother struggled ineffectively to quit smoking, in a state that has done little to ensure that cessation services are safe and welcoming for LGBT people -- that was in the book.
This book took all those stories and more and turned them into what Dr. Bradford aptly termed "[a] road map to a new day for LGBT health," the dry evidence scientists and policymakers use to act.
After a fat 300 pages dissecting the current evidence, the report laid out that roadmap, seven easy-to-understand recommendations:
Create a full research agenda on LGBT health
Conduct consistent and routine LGBT data collection
Test best measures for such data collection
Record LGBT status in electronic health records
Research how to best reach our hard-to-find communities
Create a comprehensive training program to build the cadre of researchers
Set a standard whereby LGBT people are identified and routinely included in mainstream research.
Many of my professional colleagues felt that this book went above and beyond expectations. The two-year wait from first word to when we could finally hold it in our hands was well worth it. Cheers all around.
But alas, those cheers were one year ago. And the silence in the months since is starting to echo loudly.
Many agencies in the U.S. Department of Health and Human Services are making a yeoman's effort to examine their work and counter places where they have excluded LGBT people from normal business. But what have we heard from the body that commissioned that custom roadmap, the deeply influential seat of health research in our country, the National Institutes of Health (NIH)?
They've assigned a staff lead on LGBT health, and they've renewed some (unfunded) program announcements that were out under the last administration. Unfortunately, those program announcements did less than expected to spur research; they did more to reveal the dire need to expand the pool of trained investigators in this arena.
In sum, there may be internal activity, but a year later, not one of the IOM report recommendations has been implemented; there's not even an action plan for doing so.
I am a scientist. I know the world of research moves slowly. But on behalf of all those people still piling up new stories like the ones above, this timeline needs to be accelerated.
After a Science magazine article last year showed that the racial/ethnic demographics of research applicants affect their ability to be funded, we know NIH is taking a hard look at the diversity of their researcher base, and taking steps to ensure that all investigators get equal opportunities for funding. We hope sexual and gender minority scientists will also be included in the new plans to foster a diverse spectrum of investigators. The body of science generated will be all the richer as a result.
What would be excellent first steps in demonstrating to all that NIH is responding to the recommendations set forth in the LGBT health report they commissioned?
Most importantly, now that the proof has been laid out, add LGBT people to the official definition of "health disparity populations." This will create a cascade effect across HHS, allowing consistent integration into established disparity elimination efforts.
Convene a trans-NIH conference involving a diverse spectrum of external and intramural LGBT health researchers as well as other investigators who have focused on LGBT health issues, to give expert input on the current research environment and the implications of the IOM report.
Issue an action plan from senior NIH leadership delineating the response to the report and timeline.
Consider establishing an office of Sexual and Gender Minority Health.
As was done long ago to accelerate research in the AIDS and disability arenas, fund a series of LGBT health research centers. Ensure that they have a particular focus on expanding the investigator pool.
If NIH is having trouble reading the roadmap, there are enough of us out here who are well familiar with all the hills and valleys in this region. We'll be happy to give detailed directions.
Calling all HuffPost superfans!
Sign up for membership to become a founding member and help shape HuffPost's next chapter