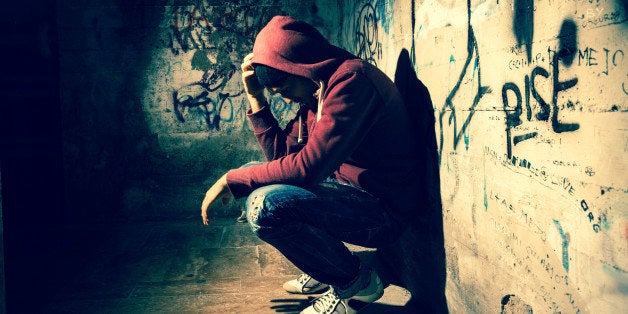 After his grandmother kicked him out into the cold, someone offered the 19-year-old a warm bed for the weekend. All the guy wanted in exchange for his hospitality was sex. "At first I didn't want to," said the homeless teenager. "But I didn't want to stay in the streets."
As another 19-year-old put it, "It's not as bad as sleeping under the bridge."
A detailed new study of lesbian, gay, bisexual, transgender and queer youth in New York City, released Wednesday by the nonprofit Urban Institute, sheds light on "survival sex," or trading sex for cash or shelter. The practice is common among teenagers and young adults who, the report finds, have few other "viable means for meeting their basic needs."
Over the course of three years, the institute interviewed 283 youth who reported engaging in survival sex. The researchers hope the study, entitled "Surviving the Streets of New York," will provide insight into a little-understood world and demonstrate the need for more government-funded shelter beds and other resources focused on LGBTQ youth.
While there is little hard data about the size of the LGBTQ homeless youth population or the pervasiveness of survival sex within this group, it's estimated that some 40 percent of New York City's homeless youth population is LGBTQ. Rather than attempting to quantify survival sex, the Urban Institute's study sought to reveal how and why people decide to engage in the practice and how they feel about it.
Of the youth interviewed in the study, nearly half said they were living in a shelter, and another ten percent said they lived on the street. Most reported agreeing to sex because they were hungry or cold. One 21-year-old gay man said all he could really remember was that he was "starving," and a friend urged him to "come to the stroll." (Nearly half of those interviewed said they were introduced to survival sex through a friend.)
The Urban Institute also cited a separate Fordham University study that found that almost half of young homeless people in New York City, of all sexual orientations, traded sex because they had no place to stay, and wouldn't have done so if they had any alternatives.
Nearly all of the participants in the Urban Institute's study reported getting paid in cash, but around one-third also said they received warm beds, and some said they were rewarded with clothing, food or drugs. Of those who received money, more than half said they used their earnings to buy food. Others bought clothing, paid their cell phone bills and bought cigarettes, weed and toiletries.
More than 80 percent said they thought that there were some positive things about survival sex, namely, being able to eat and finding a safe place to sleep. Some even reported feeling pride in their ability to support themselves. "Even though it's not like a job on the books," one 18-year-old lesbian said, "it still kind of feels good to like be able to say I made my own money. I have money. Or I did this. And I did it by myself even though it's not like not approved by a lot of people."
But nearly all participants also said there were things they didn't like about survival sex -- the danger, the stigma and, as one 20-year-old put it, the "ostracism from your peers from your family and society at large." Almost everyone in the study wanted to stop trading sex for food or shelter, but they also talked about how difficult it was to walk away. "For me to stop trading sex I need to have a continuous and comfortable job, have a place to stay, just have my own stuff, " one 19-year-old girl said.
Ironically, the lead author of the study pointed out, the greater acceptance of gay rights in recent years may actually have heightened the need for shelter beds for LGBTQ youth."Young people feel more comfortable coming out at a younger age, however, that doesn't mean that the adults in the situation are getting any more accepting of it," said Meredith Dank, a senior researcher at the Urban Institute. Dank suggested that increasing numbers of young LGBTQ people were moving to New York City in search of a more supportive environment. (Many of the young people interviewed reported that they were forced out of their homes because their families wouldn't accept their sexual orientation or gender identity.)
"There's maybe an assumption that if I'm gay and I go to New York City, then I'll be able to find the support system I need fairly easily and everything is going to be peachy," Dank said. "There's a harsh reality for many of them who get here: It's cold, and many of the organizations are fairly under-resourced and don't have the beds."
Carl Siciliano, the director of the Ali Forney Center, the largest agency dedicated to LGBTQ homeless youth in the country, sees the study as a window into the "systemic failure on the part of New York to provide safe shelter to LGBT youths."
There are over 200 names on the waiting list for beds at Ali Forney. And Siciliano pointed out that while the city is investing millions in homeless youth shelters, few of them specialize in caring for LGBTQ youth, and gay-bashing and harassment are common. "If kids are frightened to go to the shelters, they're going to have to turn to survival sex to survive," he said.
At Ali Forney's drop-in center in Harlem on a recent morning, branch director Jack Bethke said most youth who hang out there see survival sex as normal. "When you talk about, 'what are you going to do this weekend,' they say, 'I'm making some coin.' To put some cash in your pocket is a really valuable thing," Bethke said.
Jonathan, a gay 23-year-old who dropped in at the Forney Center this week, told The Huffington Post that he traded sex for money and shelter about a month and a half ago. (Jonathan is not his real name; he asked to remain anonymous.) He didn't seem too troubled by the experience. "I'm like, what the hell," he said. "It was fun."
The problem, he said, is that you can't rely on survival sex. One night last week, when the temperature dropped well below freezing, Jonathan ended up in the hospital with frostbite. A shelter had turned him away, saying there were no available beds. "I felt like I was in no-man's land," Jonathan said.
Dank, the Urban Institute researcher, hopes the study will help the LGBTQ movement realize that it has focused too little funding on youth. "We know what's driving people into survival sex," she said, "but if we don't have the right holistic social safety network there, which requires lots of resources and money and people trained to help these young people, then we're not going to be able to stem that tide of young people left out in the cold."
Popular in the Community