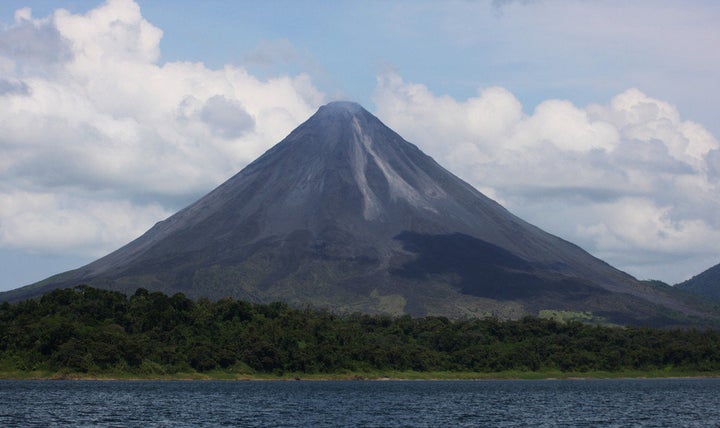 Now that more states in the U.S. have legalized gay marriage, there's even more reason to take a gay honeymoon. But where to? I've compiled a list of the top 10 gay and lesbian honeymoon destinations Queertrip.com travelers are heading to.
The Caribbean Islands are very popular for honeymooners across all walks of life. With crystal-blue waters, white-sand beaches, and drinks served with little umbrellas in them, who wouldn't want to relax with a loved one on one of these islands in the sun? While the Caribbean is quite a tempting destination, gay and lesbian travelers should be aware that not every Caribbean island is welcoming toward us queers. Destinations in the Caribbean that are not friendly toward LGBT people or that have laws against homosexuality include Antigua and Barbuda, Barbados, Dominica, Saint Vincent and the Grenadines, Trinidad and Tobago, the Cayman Islands, and Jamaica. So which islands are safe for honeymooning gays? Puerto Rico, Saint Barts, Saint-Martin, Sint Maarten, and the U.S. Virgin Islands are great destinations where LGBT travelers can feel safe and comfortable.
Barcelona has it all: beaches, nightlife, Spanish architecture, and, best of all, equality for all queers! As one of the most progressive destinations when it comes to LGBT rights, queer travelers feel welcomed with open arms. The city of Barcelona makes for a memorable honeymoon destination. There are several gay beaches, including Platja de Sant Sebastià and the clothing-optional Platja de la Mar Bella. Only 45 minutes south of Barcelona is the city of Sitges, a popular gay resort destination. Relax on the beaches, hit up the clubs, view the museums and art, and people-watch!
8. Las Vegas, Nev., U.S.A.
Las Vegas, the "sin city" that lures in everyone, whether it's for the shows, the food, the opulence, or the gambling, has been making a huge push to welcome us queers for the past few years. Most of the major hotels and resorts are gay-friendly, and there are even some properties just for us gays. The Blue Moon Las Vegas has been a home away from home for gay men (exclusively) for years. Traditionally, the "gay scene" in Vegas has been focused around the area called "the Fruit Loop." The Fruit Loop is located on Paradise Rd. near the Hard Rock Hotel. Krave, a staple in the gay Vegas nightclub scene, is the closest to the strip, right near Planet Hollywood. However, the excitement has shifted northwest, where a new nightclub, Share, has popped up. Located on Wynn Rd. between the Orleans and Palms Casinos, what makes Share unique is its male stripper license. (Oh, boy, I can see it now: Vegas is going to break our pink banks.) For gay and lesbian honeymooners, Las Vegas is sure to leave a lasting impression to remember forever. Just remember what they say: "What happens in Vegas stays in Vegas."
A popular choice for many gay and lesbian travelers is Sydney, Australia. Sydney's gay-welcoming vibe has been attracting the LGBT community for years. The city of Sydney offers incredible restaurants, shopping, and art scenes. The gay scene in Sydney rivals that of any other major queer city, so you can dance and party the night away. Sydney is the most mainstream-gay-cultured city in Australia. Head toward Taylor Square, on Oxford St. at Bourke St., and you'll be in the heart of the gay district, with plenty of free newspapers and maps to guide you to the latest attractions and events. The beaches are also a part of Sydney's gay life. The clothing-optional Lady Jane Beach is a leisurely ferry ride from town.
6. Napa and Sonoma, Calif., U.S.A.
Vineyards and wine! Need we say more? What queer doesn't enjoy a glass here and there? This northern-California region, world-renowned for its wineries, makes for a perfect honeymoon getaway. In fact, many people opt to host their weddings here, too! It's just that beautiful. Stunning wineries are sprinkled throughout the valley, with a backdrop provided by the Mayacamas Mountains on the western and northern sides and the Vaca Mountains on the eastern side. With its Mediterranean climate, the region is perfect for producing quality grapes. Quaint towns like St. Helena, Calistoga, and Yountville offer rich history and culture. Sit back, take the wine train, stay at a local bed and breakfast, and just relax with your loved one. Oh, and enjoy the wine, of course!
5. Cape Town, South Africa
With stunning beaches, dramatic mountains, and an openly gay population (same-sex marriage is legal in South Africa), it's no wonder gay couples are flocking to South Africa. Recognized for its local wines and dining, South Africa is renowned as one of the most gay-friendly locations in the world. That's a huge, given that the majority of the continent is not gay-friendly at all! Luxury boutiques and safari tours are popular choices for many honeymooners. Either way, South Africa offers it all.
4. Puerto Vallarta, Mexico
LGBT life flourishes in Mexico, attracting queers from all across the globe. Cities that stand out to LGBT honeymooners are Puerto Vallarta and Cancún. Puerto Vallarta's old Spanish feel and lively gay scene make it well worth consideration. Moreover, there are more than a dozen gay hotels in Vallarta. Cancún certainly does not have the same gay scene as Puerto Vallarta, on the one hand, but on the other, its location on the Gulf Coast and its tropical climate attracts just about every vacationer. Most travelers choose Cancún for its all-inclusive properties and luxury resorts. It doesn't hurt that the costs of visiting Mexico are generally lower than those of other international destinations, which is a huge factor for couples planning a honeymoon.
3. Vancouver and Toronto, Canada
Canada in general is a huge hit with us queers. With friendly citizens, inviting cities, and an overall clean atmosphere, it's no wonder we're heading north for honeymoon havens. Two cities that stand out are Toronto and Vancouver. With liberal laws protecting gay and lesbians and one of the most progressive, gay-friendly tourist bureaus on the planet, LGBT travelers feel comfortable and safe. No wonder Canada is a popular choice for queer honeymooners.
The islands of Hawaii have been attracting honeymooners for years. Maui in particular has been a hot spot for gay and lesbian honeymooners. Incredible weather and white, sandy beaches are just two of the reasons Maui keeps popping up on many honeymooners' lists. When many people dream of their honeymoon, they imagine a tropical island paradise, and that's exactly what the island of Maui is. Each island has its unique features and caters to different travelers; for instance, Kauai is definitely quieter and more remote, whereas Oahu is vibrant and more "touristy." Maui is a nice blend of the two islands and offers great activities for couples to enjoy with just enough privacy.
Costa Rica is the destination rising to the tops of most LGBT travelers' lists. Known for its rain forests, volcanos, and wildlife, this natural gem of a country makes for the perfect honeymoon destination. Probably the best part about Costa Rica is its laid-back attitude and way of life, attracting tons of travelers who are looking to just get away from it all. From tree houses to coastal casas, gay and lesbian travelers are flocking to Costa Rica to experience the laid-back lifestyle. There are tons of LGBT properties to choose from across the country. Eco tours, nature hikes, the flora and fauna, and activities will keep you busy for days.
REAL LIFE. REAL NEWS. REAL VOICES.
Help us tell more of the stories that matter from voices that too often remain unheard.