Hartoyo remembers that fateful night in 2007 all too clearly. He had been home with his boyfriend in the Indonesian province of Aceh when a group of people broke down the door and began ransacking the place. The strangers "dragged me, beat me, verbally abused me," Hartoyo recalled in a 2013 interview with 429Magazine. They then called the police.
Hartoyo, a gay rights activist who now lives in Indonesia's capital, Jakarta, said he was tortured for three hours while in custody. He was stripped naked and forced to perform sex acts. Later, he said, he and his boyfriend were intimidated into signing a "contract" vowing that they would no longer engage in sexual activity with each other.
Aceh, located on the northern tip of the island of Sumatra, is known for its draconian system of Sharia law. It has a population of 4.7 million and is the only province in Indonesia where homosexuality is illegal. The LGBT community has been forced "into hiding" there, according to Reuters.

Earlier this year, the deputy mayor of Banda Aceh, the province's capital, labeled homosexuality "a social disease that should be eradicated."
The province, however, isn't the only place in Indonesia where it's unsafe for the LGBT community.
Though homosexuality isn't technically criminalized under Indonesian law, in many states, such as south Sumatra, anti-prostitution laws (where "prostitution" is widely defined to include same-sex intercourse) are used to limit the rights of LGBT people, and according to activists, the community is marginalized even in bigger cities like Jakarta.
"LGBTI people are discriminated against in just about all domains of life," Dédé Oetomo, founder of Gaya Nusantara, the first LGBT rights organization in the country, tells The Huffington Post. Discrimination even happens in the work place and in schools.
Indonesia, which has the world's largest Muslim population, is mostly conservative and society is "very heteronormative," Oetomo says. "The greatest challenge is still the immediate family."
A 2013 Pew Research Center report about global attitudes towards gays and lesbians found that 93 percent of Indonesians did not believe that homosexuality should be "accepted by society," making the country one of the least tolerant nations surveyed.
"This takes a toll on the individual and the country as it prevents thousands of people from both contributing fully to the development of their country and from enjoying the benefits of development," UNDP Country Director Beate Trankmann says.
Indonesia has one of the worst records in the world when it comes to violence against transgender people, according to activist Mario Pratama.
"They dragged, kicked and pushed the rally participants," Pratama told the Jakarta Post at the time.
The attack wasn't unusual. Pratama said that 85 percent of the country's transgender community had experienced violence between 2011 and 2012.
Hardline Islamist activists also target and intimidate LGBT individuals. One of the most vocal anti-gay Muslim groups is the Islamic Defenders Front, known as the FPI in Indonesia. In 2010, a member of the group told the BBC that "gay people are mentally ill."
"God didn't make them that way," he added. "They choose to be with people of the same sex and it is a crime in our religion. If the government doesn't want to do anything about them, we have to."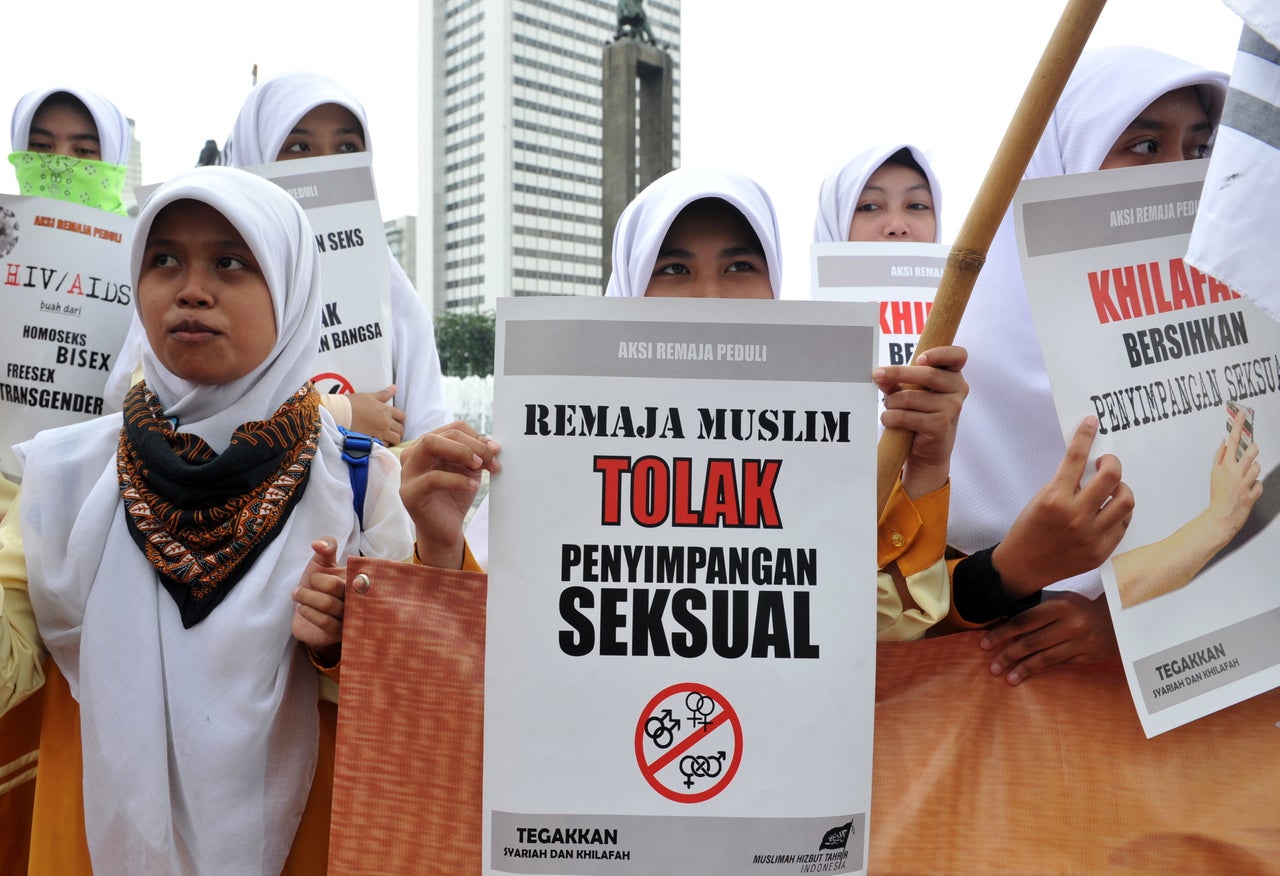 Despite myriad challenges, LGBT activism has been growing in Indonesia. About 120 LGBT grassroots organizations are currently in operation, working primarily "in health issues, publishing and organizing social and educational activities," according to the USAID/UNDP report.
Still, despite a relatively vibrant activist community, activists say real change has been slow to come.
"When we frame it in rights, there has not been progress," Oetomo says.
Earlier this year, following the U.S. Supreme Court's decision to legalize same-sex marriage in America, Hartoyo was asked whether or not he felt Indonesia was anywhere close to achieving marriage equality.
The country, he responded, is miles away from such a goal.
Popular in the Community