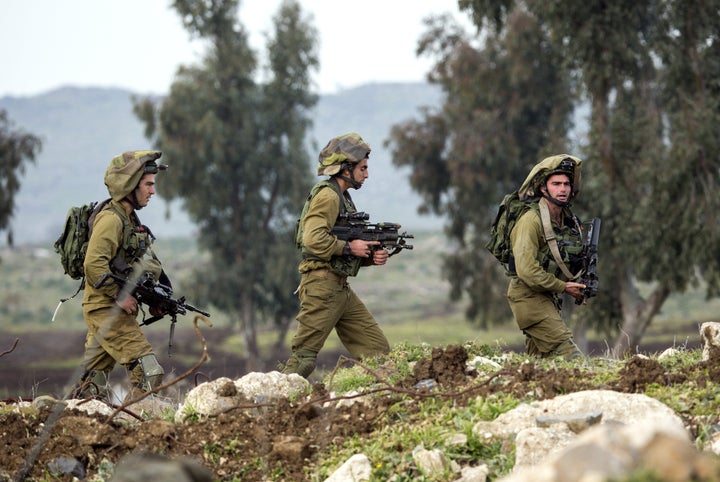 Like Florida shooter Omar Mateen, Yishai Schlissel was a homophobic extremist determined to kill gay people. But Schlissel, unlike Mateen, lived in a country with strict gun laws: Israel. When Schlissel attacked a gay pride parade in Jerusalem a year ago, he was armed with a knife, not an assault rifle.
He stabbed six people, killing a 16-year-old girl before he was apprehended. Mateen used a semiautomatic assault-style rifle to shoot more than 100 people in a Florida gay nightclub early Sunday, killing 49, before law enforcement officers shot him to death.
There is no such thing as a right to bear arms in Israel. To get a gun, an individual has to apply for a license, show a need for a firearm (either for work or personal safety), demonstrate an ability to safely use a gun, and pass a mental health check. Licenses are only granted to individuals who have been Israeli residents for more than three years and who are over 21 years of age if they served in the military, and 27 if they didn't. Even after obtaining permission to buy a gun, the government limits the amount of ammunition an individual can purchase.
In Israel, a country that faces frequent terror threats, proving a "need" for a gun isn't automatic. During the Second Intifada, a violent Palestinian uprising in the early 2000s, author Daniel Gordis applied for a license to purchase a gun, citing his frequent travels to dangerous areas to report on violence. Gordis, now a senior vice president at Shalem College in Jerusalem, said the government rejected his application.
"Israel has a sense that there's no right to a weapon ... A weapon is a responsibility, and it can be earned."
"I thought it was a legitimate request and they turned me down," Gordis said during a phone interview. "Obviously, I was momentarily annoyed that I got turned down -- but, actually, I took the larger view of it, and I thought, 'Wow, that's pretty amazing!'
"Israel has a sense that there's no right to a weapon," Gordis explained. "A weapon is a responsibility, and it can be earned. Or you can have a need for a weapon -- but you don't have a right to weapon."
Last year, the Israeli government encouraged individuals with firearms licenses to carry their weapons, and made it easier for people living in certain areas to legally carry a gun. The policy changes were tied to the wave of Palestinian attacks and drew criticism from Palestinian rights groups. But even with the changes, access to guns in Israel remains far more regulated than in the U.S.
"The message is a bit mixed," in Israel's relaxed gun restrictions, said Natan Sachs, a senior fellow at the Brookings Institute who focuses on Israeli policies. Because of Israel's near-universal mandatory military service, guns are ubiquitous in the country, he said. "But there is still no perception in Israel that people, writ large, should just carry arms," he added.
In the U.S., owning firearms is considered an inherent right, regardless of need or the ability to safely use weapons. In a country with few restrictions on firearms purchases, Florida, in particular, has some of the least-restrictive regulations on gun ownership.
The Sunshine State, which received an "F" last year on a scorecard compiled by Law Center to Prevent Gun Violence, doesn't restrict the sale of assault weapons, limit the number of guns that can be purchased at one time, or require background checks for private sales, including sales at gun shows. Guns & Ammo magazine ranked Florida as the 12th-best state to own a gun, describing the state's laws as the "envy of gun owners nationwide."
Mateen, who was once on an FBI watchlist for possible ties to terrorism, legally purchased a semiautomatic assault-style rifle capable of spraying bullets as fast as the shooter can pull the trigger.
Asked if an Israeli civilian could get access to the type of assault weapon used by Mateen -- and by numerous other U.S. mass murderers -- Gordis was emphatic. "Never, never, never, never, never, never, zero," he said. "People are walking around with pistols. … The only people walking around with real serious guns are soldiers."
When terrorists in Israel get guns, they don't always work. Last week, two Palestinian gunmen opened fire on civilians in Tel Aviv. But they were using cheap imitations of a Swedish World War II-era rifle. Video footage of the attack shows one gun appearing to jam and an ammunition clip falling out of the second. The two terrorists killed four people in the attack.
Part of the reason for Israel's strict regulation of civilian gun ownership is that the country has a security-driven interest in making sure weapons don't flow into the hands of terrorists. "There is a very tight monitoring of where all the weapons are," Sachs said. "The last thing you want, especially in a place like Israel, is to have arms roaming free."
Support HuffPost
The Stakes Have Never Been Higher
Popular in the Community