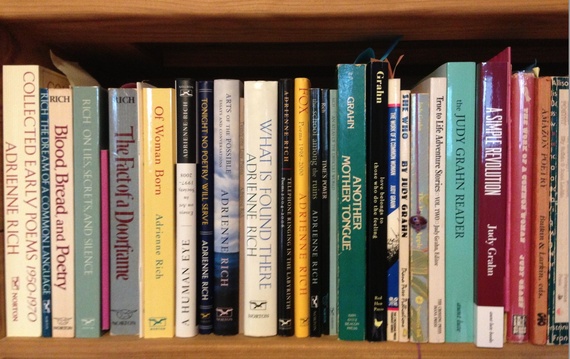 Two Internet memes are promoting literary issues that I care about deeply. On May 1, 2, and 3, a groups of activists, using the Twitter hashtag #weneeddiversebooks and a Tumblr, raised awareness about the need for diverse characters and story lines in children's and young adult books. I cheered this campaign from the sidelines. I appreciated its clear critique of publishing and admired the vibrant conversation it sparked online among readers, writers, booksellers, and others in publishing.
What I liked most about this campaign is how it left the question of why open. The #weneeddiversebooks campaign let individuals imagine their own answers to why we need diverse books. This makes sense, of course. There are a million and one reasons why we need diverse books, and the campaign itself suggested many reasons. Most importantly, the campaign opens space in the imagination for a world filled with diverse books; it invites everyone engaged in the campaign to envision a future with diverse books and consider their own role in bringing that future into being.
Lambda Literary organized the other campaign that I follow. Lambda Literary supports and promotes LGBT literature, writing, and writers. At the end of March, Lambda Literary initiated a campaign to explore this question: What LGBT book saved your life? While I appreciate the work of Lambda Literary to highlight LGBT books and I applaud their work to engage more people through social media, I do not like the frame of this campaign.
Why must LGBT books save lives? Why do lesbian, gay, bisexual and transgender lives always need to be saved? Why must we live with a narrative of victimhood that requires saving by external forces (books, laws and heterosexual saviors?) Why must LGBT lives be forever yoked to death?
I believe that this framework by Lambda Literary was unwitting. I do not think that the great folks at Lambda Literary wish to link indelibly LGBT people with death, or with needing to be saved. Consciously or unconsciously, however, this is what the campaign suggests. I chafe at the proposition. I want something better for all of us as LGBT readers, writers and people.
My vision of a future is one where lesbian, gay, bisexual and transgender lives are not constantly riddled by despair, marginality and the potential of death. My vision of our future is one where there are more reasons to celebrate our sexuality than bemoan it, where there are more causes for joy than despair, where the exuberance of living outweighs the fear of dying.
I want to read LGBT books that have compelling visions. I want to read books that evoke powerful feelings -- joy, fear, excitement, despair. I want to read LGBT books because they are good and fun. I want to read books that are provocative; I want to read books that are peaceful. I want to read books at the beach and in bed. I want to read books in checkout lines and while waiting to see the vet. I want books that represent LGBT people gloriously and ingloriously. I want to read LGBT books for pleasure, not to save my life. I want my life -- and the life of all people -- to have unquestioned value. I do not want anything to think my life needs to be saved.
Call me peevish, but I am tired of LGBT organizations framing important issues with life and death metaphors. After AIDS, I want our lives to be valued simply and completely, without the valence of life and death questions.
Do not misunderstand my quibble, I support Lambda Literary with great enthusiasm. I have volunteered my time, given money, and written for Lambda Literary for many years. Maybe my long-term support and affiliation with Lambda Literary makes me comfortable speaking out and saying we deserve better.
Maybe the convergence of these two campaigns highlights the disparate results. #Weneeddiversebooks opens multiple possibilities for change; #weneeddiversebooks creates new visions and communal actions for a better future. #Abooksavedmylife suggests that our lives need to be saved. If they do, I fear we may need more than a few ounces of paper.
Rather than #abooksavedmylife, what we need to hear is simply: we need LGBT books. Let's open a conversation to discuss the many reasons we need the LGBT books. For some people, books may save their lives, but for many more people books capture our imagination, books give us a different vision of how we might live our lives, books entertain, delight, horrify, amuse and excite us. These are some of the many reasons we need more LGBT books.
Let's save the life and death stakes for times when they are real (which are, sadly, too often). Let's expand LGBT discussions to assume that LGBT lives are important and worthy. It is time to revel in moments of LGBT humanity that can be shared with everyone, without the stakes of life and death. It is time for LGBT people to live in a broader, wider world. Books taught me to believe in these ideas.
REAL LIFE. REAL NEWS. REAL VOICES.
Help us tell more of the stories that matter from voices that too often remain unheard.