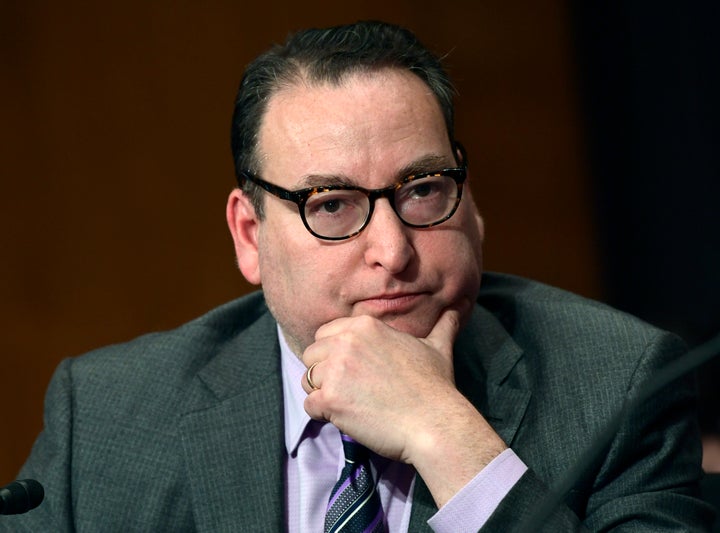 LGBTQ advocacy groups met with U.S. Education Department officials for a tense conversation about issues facing transgender students on Monday, the day after The New York Times reported a Trump administration proposal to drastically curtail legal protections for transgender people.
The off-the-record meeting, planned weeks earlier, gave advocates a chance to confront administration officials about a reported Health and Human Services memo that suggests the government redefine gender "on a biological basis" as either male or female, and determined by genitalia at birth.
"The officials who were in the room made no attempt to contradict the Times reporting," said Harper Jean Tobin, director of policy at the National Center for Transgender Equality, who said the government representatives were tightlipped about their plans and opinions.
Still, Education Department leaders have not indicated support for narrowing the definition of gender under Title IX, the education law that outlaws sex discrimination, according to meeting attendees and those familiar with the department's thinking. Personnel at the Education Department's Office for Civil Rights, led by Kenneth Marcus, emphasized that they will investigate LGBTQ students' reports of discrimination. Marcus also has reportedly advised advocates on ways transgender students could get recourse from the Office for Civil Rights. This advice involved de-emphasizing transgender identity and focusing on other bases for a sex discrimination claim.
At the Monday meeting, Marcus and other department officials were joined by representatives from groups that included Lambda Legal and the National Center for Transgender Equality. The advocates raised pointed questions about the administration's plans for trans kids, and described suffering children have faced under Trump administration policies, according to several people who were in the room.
Attendees described the discussion as professional, but tense. Emotions ran high as advocates described a sense of fear, uncertainty and outrage roiling LGBTQ people.
The Times report described a Department of Health and Human Services plan to define sex as "male or female immutable biological traits identifiable by or before birth." That would strip transgender people of legal protections under Title IX, which bans sex discrimination.
But, according to some reports, Education Department officials are reluctant to go along with such a proposal.
Marcus, confirmed to lead the Education Department's civil rights office in June, has made controversial moves regarding anti-Israel activism on college campuses. Prior to Marcus' confirmation, in early 2017, the Education Department rescinded Obama-era guidance that called on schools to give transgender students access to bathrooms and locker rooms that align with their gender identity. With that, the Office for Civil Rights stopped investigating claims of bathroom discrimination in schools.
Advocates in the meeting told officials that LGBTQ students are already suffering ― and things could be getting worse.
Brenda Barron, director of public policy at the education equality group GLSEN, presented new data from 2017 suggesting that LGBTQ students are facing a more hostile school environment after years of improvement.
"As the research shows, it's not getting better for LGBTQ youth the way we had seen progress over the last decade — and for many trans and gender nonconforming youth, it's getting worse," said Barron.
Barron told the story of a transgender girl in Virginia who was recently barred from taking shelter in a locker room with other students during a lockdown drill. The student was in gym class at the time, and during the drill, students were instructed to go into the locker room consistent with their sex. The transgender student was made to stand alone in an entranceway.
Barron described the meeting as emotionally difficult.
"Given the Education Department's past actions, and now Sunday's leaked memo, the meeting was certainly challenging," said Barron. "And we will continue to have challenging meetings with them, because until school climate is improved for all LGBTQ students, we must keep educating them about the real harms the Administration's actions are having on them."
Education Department representatives did not respond to requests for comment.
Popular in the Community