This is the religious exemption that the Boy Scouts of America promised to its conservative, church-based sponsors after its board voted to lift its long-held ban on LGBT employees and volunteers in July. 
It seems to be working, so far. After threatening to leave the BSA to create its own scouting organization, the Church of Jesus Christ of Latter-day Saints announced Wednesday that it felt properly reassured that it could continue to appoint Scout leaders who would uphold its "religious and moral values."
"At this time, The Church of Jesus Christ of Latter-day Saints will go forward as a chartering organization of BSA, and as in the past, will appoint Scout leaders and volunteers who uphold and exemplify Church doctrine, values, and standards," the church's top governing authorities said in a statement.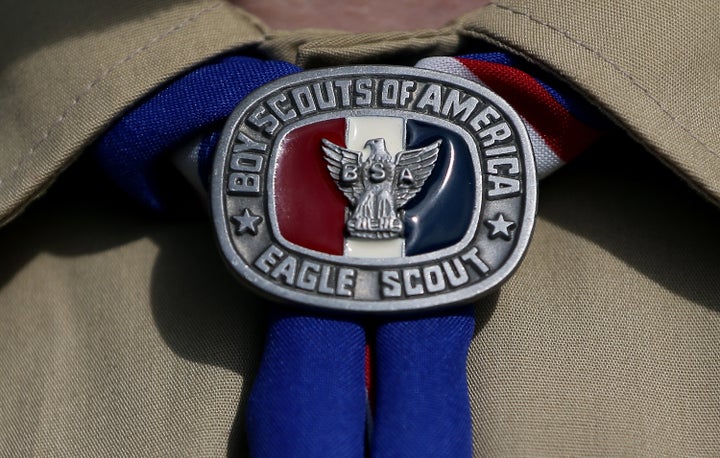 The departure of the Mormons would have meant a significant financial hit for the BSA. The LDS church sponsors nearly 38,000 scouting units that serve 427,000 young boys, making it the largest national chartering organization, according to the Associated Press.
The church has softened its tone on LGBT members in recent years, and even played a key role in backing an anti-discrimination bill in Utah. Still, it has refused to budge on doctrine, which bans gay marriage and considers acting on same-sex attractions to be a sin. 
Across the country, gay Mormons had mixed reactions to the church's announcement about the BSA. Most saw it as a good, albeit small, move in the right direction. 
Todd Richardson, senior vice president of the LGBT Mormon group Affirmation, said he was initially disheartened by the church's first statement about a possible separation from the BSA. But the recent reversal has made him happy.
"As an Eagle Scout myself, I found [the BSA's] connection with my LDS congregation meaningful as I grew up. And while I would hope to see greater inclusion for LGBTQ people in our church, I see this as another small step forward," Richardson told HuffPost in an email.
Wendy Montgomery, the mother of a gay LDS boy scout, said she was grateful that the church is continuing to partner with the BSA. However, she said the church would be losing out on the "wealth of talent, vision, character and integrity" that LGBT Mormon leaders would have provided.
"This deeply saddens me as my own son, a 17-year old gay Eagle Scout, is less than a year away from leadership eligibility. Whether he chooses this path or not, the option should be open to him," Montgomery, of California, told HuffPost in an email. "If he stays in a Mormon Scout troop, this door is solidly shut in his face."
PHOTO GALLERY
Inside a Church of Jesus Christ of Latter-day Saints Temple
Calling all HuffPost superfans!
Sign up for membership to become a founding member and help shape HuffPost's next chapter