A friendly group of LGBT Mormons and teens greeted General Conference goers on Saturday morning April 2, 2016 in Salt Lake City, Utah. Wrapped in a rainbow flag, standing next to protestors who screamed at conference goers that they would go to hell, this small group gathered to show love and to ask for inclusion and to be "seen" by other church members in the wake of the recent "exclusion policy" unveiled in November of 2015 which demands excommunication for same-sex married Mormons and exclusion for their children.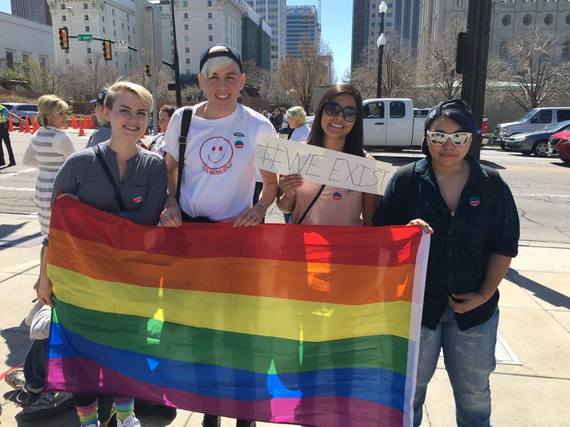 Sherri Park, who attended, is a Mormon "Mama Dragon," a group of women who are fierce defenders of their LGBT children and of faith. She is a former member of the Mormon church who served two senior missions and was active from 1964 to 2015, when the exclusion policy on same-sex married members and their children came out November 5. She also founded "Sit with Me Sundays," an attempt to get LGBT Mormons connected with friendly allies in the pews, but has since disbanded it.
Chris Schaefer, a main organizer of the event, which included 230 people, said that she was nervous about the original idea in protest of the Mormon exclusion policy, which would have involved 32 mock coffins to symbolize the 32 suicides among LGBT Mormons. She was "deeply concerned about suicide ideation" among Mormon youth, and consulted therapists and the Trevor Project before canceling it in lieu of something more positive, focusing on rainbow flags and a "We Exist" theme, brainstormed by organizer Timmy Chou and his fiancée, Becky McKinnon after David A Bednar's talk insisting there are no "homosexual Mormons." Michael Ferguson inspired the hashtags.
Schaefer flew in from Virginia for the event and said, "I am gay and have gay family members who have suffered discrimination in the Church. None of us chose to be gay. It's not a lifestyle. We were born as we were supposed to be, to love and fulfill the measure of our creation as LGBTQ. We have families. We have spouses and we have children. And we love who we are." She said that church security did not interfere with the event and that there were some three-generation LGBT families in attendance. The group Queer Friends helped with the event, as well. Although it was not an official "Mama Dragon" event, it was supported by that group. The youth who participated said that they felt loved and supported, some of them for the first time in their lives.
Mormon apostles have spoken and defended the exclusion policy since its release, including Elder Russell M. Nelson, who called it "the mind of the Lord and the will of the Lord" on January 10, 2016. Elder David A. Bednar, speaking at a meeting February 23, responded to a question about how homosexual members of the church can remain steadfast in the gospel. He said that he wanted to change the terms of the question, "There are no homosexual members of the church. We are not defined by sexual attraction. We are not defined by sexual behavior. We are sons and daughters of God. And all of us have different challenges in the flesh." He then proceeded to compare homosexuals to those who are born with physical challenges that come from being born with a "body that is not fully functional" and suggested that being attracted to others of the same sex is not a sin, only acting on that attraction is.
While some LGBT Mormons find comfort in the idea that they are seen as children of God and no different than any other members of the church, many are angry that they are being erased from visibility within the church. Hence the "We Exist" action.
Though all six sessions of General Conference were silent on the issue of LGBT Mormons and the increase in suicides that has been alleged after the exclusion policy, there were several talks that seemed to be addressing the topic of LGBT members obliquely. Elder Dallin H. Oaks spoke on the Sunday afternoon session about opposition, and specifically about opposition from within the church: "However appropriate for a democracy, there is no warrant for this concept in the government of God's kingdom, where questions are honored but opposition is not." Some felt that this was directed to members who have been vocal in their opposition to the new policy.
Elder Dieter F. Uchtdorf was presiding during the sustaining vote where church members are given a chance to raise their hands in support or opposition to church leaders. There were some loud voices opposing who told "We Exist" organizers they had done it because of their support of LGBT Mormons. President Uchtdorf later used the metaphor of the Frauenkirche in Dresden, Germany, destroyed by allied bombs in WWII and rebuilt years later, using some of the blackened stones from the original building. "Surely, I thought, if man can take the ruins, rubble, and remains of a broken city and rebuild an awe-inspiring structure that rises toward the heavens, how much more capable is our Almighty Father to restore His children who have fallen, struggled, or become lost?" No matter how ruined our lives may seem, President Uchtdorf declared that God regards all His children as "worthy of rescue." Presumably, this also includes LGBT members of the church who have been labeled "apostates" for practicing same-sex marriage.
Elder Patrick Kearon spoke passionately and persuasively about the need to act to help the more than 60 million refugees pouring into Europe and the United States from the Middle East and Africa. "After looking into their eyes and hearing their stories, both of the terror they fled and of their perilous journey to find refuge," he said, "I will never be the same." While donations are welcome, Elder Kearon urged members to meet refugees in person and to get to know the refugees' stories."Hearing their stories with your own ears, and not from a screen or newspaper, will change you. Real friendships will develop, and will foster compassion and successful integration."
Kimberly Anderson, an LGBT activist responded to this plea: "If the church paid 1/10th of 1% of the attention they NOW are giving to the incredibly important refugee issue to LGBT kids it would be an amazing difference. If I hear about the refugee thing one more F+ING time I am going to explode. SO MUCH RAGE." She also complained that the definition of refugees "fits our [LGBT] kids 100%." In her opinion the plea to help refugees was a "PR move. That's all. Also it deflects criticism that they aren't reaching out [to LGBT Mormons]."
It seems clear that there will not be anything new in the near future for LGBT Mormons. Some estimates of those who have formally resigned from the church are close to 55,000, which is also not something that was specifically mentioned, despite the regular Saturday afternoon report on the growth of the church. But with the announcement of new temples being built and an enormous response to the initiative to help refugees, the church seems to be moving on to other projects, despite those who are left behind, still demanding "We Exist."
Calling all HuffPost superfans!
Sign up for membership to become a founding member and help shape HuffPost's next chapter