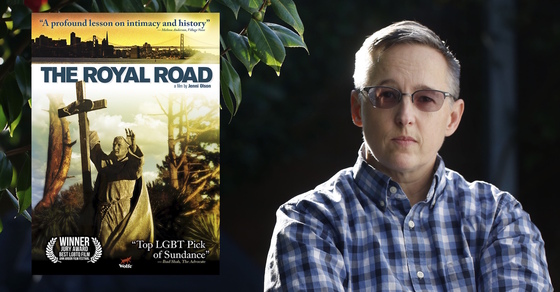 Freshly available this month on DVD and VOD from Wolfe Video, Jenni Olson's poetic lesbian film, The Royal Road explores an array of topics. A beautiful cinematic essay set against a contemplative backdrop of 16mm urban California landscapes, the film reflects on butch identity, nostalgia and Alfred Hitchcock's Vertigo.
"I will follow the royal road to her door," says Olson in her wistful but often funny butch soliloquy which tracks her pursuit of first one and then another unavailable woman.
Traveling from San Francisco to Los Angeles and back again (along California's historic El Camino Real) we hear Olson's intimate vulnerability of desire and her contrasting intellectual reflections on the state's history.
Olson is well-known for her unique filmmaking style which combines a stream-of-consciousness diary-style voiceover with beautiful cinematography to portray both the external landscape of California and the internal landscape of her thoughts and emotions. Her previous films include The Joy of Life, 575 Castro St. and Blue Diary. She is also author of the Lambda-nominated The Queer Movie Poster Book and has worked as a consultant on a variety of LGBT films including such recent hits as AWOL, The Freedom to Marry and Test. One of the co-founders of the pioneering LGBT website PlanetOut.com, Olson is also the proud proprietor of the domain Butch.org.
The Royal Road world premiered at the Sundance Film Festival and has earned critical acclaim and numerous awards. It also features a voiceover cameo by playwright Tony Kushner.
The Royal Road is available for streaming and download worldwide via WolfeOnDemand.com. It is also available in North America on DVD and digital via WolfeVideo.com, Amazon, iTunes, Google Play, VUDU, Xbox and Vimeo On Demand.
Calling all HuffPost superfans!
Sign up for membership to become a founding member and help shape HuffPost's next chapter