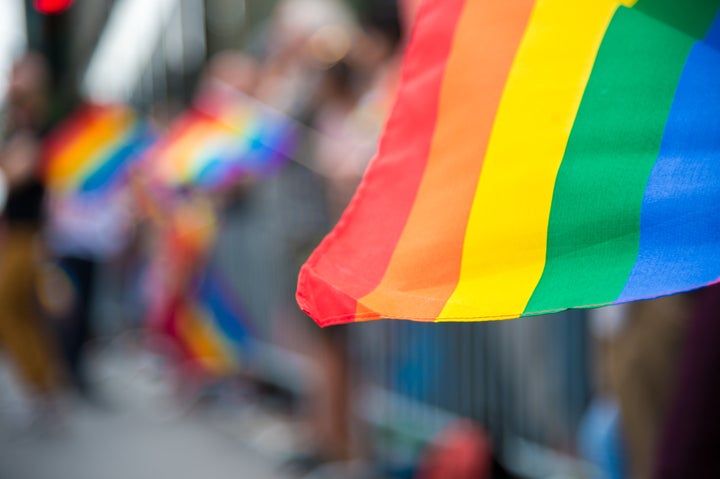 Just two years ago, in June 2015, I remember walking down Fifth Avenue amidst a joyous crowd buoyed by the United States Supreme Court's ruling that every state in the country had to let same-sex couples marry. We knew that the fight for full LGBT equality wasn't over, but winning marriage was a momentous milestone that reflected a profound cultural shift towards acceptance. We had great hopes for continued progress in the future, especially for transgender people.
In 2017, the context has changed completely and the joy has turned to frustration and fear. We are seeing growing attacks on LGBT people at the state and federal levels by newly invigorated and empowered opponents of LGBT equality, including the president himself. What happened?
In the wake of our securing marriage equality nationwide, our opponents pivoted to focus on two issues: exploiting transphobia and using religious exemptions to license anti-LGBT discrimination. President Trump has embraced both issues.
On the transphobia front, opponents of LGBT rights know that the country is just getting to know transgender people. They are exploiting the public's lack of knowledge and its misconceptions about transgender folks to drive a profoundly harmful anti-transgender agenda. Conservative advocates have introduced over 70 state bills attacking transgender people – especially transgender youth – over the past two years. For example, North Carolina's notorious HB2 law barred transgender people from using single-sex facilities such as restrooms and locker rooms in state buildings and schools. This year, it was replaced with another anti-trans law that causes just the same harms to transgender North Carolinians.
President Trump has jumped on the anti-trans bandwagon as well. His very first LGBT-related move was to pick on vulnerable transgender kids in our nation's schools. Not two months into his administration, the president revoked guidance that the Departments of Justice and Education had provided to school districts about protections for trans students under federal civil rights laws. Withdrawing that guidance put transgender children at risk of harassment, discrimination, and violence.
On the religious exemptions front, anti-LGBT advocates want to use religion as an excuse to discriminate against us. Religious freedom is a core American value and must be protected, but religious liberty doesn't give anyone the right to discriminate against other people. In state after state, anti-LGBT advocates are pushing – and in some states passing – religious exemptions measures that are aimed specifically at LGBT people. For instance, just this year South Dakota, Alabama, and Texas passed laws that authorize religious child welfare agencies, who are funded by the state, to refuse to place children in foster or adoptive homes with same-sex couples or transgender people. That's taxpayer-funded discrimination that means some kids will languish in group homes rather than finding a loving family.
President Trump has embraced anti-LGBT religious exemptions as well. He has stocked his administration with champions of giving religious organizations and individuals a license to discriminate. His VP, Mike Pence, is a leading proponent of these exemptions, having signed a license-to-discriminate law as Indiana governor in 2015. In February of this year, we saw a leaked version of a Trump religious exemptions executive order that would have enshrined Indiana-style exemptions into many parts of federal law. The version the president signed a few months later didn't include those provisions, but it's only a matter of time before those measures show up in regulations, guidance, or new executive orders. And Trump allies in Congress are pushing license-to-discriminate laws there.
The ACLU is fighting back. We are suing to protect transgender kids all across the country, from Gavin Grimm's case against his Virginia high school to cases for students in Illinois and Pennsylvania. Along with our partners at Lambda Legal, we've challenged North Carolina's HB2 and the new anti-trans law down there. We're working in state legislatures to fight both the anti-trans bills and religious exemptions bills that would harm all LGBT people. We're in court to make sure that judges don't write religious exemptions into the nation's civil rights laws. And we stand ready to sue the president should he take any more anti-LGBT actions.
But true resistance for LGBT people means more than opposing just the explicitly anti-LGBT proposals coming out of this administration or the state legislatures. It means fighting the Muslim ban; the administration's anti-immigrant measures; its attack on health care access, including for reproductive health care; and the over-policing of our communities. LGBT people are everywhere, in every community, and all of those issues are LGBT issues, too. Because we are Muslims, Christians, Hindus, and Jews. We are Black people, and Latinx people, and Asian, South Asian, and Middle Eastern people as well as white people. We are people (both women and men) who need access to reproductive health care.
This LGBT Pride month, we celebrate our resilience in the face of an onslaught of attacks. And we show our resistance by standing up for the full range of our community. By sticking together and standing up for one another, we can recapture the joy of June 2015 and eventually start the celebrations again.
REAL LIFE. REAL NEWS. REAL VOICES.
Help us tell more of the stories that matter from voices that too often remain unheard.
BEFORE YOU GO