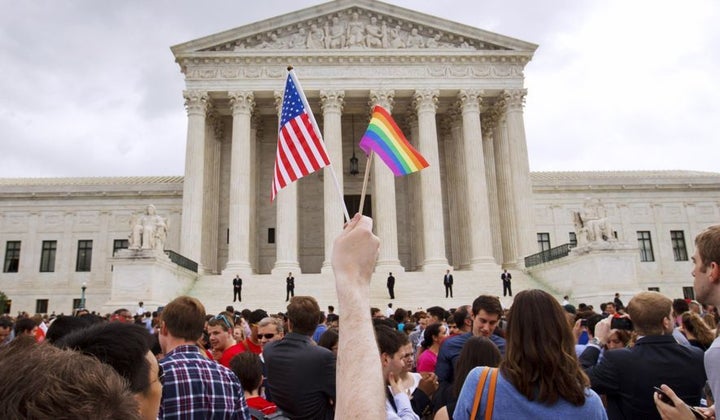 Annmarie Noonan currently serves as the Assistant Principal of Signal Knob Middle School in Shenandoah County, Virginia; prior to this position, she taught history for eight years. Noonan is an openly gay school administrator in a county in which President Trump took 69.2 percent of the votes on the day of the general election. The long road to establishing herself as an openly gay educator in a conservative district has been far from easy.
Ultimately, Noonan made the decision to come out to her students because she knew that remaining silent about being gay inadvertently sent a message that there was something wrong with being gay ― and the last thing she wanted was for any of her LGBTQ students to ever feel that their identity was something that was wrong, something that shouldn't be talked about, something that was better left to the realm of the invisible.
She knew the time had come to make a public statement about who she was. As for the forum, she selected her school's annual Poetry Slam. The sixth grade English department kicked off the first annual Poetry Slam back in the spring of 2015. At the slam, each sixth-grade student performs an original poem to promote positive change. As a sixth-grade history teacher who was also a lover of the Arts, she wanted to get right up there on stage alongside her sixth-graders, as well as at The Hideaway Cafe, a coffee shop that tokens itself, "a safe space for all our guests, regardless of race, color, national origin, age, sex, sexual orientation, gender identity, gender expression, religion, etc. Come as you are. We'll be happy to see you."
Noonan had to make a statement. Her students assumed she was gay, had heard she was gay, knew she was rumored to be gay, but, she had never spoken openly with them about being gay. She knew this stage was her chance to let them know that she wasn't, nor should anyone be, ashamed of being different.
Equipped with the title "Abstract Art," she was anxious to share her voice with her students. Still weary about uttering the words "I am gay" on a school-community stage, she instead crafted her poem around the theme of being "purple"― not only a color often associated with the LGBTQ community, but also her school's color.
I am purple. It's what makes me different. It's significant.
I finally accepted it at twenty-one, feared being shunned. Stunned parents. Embarrassed. Could I carry this, around? Profound confusion. Disillusioned. Would I drown? If my loved ones found, me out? Doubts. And even though at times I wanted to shout it out, I decided instead to lie and hide from the eyes of others that I was, in fact, purple. It wasn't hard. Dark. I parked in the shadows; the hint of my purplish tint hidden by the status quo. To know, you'd have to squint, and even so, you'd simply catch a glint. It didn't show and you didn't know that I had a purple glow inside...I was born purple. I didn't know it at the time. No eyes, not mine, nor those of my folks could surmise the purplish guise. It wasn't a crime that no one recognized the true color I was inside, deep down inside...I've cried so many tears for the years I've lived in a lie, hiding who I was from everyone I loved, because, well, being purple means being different.
But consider this: I was raised in a world where talk of purple people was unthinkable. Impermissible. Purple people like me were invisible. Fictional. How was I supposed to know I was purple when I didn't know anyone else that was purple too? Blue. The color of trying to figure this out. Without any purple people on my TV screen. Scenes that could have helped me figure out what my feelings were about. Blacked out in doubt, I never saw ordinary purple folks walking down the street, no purple peers sitting next to me in class. Alas, it came to pass, that I understood with clarity the conspiracy― that our society did not want transparency when it concerned the minority, the impurity of purple people like me.
As long as the culture of silence persisted, I was restricted from simply recognizing my existence. But it was distance, college, both social and academic knowledge that eventually helped me demolish the taboo of my purplish hue. Newly born. Sworn to acceptance of who I was. Because, if you love me, you will accept me for who I am. Demanding equality. Yet not even my own mother could see what it meant to me. A tragedy. The day I told her I was purple in my heart she fell apart; started to impart her disdain regarding my purplish claim. Blamed herself. Framed the shame within the context of stereotypes as she proclaimed:
"I don't understand. Did I raise you wrong?"
"Don't you want a normal life. A life free of strife?"
"Why don't you want the American dream?"
"How could you do this to me?" she said.
Dead. Silence from my end. But in my head? Do this to you? How could I do this to you? Being purple isn't something you do. It's you. It's who you are. Who I am, will always be. Please. Mom. Just love me. Love me for me regardless of the color you want to see, to believe, I am. I am me.
Because you will see that underneath it all, love is love―it's enough―to lose the shame. I will not blame myself for being purple. You see, I am a purple person. For better or for worse. Cursed to forever fear that being clear about who I am is something that should be kept quiet. Silent. Compliant no more. Defiant by revealing who you are. Scars of identity no longer an obscenity as a new era of empathy holds out its hand.
So here I stand for everyone that has ever been made to feel that being who you are is something you should hide. Deny it no longer. Being purple, different, can make you stronger. You belong here. Wronged to be scorned or torn apart. So let's open our hearts to all of the abstract art in this colorful world. Swirls of blue, black, orange, red, yellow, green and all that's in-between, even those that are purple like me.
And oh so delicately purple.
REAL LIFE. REAL NEWS. REAL VOICES.
Help us tell more of the stories that matter from voices that too often remain unheard.